That's A Wrap: De'Ron Davis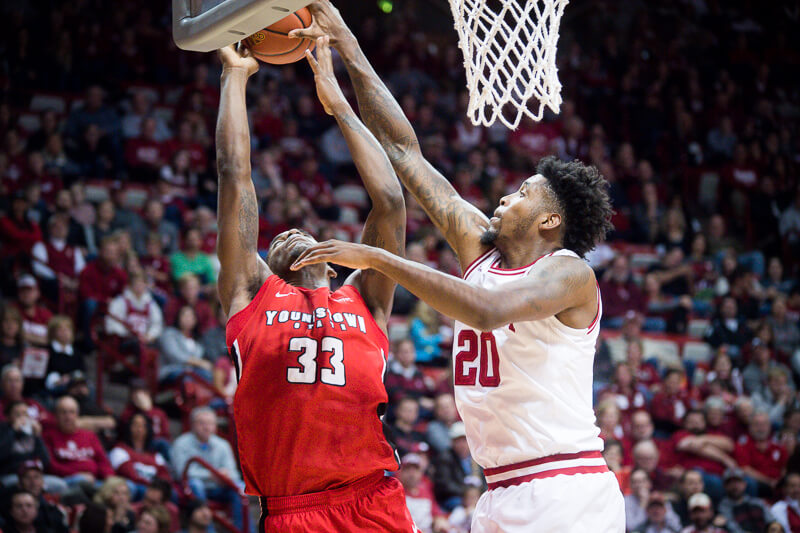 Welcome to "That's A Wrap," our player-by-player recap of the 2017-2018 Indiana Hoosiers. Today: De'Ron Davis.
Davis (15 games): 9.6 points, 4.3 rebounds, 1.5 blocks, 1.1 assists, 1 steal, 61.5 FG%, 50% FT in 18.8 minutes per game.
De'Ron Davis began his second season in Bloomington with plenty of promise.
After a strong offseason in which he dropped 21 pounds and added eight inches to his vertical jump, the 6-foot-10 Colorado native was viewed as a potential breakout candidate in the Big Ten.
And early on, the improvement from Davis was evident.
He scored in double figures in eight of Indiana's first 10 games, including a 16-point performance against Duke's frontline of Wendell Carter and Marvin Bagley Jr. Davis also had 13 points in a win over Iowa in early December and then had 14 in a loss at Louisville less than a week later.
But those moments would be the high points for Davis, who didn't scored in double figures in the final five games of his sophomore season. After hearing a loud pop in his Achilles during a practice in early January, it was announced that Davis would miss the remainder of the season.
Suddenly, Indiana was without one of its key offensive cogs and its best shot blocker. Despite average rebounding numbers on both ends, Davis had a block percentage of 8.8 through 15 games. That number would have ranked in the top 50 nationally, according to Ken Pomeroy, if Davis had played the minutes to qualify.
Davis was also Indiana's most efficient low post scorer through the first half of the season, according to Synergy Sports. In 64 post-up possessions, Davis scored 72 points. That number ranked in the 95th percentile nationally.
As strong as those numbers were, Davis admitted in a press conference in early February that he wasn't particularly pleased with his play in his second season.
"I just honestly want to get back to how I was in high school," he explained. "Since I've been in college, I feel like I've gotten away from my game in high school. I just want to be more aggressive on the offensive and defensive end. I just want to play more freely and have more fun out on the court. And just enjoy the game."
Given that he's now almost three months post-injury, Davis is well into the rehab portion of his recovery. He said in early February that a preliminary timetable for a return to full strength that he was given at the time of injury was six to nine months.
Bottom line: It will be another pivotal offseason for Davis as he'll have a battle on his hands if he wants to remain a starter moving forward. The Hoosiers are adding several frontcourt players, including Race Thompson and Jake Forrester, who could push him for minutes. He also faces the challenge of remaining in top physical shape despite not being able to do the same workouts as his teammates. If Davis is able to return to full strength, it'll be hard to keep him off of the floor because of his ability to score in the paint and block shots.
Quotable: "I feel like I started out strong. And then probably a month in, just before I got hurt, I was in a little slump. My minutes started to drop. Overall, if I had to grade it, my season was probably a 'D' season. Coming off of last year, which was like a 'F' season. Not too much improvement besides my conditioning so I'm going to continue to work, get healthy and continue to build my body so next year I can come back stronger and faster." – Davis on February 2.
Previously: Justin Smith, Al Durham Jr., Clifton Moore, Devonte Green
Filed to: Deron Davis