Five takeaways from Indiana's win at Minnesota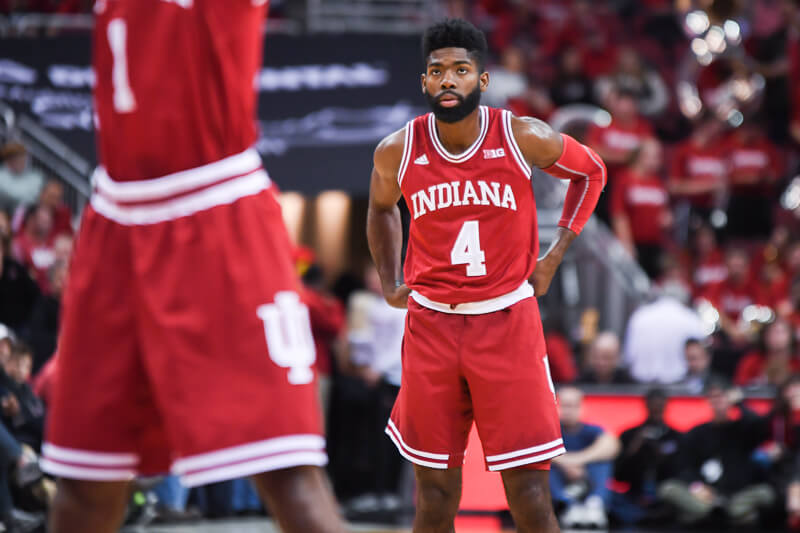 Indiana picked up its first road win of the season on Saturday as the Hoosiers beat Minnesota, 75-71, at Williams Arena. The win improved Indiana to 9-7 overall and 2-2 in the Big Ten.
Here's a look at five takeaways from the win over the Golden Gophers:
· Indiana created scoring opportunities for Robert Johnson … and he delivered: If you've followed Robert Johnson's career in Bloomington, you know that he's never been the focal point of IU's offense.
Johnson is at his best offensively when action is run to create space for him on the wing, which allows him to get into the lane or get some room for open 3-point attempts.
The Hoosiers made it a focus to get Johnson freed up by running a ton of screens for him and the senior delivered a terrific performance. Johnson did a little bit of everything in the win as he finished with 28 points, seven rebounds and seven assists in 38 minutes.
He was an efficient 7-of-14 on 2s, many of which were in the lane and at the rim, and he also splashed in three of his seven 3-point field goal attempts. With De'Ron Davis sidelined, the Hoosiers are going to need even more perimeter scoring and trying to put Johnson in the best situations to find success is a key. On Saturday night, that was definitely the case.
· Smith makes the most of our starting opportunity: Freshman Justin Smith's role has diminished in recent weeks as he'd played double digit minutes just once in IU's last nine games.
But with Davis and Collin Hartman both out, Smith was thrust into the starting lineup for just the second time this season. Smith came through in a big way in the win with 20 points and three rebounds in 26 minutes.
He hit five of his eight 2-point attempts, made both of his 3-point attempts and was 4-of-4 from the free throw line. It was an impressive performance for a freshman who has been a fringe rotation player since late November.
"Really proud of Justin Smith," Archie Miller said. "He really stepped up and played for us on both ends. By far his best game of his career."
· Morgan responds from disappointment at Wisconsin: Miller said in the postgame that Juwan Morgan was disappointed by Indiana's performance on Tuesday night in Madison.
The Hoosiers fought for a half and then were beaten soundly by the Badgers in a 71-61 loss. Morgan's play on Saturday was a major reason Indiana was able to avoid another road loss.
Morgan posted a double-double – 20 points and 12 rebounds – in 38 minutes. He also had four blocked shots and committed just two fouls.
"We had a huge sense of urgency," Morgan said postgame. "It's a next man up mentality. When De'Ron went down and then we saw Collin go down, we knew the show doesn't stop because you lose a few actors. Just keep going. And as we did and stuck together, that was the end result."
· Indiana capitalized on Minnesota's turnovers: The turnover battle was close on Saturday with Indiana committing 13 and Minnesota finishing with 14.
The points off of turnovers, however, were a different story.
Indiana outscored the Gophers 22-10 on points off of turnovers, which was a major difference in the outcome.
Zach McRoberts deserves plenty of credit as the redshirt junior had four steals, several of which led to possessions in which Indiana scored at key points of the game.
· At 2-2 in the Big Ten, a huge week awaits for the Hoosiers: The last time Indiana had an impressive Saturday win away from Simon Skjodt Assembly Hall, the Hoosiers followed it up with a dud performance on Branch McCracken Court.
Indiana's league schedule has been road heavy so far and now the Hoosiers have the fortune of playing two home games this week with students back in town.
Taking care of business this week in Bloomington will go a long way in determining if Indiana will be able to challenge for a middle of the pack spot in the conference.
Filed to: Minnesota Golden Gophers