Preseason Bracketology: 1-4 seeds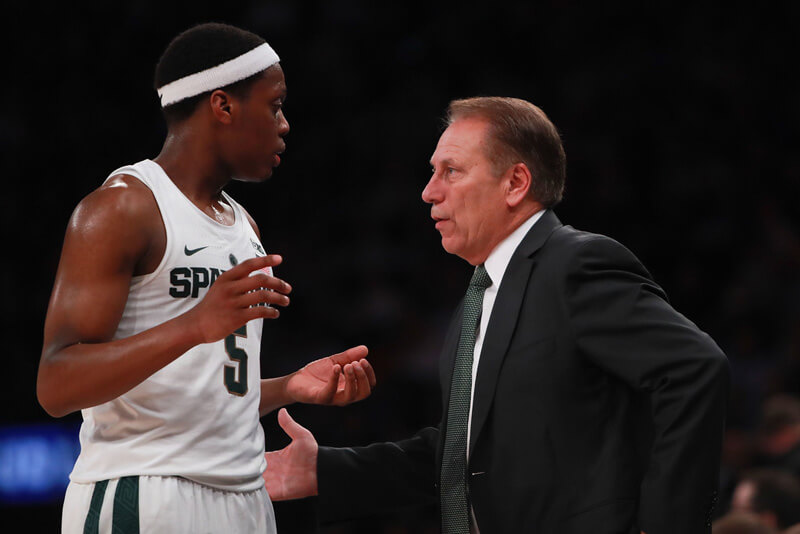 As I've rolled these out over the course of the week, I've seen a few questions about the teams that just missed the cut. In alphabetical order, here are the nine teams that came closest to sliding into the field: Arkansas, Connecticut, Florida State, Georgia Tech (though maybe not in light of the story Gary Parrish broke this week), Indiana, Iowa, Marquette, Vanderbilt, and VCU.
(Previously: 13-16 seeds, 9-12 seeds, 5-8 seeds).
4 Seeds
Xavier – The Musketeers were squarely on the bubble heading into the Big East tournament last year before parlaying an impressive late-season stretch into a trip to the Elite Eight. Expect Trevon Bluiett (18.5 ppg, 5.7 rpg) and antagonist extraordinaire J.P. Macura (14.4 ppg) to lead the way from a scoring standpoint. Blueitt is a tremendous scorer, and I wouldn't be shocked to see him push his average over 20 points as a senior. Point guard Quentin Goodin picked up valuable experience after Edmond Sumner went down last year and didn't play like a freshman during Xavier's tournament run. Coach Chris Mack added a solid recruiting class, led by guard Paul Scruggs, and also picked up grad transfer Kerem Kanter from Green Bay to bolster the frontcourt.
North Carolina – The defending champs lost their starting front line as well as freshman big man Tony Bradley, but it's tough to bet against Ol' Roy at this point. Joel Berry II (14.4 ppg, 3.7 apg) is the headliner offensively, but he's currently sidelined with an injury suffered in a video game-induced rage. The Heels desperately need to get a full season out of do-it-all forward Theo Pinson, while Kenny Williams and Luke Maye will have to produce in expanded roles. Pitt transfer Cameron Johnson will be asked to shoulder part of the scoring load as well after averaging 11.9 points and shooting over 41 percent from deep for the Panthers last season. With so much roster turnover, opportunities will be there for freshmen to earn spots in the rotation. Jalek Felton and Garrison Brooks are the mostly likely options to take advantage of those chances.
Purdue – It would certainly be easy to project more of a fall for the Boilers following the departure of Caleb Swanigan, but they are still my pick to finish second in the Big Ten. Matt Painter will have the luxury of starting four seniors along with potential breakout candidate Carsen Edwards, who averaged 10.4 points as a freshman. At this point, we know what to expect from P.J. Thompson and Dakota Mathias, who does a little of everything on both ends of the floor. The questions are really around whether Vince Edwards can embrace the go-to guy role and whether Isaac Haas can stay on the floor. To me, the former question is the bigger of the two, and based on his performance in the World University Games, Edwards appears ready to step further into the spotlight.
Louisville – For obvious reasons, the Cardinals are a hard team to peg heading into the season. Despite a tumultuous last couple months and the low likelihood of freshman Brian Bowen suiting up, the roster certainly isn't short on talent. Small forward Deng Adel (12.1 ppg, 4.5 rpg) flirted with the NBA draft, and senior point Quentin Snider returns after leading the team in assists and finishing second in scoring. Anas Mahmoud has shown flashes but needs to become more consistent inside, while frontcourt mate Ray Spalding averaged 5.9 points and 5.5 boards in just over 19 minutes per game as a sophomore. V.J. King is poised to step into a larger role with Donovan Mitchell gone, and three top 100 recruits should step into the rotation immediately. If this team can rally around interim head man David Padgett, they could certainly outperform this prediction. However, we have no way of knowing how recent events will ultimately impact the team's ability to reach its potential.
3 Seeds
Cincinnati – I was a little surprised to see how high some of the computer rankings placed Cincinnati following the graduation of guard Troy Caupain. Sports Illustrated slotted them at sixth, John Gasaway of ESPN had them seventh, and KenPom ranked them 11th. When you look at the roster though, it's easy to get on board with this team. Jacob Evans led the team in points and steals last season, finished second in assists, and knocked down nearly 42 percent from deep. Kyle Washington and Gary Clark both averaged at least 10.8 points and 6.8 boards while making at least 51 percent of their shots. Throw in Jarron Cumberland, who scored 8.3 points per game despite averaging just 19 minutes, and Cincinnati won't struggle to score. The wild card is guard Cane Broome, a transfer from Sacred Heart who averaged 23.1 points in 2015-16. If he can adjust to the increased level of competition, the Bearcats have a great chance to live up to those lofty projections.
West Virginia – Picked by most to finish second in the Big 12, "Press Virginia" will be looking to win at least 25 games for the fourth straight season. The Mountaineers will be led by Jevon Carter (13.3 ppg, 3.8 apg, 2.5 spg) and Daxter Miles, Jr. (8.8 ppg) in the backcourt, but they will be without their most established frontcourt player for the first semester after Esa Ahmad was ruled ineligible. Luckily, Bob Huggins plays so many players that the stopgap options aren't completely inexperienced. Sophomore Lamont West seems most likely to benefit in the short-term and should stay in the starting lineup after Ahmad's return. Freshman Teddy Allen and sophomore James Bolden both scored at least 15 points in West Virginia's charity exhibition against Albany and are among a slew of players with a chance to establish themselves within Huggins' deep rotation.
Miami (FL) – Like many other teams, it remains to be seen what, if any, ramifications the recent FBI investigation will have on the Hurricanes. For now, it doesn't seem as though any current players have been implicated. The Canes lost leading scorer Davon Reed and leading rebounder Kamari Murphy but still project as one of the ACC's best teams. The backcourt is the obvious strength with Ja'Quan Newton and Bruce Brown back. That duo combined to average 25.3 points, 9.1 rebounds, 6.6 assists, and 2.6 steals last year. The backcourt will be bolstered by the addition of top 20 recruit Lonnie Walker IV assuming he recovers from a knee issue that required surgery in July. There are questions in the frontcourt, but there seem to be enough pieces that they can mix and match to get decent production.
Florida – A number of key pieces are gone from last season's squad, including three players who scored at least 9.7 points per game. Still, expectations are high in Gainesville thanks to a solid returning nucleus. KeVaughn Allen will lead the way offensively after leading the team in scoring as a sophomore, and coach Mike White hopes point guard Chris Chiozza can shake off a shoulder injury and maintain the momentum he built over the latter part of last season. Kevarrius Hayes (6.2 ppg, 4.4 rpg, 1.7 bpg) will be asked to hold down the post until John Egbunu is fully recovered from a torn ACL suffered last season, and a pair of transfers will also play key roles. Forward Egor Koulechov averaged 18.2 points and 8.9 rebounds while knocking down better than 47 percent of his 3s at Rice last year, and Jalen Hudson was able to practice with the team last season after transferring from Virginia Tech. If White can get a player or two to consistently produce at the four and five spots, the Gators can win the SEC.
2 Seeds
Wichita State – The Shockers will bring a virtually unchanged roster with them as they transition to the AAC. Each of their top two players, Markis McDuffie (11.5 ppg, 5.7 rpg) and Landry Shamet (11.4 ppg, 3.3 apg), are dealing with injuries already, though it sounds like Shamet will miss little, if any, time. McDuffie's timeline is a bit less clear as he recovers from a stress fracture in his foot. Wichita State will be able to use an experienced roster to pick up the slack in the short-term, as six seniors will be a part of the rotation, all of whom scored at least five points per game last year. If Shamet and McDuffie can stay healthy, the Shockers are Final Four contenders.
USC – After winning 26 games a year ago, the Trojans appear to have a loaded roster that could ultimately challenge for the Pac-12 Title. That outlook is a bit cloudier now with De'Anthony Melton (8.3 ppg, 4.7 rpg, 3.5 apg, 1.9 spg) being held out of the team's exhibition games, but there is still plenty of firepower on the roster even if Melton misses extended time. Bennie Boatwright missed about half of last season due to injury but still managed to average 15.1 points as a sophomore. Like Boatwright, there was a chance that big man Chimezie Metu (14.8 ppg, 7.8 rpg, 1.5 bpg) and small forward Elijah Stewart (12.3 ppg) would enter the NBA draft, but all three are back to give USC a terrific starting frontcourt. Jordan McLaughlin will run the show once again after dishing out 5.5 assists per game and shooting 40 percent from 3-point range. Andy Enfield has an incredibly deep roster with three other players who scored at least five points per game last season along with Duke transfer Derryck Thornton, Jr. and talented freshman Charles O'Bannon, Jr.
Kentucky – As usual, John Calipari reeled in a lengthy list of high-end recruits, and with very little returning production, the newcomers will be counted on even more than usual. In fact, Wenyen Gabriel (4.6 ppg, 4.8 rpg) is the only returnee who scored over three points per game. Another key returnee is Hamidou Diallo, a freak athlete who enrolled in the middle of last season and nearly entered the NBA draft without even playing a game for the Wildcats. There's certainly no shortage of size in the incoming class with four players standing 6-foot-7 or taller. One of those is 6-foot-9 forward Kevin Knox, who seems most likely to lead the team in scoring. The shortest freshman is Quade Green, a point guard who will get the keys to the offense following the loss of De'Aaron Fox. Outside shooting and a couple of early season injuries are among the concerns with this inexperienced club, but it's hard to bet against a team that has finished in the RPI top 10 in each of the last four seasons.
Villanova – Despite losing the likes of Josh Hart and Kris Jenkins, the Wildcats are still the consensus pick to win what should be a deep and competitive Big East. Point guard Jalen Brunson makes it easy to be that optimistic after scoring 14.7 points per game last year while dishing out 4.1 assists. On the wing, Mikal Bridges can do a little bit of everything and will need to step up his scoring as a junior. After being forced to sit out last season, Omari Spellman should slide right into the five spot, and coach Jay Wright hopes guard Phil Booth can finally get over the knee injury that cost him all but three games of last season. After averaging 8.8 points and showing some really impressive flashes as a redshirt freshman, Donte DiVincenzo is poised to take on a larger role as well. How all the minutes shake out remains to be seen, but the nucleus is unquestionably strong, which should give them a realistic shot at winning at least 29 games for a fifth straight season.
1 Seeds
Kansas – After winning 13 straight Big 12 titles, you won't find me picking against the Jayhawks regardless of any personnel changes they have. So even with Frank Mason III, Josh Jackson, and Landen Lucas gone, KU should once again find itself competing for a one seed. Devonte Graham (13.3 ppg, 4.3 apg) takes the reigns from Mason, while Svi Myhailiuk and Lagerald Vick provide additional experience and production on the perimeter. Mississippi State transfer Malik Newman should help pick up the scoring slack left by last season's departures, although you'll notice I've yet to mention any interior players. Bill Self will be counting on big minutes from Udoka Azubuike, who was exceeding expectations as a freshman before a wrist injury ended his season. The performance of freshman Billy Preston will prove to be incredibly important given his skillset at 6-foot-10 and the lack of size on the roster.
Arizona – For yet another team, there are questions swirling around the program in the wake of the ongoing FBI investigation, but there's been no definitive word on anyone's eligibility. Rawle Alkins seems most likely to be impacted at this point, but he's currently sidelined with a foot injury. Outside of Alkins, the Wildcats return a handful of key contributors. Allonzo Trier played in just 18 games last season but averaged a team-high 17.2 points to go with 5.3 rebounds and 2.7 assists. Big man Dusan Ristic also scored in double figures, while Parker Jackson-Cartwright is back at the point after leading the team with 4.1 assists per game. There's no shortage of excitement about the newcomers, as Sean Miller managed to reel in another strong recruiting class headlined by 7-footer DeAndre Ayton, who was ranked as one of the top three recruits by virtually every service. The other four freshmen should slide into the rotation right away for the Pac-12 preseason favorite.
Duke – Expect the Blue Devils to routinely roll out a lineup featuring four freshmen alongside Grayson Allen. I don't need to tell you that Allen's junior season didn't exactly go as planned, but he still managed to average 14.5 points, 3.7 rebounds and 3.5 assists. As for the freshmen, late signee Marvin Bagley III is the most heralded of the bunch thanks to his combination of size, skill, and a high motor. The spotlight will also be on Trevon Duval as he assumes point guard duties, and his ability to play under control will play a huge role in determining Duke's fate in March. Throw in power forward Wendell Carter and Gary Trent, Jr. (son of the Shaq of the MAC for those of you around my age), and you have a lineup that can beat you in a variety of ways. As is the case with any young team, there may be some growing pains along the way, but you'd be hard-pressed to find a team with more raw talent.
Michigan State – The Spartans won just 20 games last season, but that total should increase dramatically this year. Miles Bridges (16.9 ppg, 8.3 rpg) spurned the NBA for a chance to win a national title, and he should get a chance to play more at the three this season. Fellow sophomore Nick Ward managed to post 13.9 points and 6.5 rebounds despite playing under 20 minutes per game, but another pair of sophs in the backcourt are being counted on to take their games to another level. Cassius Winston dished out 5.2 assists last season, but Tom Izzo has stressed the need for him to improve his conditioning and defense. Backcourt mate Josh Langford averaged just 6.9 points but seemed to hit his stride later in the season and appears poised to build on that momentum. The frontcourt is absolutely loaded with Gavin Schilling and Ben Carter back from injury and five-star recruit Jaren Jackson in the mix as well. Sparty is the odds-on favorite to win the Big Ten and likely a popular pick to cut down the nets.
Follow Andy on Twitter (@andybottoms) for more thoughts on college hoops and to receive an update whenever new brackets are posted.
Filed to: Bracketology