Preseason Bracketology: 9-12 seeds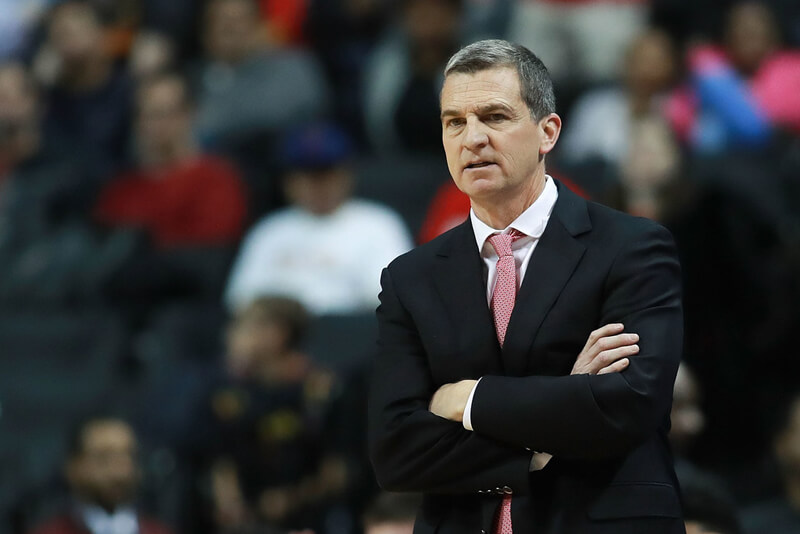 Yesterday we hit the 13-16 seeds, and today we'll hit the top teams from single-bid leagues as well as the squads I project as the final at-large teams to make the field.
12 Seeds
Vermont – The Catamounts are a unanimous pick to win the America East based on all the projections I've seen, and it's not hard to see why. They have a terrific sophomore in Anthony Lamb, who led the team in points, rebounds, and blocks as a freshman and plays alongside a pair of seniors who also scored in double figures. Payton Henson was just behind Lamb in points and rebounds, while Trae Bell-Haynes led the team with 3.9 assists per game.
Bucknell – Virtually everyone is back for a team that won the regular season and tournament titles in the Patriot League, so there really isn't an argument for picking against the Bison this time around. The frontcourt is stacked with Nana Foulland and Zach Thomas. Both averaged at least 15 points and 6.6 rebounds last season, with Foulland winning the league's player of the year and defensive player of the year honors. Stephen Brown led the team with nearly five assists per game and gives Bucknell another double-digit scorer.
Middle Tennessee – JaCorey Williams and Reggie Upshaw won't be easily replaced, but the Blue Raiders do return sharpshooter Giddy Potts, who averaged 15.3 points and 5.3 rebounds as a junior. MTSU will also rely heavily on Alabama transfer Nick King, as they try to hold off the likes of UAB and Louisiana Tech in Conference USA.
Charleston – The Cougars return all five starters from a squad that went 14-4 in the CAA last season and won 25 games overall. Joe Chealey led the team with 17.8 points and 3.2 assists per game, while Jarrell Brantley provided the muscle on the interior, averaging 14.2 points and 8.4 rebounds as a sophomore. Throw in Grant Riller, who was a double figure scorer as a freshman, and a nice set of complementary pieces, and you have a team that seems destined to win the Colonial.
11 Seeds
Nevada – The reigning Mountain West champs must replace three double-digit scorers, but the good news starts with the return of Jordan Caroline, who averaged 15.0 points and 9.2 boards last season. Forward Elijah Foster is also back from injury, and they'll be joined by a long list of major conference transfers, including Caleb Martin from NC State and Kendall Stephens from Purdue.
Stanford (First Four) – There's a clear-cut top four in the Pac-12, and I wouldn't be stunned if the league earned just four bids. If a fifth team does make it, my money is on the Cardinal. Junior Reid Travis (17.4 ppg, 8.9 rpg) should lead the way once again, and guys like Dorian Pickens and Michael Humphrey round out a solid frontcourt. If Robert Cartwright and freshman Daejon Davis can help stabilize the backcourt, I'll feel much better about this pick.
Central Florida (First Four) – I had the Knights more safely in the field prior to the news of Aubrey Dawkins' season-ending injury, but there are still plenty of reasons to like UCF. First and foremost of those is B.J. Taylor, who averaged 17.4 points, 4.0 rebounds, and 3.5 assists last season. Throw in 7-foot-6 Tacko Fall and senior forward A.J. Davis and you have a solid nucleus, which should be aided by transfers Terrell Allen and Dayon Griffin. The Knights are certainly a rung or two below Wichita State and Cincinnati in the AAC, but an at-large bid is still within reach.
St. Bonaventure (First Four) – There are few (if any) backcourts that are more explosive than Jaylen Adams and Matt Mobley, who combined to average 39.1 points last season. Adams also dished out 6.5 assists and posted 2.1 steals per game, while Mobley grabbed 5.8 rebounds as well. While the backcourt is dynamic, there are questions in the frontcourt for a team that didn't post great defensive efficiency numbers a year ago. Even so, I like the Bonnies as the second best team in the A-10, which should be enough to squeak into the field.
Texas Tech (First Four) – Keenan Evans (15.4 ppg, 3.0 apg) and Zach Smith (12.1 ppg, 7.2 rpg) aren't household names, but they give Chris Beard a strong foundation heading into his second season in Lubbock. Justin Gray and Niem Stevenson are solid returning pieces, and when you add in a healthy Norense Odiase and transfers Brandone Francis and Tommy Hamilton IV, there's a lot to like for the Red Raiders. One concern is a relatively weak non-conference schedule, which provides very few chances for quality wins.
Wisconsin – This is ultimately a nod to the consistency of the Wisconsin program after 19 straight NCAA Tournament appearances, as there are far more questions than answers as we head into the season. Sure, Ethan Happ is back, but there is a ton of production to replace following the departure of four seniors. Returnees like D'Mitrik Trice, Brevin Pritzl, and Andy Van Vliet will be asked to step into much larger roles, and a handful of freshmen could earn minutes early on.
10 Seeds
Butler – Not only did the Bulldogs lose a number of key contributors led by Andrew Chrabascz, they also lost their coach when Chris Holtmann bolted for Ohio State. Still, the cupboard isn't bare for first year head man LaVall Jordan. Kelan Martin (16.0 ppg, 5.8 rpg) led the team in scoring and rebounding, while Kamar Baldwin (10.1 ppg) exceed expectations as a freshman. There are some experienced options to play alongside Martin in the frontcourt, but the backcourt has a number of question marks.
SMU – The Mustangs must replace three double-digit scorers, and outside of Shake Milton, Jarrey Foster, and Ben Emelogu II, there aren't any key contributors back from last season's 30-win club. Milton (13.0 ppg, 4.5 apg) gives the team a solid foundation at the point and anchors a backcourt which should be the strength of the team thanks to the addition of transfers Jimmy Whitt and Jahmal McMurray, the latter of which will be eligible after the first semester. SMU desperately needs Georgetown transfer Akoy Agau to give them solid minutes in the frontcourt.
Missouri – The Tigers are among the toughest teams to project heading into the season. The Kim Anderson era is over after two SEC wins last year and just 27 total wins over the last three years. But fans are counting on a quick rebuild thanks to the recruiting class that Cuonzo Martin was able to put together in short order. The headliner is Michael Porter Jr., the top-rated recruit nationally by most services, and his younger brother Jontay reclassified to be part of the same class. Throw in Top 50 recruit Jeremiah Tilmon and Canisius transfer Kassius Robertson, and there's an impressive collection of newcomers. How those guys can mesh with returnees like Jordan Barnett, Kevin Puryear, and Terrence Phillips will determine the ceiling for the Tigers.
Creighton – Gone are Justin Patton, Mo Watson, and Cole Huff, which leaves Creighton poised to finish in the middle of the pack in a tough Big East. Marcus Foster (18.2 ppg) can light up the scoreboard, and wing Khyri Thomas does a little bit of everything on both ends of the floor. Outside of those two, there are a handful of players who were able to play complementary roles a season ago as well as Syracuse transfer Kaleb Joseph and a pair of Top 100 recruits. There is a wide gap between the top four teams in the Big East and everyone else, but I like the Bluejays to slot in as the fifth place squad.
9 Seeds
Virginia Tech – Buzz Williams returns four players who scored at least 9.2 points per game last season, led by Chris Clarke (11.4 ppg, 7.3 rpg, 3.3 apg), who is coming back from an ACL injury suffered last February. Ahmed Hill and Justin Robinson give the Hokies a solid core in the backcourt, while Kerry Blackshear Jr. is back at center after injuries forced him to redshirt last year. A pair of Top 100 recruits will also be in the mix, and if they progress quickly, Tech could outperform this projection by a couple seed lines.
Oklahoma – The Sooners must replace Jordan Woodard, but stud freshman Trae Young was among the nation's top-rated point guard recruits and should start from day one. A strong supporting cast will help Young adjust to the college game, as five players return who scored at least 7.9 points per game last season. Kameron McGusty and Rashard Odomes both scored in double figures, while Kadeem Latin led the team in rebounds and block shots. The fall suspension of Kristian Doolittle will make a challenging non-conference slate even tougher to navigate.
Texas – Led by Mohamed Bamba, the Longhorns brought in one of the nation's best recruiting classes. That class will be counted on to help the team improve on a 4-14 Big 12 record. Shaka Smart hopes freshman Matt Coleman can solve the team's issues at the point and allow guys like Andrew Jones and Kerwin Roach Jr. to play more off the ball. Tulane transfer Dylan Osetkowski should provide frontcourt help, but Bamba will be the headliner in what is expected to be his only season in Austin.
Maryland – This season for the Terps begins and ends with a terrific trio of sophomores. Justin Jackson (10.5 ppg, 6.0 rpg), Anthony Cowan (10.3 ppg, 3.9 rpg, 3.7 apg), and Kevin Huerter (9.3 ppg, 4.9 rpg, 2.7 apg) all gained a ton of experience last season and should become even more consistent in their second seasons. The questions here are predominately along the front line with Michael Cekovsky, Ivan Bender, Sean Obi, and Bruno Fernando all likely to get a crack at earning minutes at the four or the five. Maryland is right in the middle of a group of six teams that could finish anywhere between fifth and 10th in the Big Ten.
Follow Andy on Twitter (@andybottoms) for more thoughts on college hoops and to receive an update whenever new brackets are posted.
Filed to: Bracketology