Preseason Bracketology: 5-8 seeds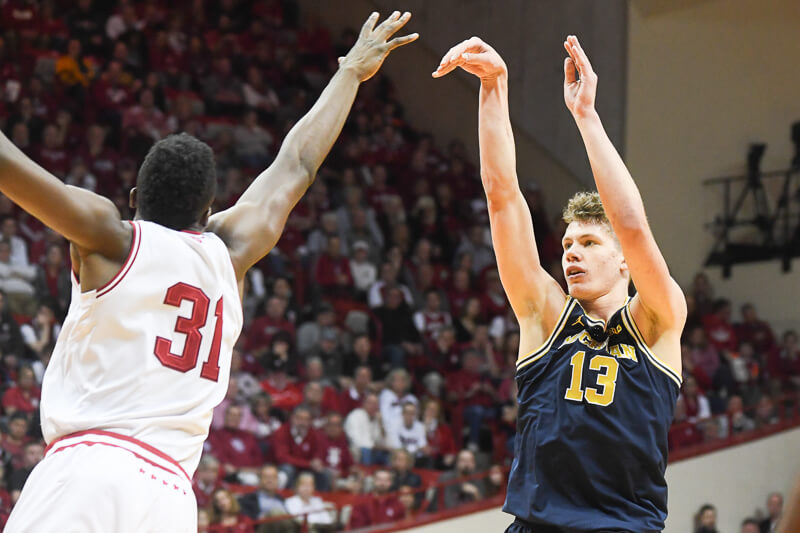 Today's installment of preseason bracketology focuses on seed lines five through eight, where the six major conferences are well-represented with two teams each from the ACC, Big 12, Big East, Pac-12, and SEC to go with a trio of Big Ten clubs. (Previously: 13-16 seeds, 9-12 seeds).
8 Seeds
Oregon – Payton Pritchard (7.4 ppg, 3.7 apg) is just about the only contributor back from last season's Final Four squad. As a result, Dana Altman will be forced to rely heavily on transfers and freshmen, but there are certainly some intriguing options at his disposal. Elijah Brown scored nearly 19 points per game for New Mexico last year, while MiKyle McIntosh was a double-digit scorer for a tough Illinois State team. As for the freshmen, Troy Brown is the headliner as a 6-foot-7, five-star recruit whose versatility will provide Altman some lineup flexibility.
Michigan – Without Derrick Walton Jr., Zak Irvin, and D.J. Wilson, just three meaningful contributors are back for the Wolverines. And while I think we have a good idea of what to expect from those returnees (Mo Wagner, Muhammad-Ali Abdur-Rahkman, and Duncan Robinson), the wild cards are a pair of transfers. Charles Matthews sat out last season after leaving Kentucky and should be able to hit the ground running with a year in John Beilein's system, while Ohio transfer Jaaron Simmons averaged 15.9 points and 6.5 assists for the Bobcats last season. If both of them click, the Wolverines could finish as high as fourth in the Big Ten.
Virginia – The graduation of London Perrantes and a rash of transfers leave Tony Bennett with just three returnees who scored over five points per game last season. Seniors Devon Hall and Isaiah Wilkins will provide leadership and a steady presence, while sophomore Kyle Guy has all the makings of a breakout candidate. Ultimately we know Virginia will get it done on the defensive end, as the Cavaliers have finished in the top seven in defensive efficiency in five of the last six years. The "down" year in that span saw them check in at 25th.
Alabama – Highly touted freshman Collin Sexton has provided plenty of reason for optimism for Avery Johnson and the Crimson Tide, but there are eligibility questions swirling around him with the season just days away. And if that wasn't enough, Braxton Key, the team's leading returning scorer at 12 points per game, just underwent knee surgery and will miss the start of the season. If both guys end up missing significant time, Alabama would drop to the middle of the pack (or maybe lower) in the SEC. That said, there are a number of other interesting pieces on the roster. Dazon Ingram gives Johnson another double-digit scoring threat, and four other players return who scored at least six points per game. Ohio State transfer Daniel Giddens is expected to earn big minutes up front, and freshman John Petty gives Alabama another Top 40 recruit.
7 Seeds
Rhode Island – The losses of Hassan Martin and Kuran Iverson leave some questions in the frontcourt, but the Rams are still the favorite to win the A-10. The 1-2 punch of E.C. Matthews (14.9 ppg, 4.3 rpg) and Jared Terrell (12.6 ppg) will provide the scoring punch, and with guys like Stanford Robinson, Jarvis Garrett, and Jeff Dowtin on the roster, URI will likely play a lot of four-guard lineups. The play inside from Cyril Langevine will be critical.
Baylor – It's getting to a point where Scott Drew's teams just deserve the benefit of the doubt even in the face of key personnel losses. So with Johnathan Motley, Al Freeman, and Ish Wainwright gone, it's fair to expect Drew will find a few players to step up alongside Manu Lecomte (12.2 ppg, 3.9 apg), who should lead the team in points and assists. Jo Lual-Acuil and Terry Maston are the most likely candidates but a pair of redshirt freshmen (Tyson Jolly and Mark Vital) will have a chance to earn key roles as well.
Providence – Virtually everyone returns from a team that far exceeded preseason expectations a season ago, including four double-digit scorers. Rodney Bullock led the team in points and rebounds a year ago, while Kyron Cartwright dished out 6.7 assists per game, which led the Big East. Former IU big man Emmitt Holt (12.5 ppg, 5.4 rpg) provided solid production as well, but an abdominal injury has his status in doubt heading into the season. Ed Cooley has proven to be a fantastic coach, and with a deep and experienced roster, the Friars could finish as high as second in the Big East.
Northwestern – Nearly everyone of note is back for the Wildcats, who made history by earning their first trip to the NCAA tournament last season. The backcourt should be productive once again with Bryant McIntosh (14.8 ppg, 5.2 apg) and Scottie Lindsey (14.1 ppg) leading the way. The return of Aaron Falzon from injury should give Derek Pardon some help along the front line. Northwestern is a near consensus pick to finish in the top four of the Big Ten, but that may require significant improvement from the 10-8 record they posted in the league last season. While I do think they can improve upon that mark, I struggle to see them earning a top five seed.
6 Seeds
UCLA – After losing four players who scored at least 14 points per game last year, Steve Alford reeled in a deep and talented recruiting class to restock the cupboard. Forward Kris Wilkes and guard Jaylen Hands were both Top 25 recruits and should slot into the starting lineup alongside Aaron Holiday (12.3 ppg, 4.4 apg) and Thomas Welsh (10.8 ppg, 8.7 rpg). Under any circumstances, it would be nearly impossible for UCLA to replicate last season's gaudy offensive efficiency numbers, let alone with a team so reliant on freshmen. That said, I can't see them falling out of the top four in the Pac-12, but I also can't see them challenging for the conference title.
Gonzaga – Even with four of the top five scorers gone from a team that nearly won the national championship last season, the Zags should still challenge for the WCC title while hovering around the Top 25. Johnathan Williams III (10.3 ppg, 6.6 rpg) is the team's top returning scorer, and players like Killian Tillie and Rui Hachimura seem poised to embrace and excel in larger roles. Josh Perkins will provide stability and solid shooting at point guard, while redshirt freshman Zach Norvell Jr. could eventually play his way into the starting lineup.
TCU – Jamie Dixon brings back the top six scorers from a team that won the NIT last season, led by Vladimir Brodziansky (13.7 ppg, 5.6 rpg, 2.2 bpg), who is one of the more underrated players in the country. Alex Robinson and Jaylen Fisher combined for nearly 10 assists per game and will continue to provide stability and sound decision making in the backcourt. With such a strong nucleus back and a handful of intriguing newcomers in the mix, the Horned Frogs could finish as high as second in the Big 12.
Saint Mary's – Aussies Jock Landale (16.9 ppg, 9.5 rpg) and Emmett Naar (9.4 ppg, 5.6 apg) will lead the Gaels, as they attempt to finally knock Gonzaga from atop the WCC. Calvin Hermanson is also back after scoring 13.1 points per game as a junior, and a handful of other complementary pieces return as well. Ole Miss transfer Cullen Neal should slide into the starting lineup and provide additional scoring punch next to Naar in the backcourt. As has been the case in recent years, the non-conference schedule is a reason for concern, as there simply aren't many challenges on the docket and the Wooden Legacy field isn't particularly strong.
5 Seeds
Texas A&M – So far the Aggies have only made headlines for some early season suspensions, but once they are back at full strength, this looks like a team that has an outside shot at winning the SEC. Sophomore Robert Williams (11.9 ppg, 8.2 rpg, 2.5 bpg) could have been a lottery pick had he left after last season, but he opted to return to school to bolster an already deep frontcourt. Tyler Davis (14.1 ppg, 7.0 rpg) and Admon Gilder (13.7 ppg, 3.9 apg) led the team in scoring last season. Coach Billy Kennedy is also excited to have J.J. Caldwell available to run the point after he was forced to sit out last season.
Seton Hall – With four double-digit scorers and four seniors back, the Pirates could challenge Villanova for the Big East crown if everything breaks right. Angel Delgado (15.2 ppg, 13.1 rpg) posted 27 double-doubles last season and will anchor the frontline. Fellow senior Khadeen Carrington led the team in scoring at 17.1 points per game, but he will be asked to play more point guard this season. Throw in Desi Rodriguez (15.7 ppg, 5.2 rpg), Myles Powell (10.7 ppg), and defensive stopper Ish Sanogo, and you have a formidable starting five capable of making it to the second weekend of the NCAA tournament.
Minnesota – The Gophers were one of last season's biggest surprises, and they return most of the key pieces that fueled their impressive turnaround. Nate Mason (15.2 ppg, 5.0 apg) and Amir Coffey (12.2 ppg) will lead the way from a scoring standpoint once again, while Jordan Murphy is a double-double machine and Reggie Lynch is the reigning Big Ten defensive player of the year. An injury to Eric Curry hurts Minnesota's depth, and the graduation of Akeem Springs takes one of the best shooters off of a team that already struggled to make shots from long range. If guys like Isaiah Washington and Davonte Fitzgerald can help fill in those gaps, the Gophers could finish second in the league.
Notre Dame – All-American candidate Bonzie Colson (17.8 ppg, 10.1 rpg) is one of my favorite players to watch, and along with point guard Matt Farrell, he'll be counted on to shoulder the load offensively with V.J. Beachem and Steve Vasturia gone. While I expect T.J. Gibbs and D.J. Harvey to help pick up the scoring slack, overall depth is my biggest concern for the Irish.
Follow Andy on Twitter (@andybottoms) for more thoughts on college hoops and to receive an update whenever new brackets are posted.
Filed to: Bracketology