The Minute After: University of Indianapolis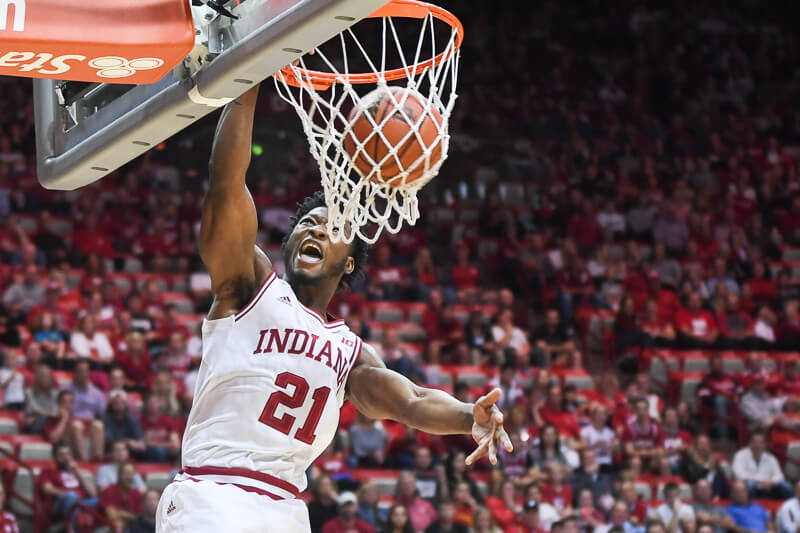 Thoughts on a 74-53 win over the Greyhounds:
I. After last weekend's exhibition win against Marian, I noted freshmen Justin Smith's and Clifton Moore's continual improvement throughout the season might be key to Indiana establishing some frontcourt depth behind De'Ron Davis.
It still hold true as the freshmen again took their lumps today. Smith's problems with turnovers continued as he had two in eight minutes of action. Moore was an afterthought in the rotation as he didn't enter the contest until the final three minutes. But it's also looking like an improved Freddie McSwain might start the season ahead of them in the rotation to add that needed depth, despite giving up several inches to each player. McSwain was a step behind the game a season ago, but that no longer appears to be the case as he enters his second season in the cream and crimson.
His spring and knack for the ball off the rim make him one to watch for offensive putbacks. Six of his nine rebounds came on the offensive end this afternoon. McSwain also had an athletic dunk in transition and looked very comfortable at the line (4-of-5) on his way to 12 points.
The senior has enough strength to play a little bigger than his size on defense as well.
Right now he just seems to know what he's doing more than the freshman. And he's deserving of a healthy dose of rotation minutes as a result.
II. The return of Collin Hartman was fruitful. The Cathedral product finished a perfect 3-of-3 from distance, looking comfortable and confident in his shot after sitting out all of last season due to injury. Hartman also snagged three rebounds in his 15 minutes of action. And he moved the ball on offense like old times.
Hartman doing Hartman things in a leadership role this season is going to be needed. Seeing him ready to go from the moment he stepped into the game was a positive sign, and hopefully something he can build on as he works into game shape.
III. We are still in the midst of small sample size theater with Archie Miller's Indiana Hoosiers. But the turnover trends were again pretty dang good. As Alex wrote in last weekend's Five takeaways, Indiana's turnover percentage of 13.8 against Marian would have been a season-low in 2016-17. Indiana was even better with the ball this afternoon, turning it over just eight times for a turnover percentage of 12.8.
As noted above, two of those eight turnovers came from an inexperienced Smith, while a third came from McSwain not being ready for a nifty dumpoff from Devonte Green.
Indiana still likes to be advantageous in transition. But so far, this version of the Hoosiers has avoided the head-scratching turnovers of the Crean era and seem to be a bit more deliberate and sound with the ball in the halfcourt.
The fundamentals are better and it's showing.
IV. Robert Johnson looked better on offense, shooting an efficient 7-of-15 from the field on his way to a team-high 18 points. Josh Newkirk had some good looks, but had trouble converting (3-of-11). De'Ron Davis had some nice moves in the post for buckets on his way to 11 points in 24 minutes. He, along with Juwan Morgan, are also doing a nice job of finding open Indiana shooters on the perimeter when the defense is throwing an extra defender at them.
Filed to: University of Indianapolis Greyhounds