Five takeaways from Indiana's exhibition win over Marian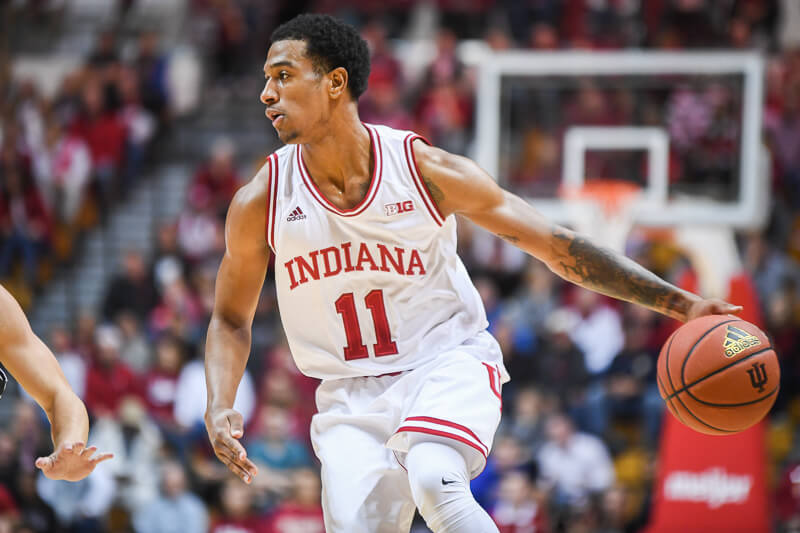 In our first exhibition look at the 2017-2018 Indiana Hoosiers in Simon Skjodt Assembly Hall, the result was a comfortable 93-62 win over NAIA Marian University on Saturday night.
Here's a look at five takeaways from the win over the Knights:
· Devonte Green continues hot shooting … and stuffs the stat sheet in other ways: Devonte Green, who primarily came off the bench last season, is making a case that he deserves major minutes as a sophomore.
Green was his team's leading scorer in the Hoosier Hysteria scrimmage and he followed up that performance with 22 points on 9-of-14 shooting against Marian. He was particularly impressive from inside the arc, as he hit seven of his nine 2-point attempts, including several mid-range jumpers.
But it wasn't just the scoring that made Green stand out on Saturday. He also had seven assists, six rebounds, two blocks and a steal while committing just two turnovers in 30 minutes.
"That's who he's been every day in practice," Archie Miller said postgame. "He does a little bit of everything for us. I think you're starting to see a guy, if he stays with it, he's going to be a very, very important player for us."
Devonte Green's brother, Danny, was here tonight to watch him play #iubb pic.twitter.com/gaJ7srDnhb

— Josh Margolis (@MargolisNews) October 29, 2017
· IU limits turnovers in debut: The Hoosiers committed just 10 turnovers on Saturday night for a turnover percentage of 13.8. That number would have been a season-low in 2016-17.
In IU's two exhibition games a season ago, the Hoosiers posted turnover percentages of 23.5 and 18.8 percent.
Miller was pleased with the performance, especially when you consider the source of several of IU's miscues.
"We had 10 turnovers in the game, 17 assists," he said. "Obviously, very good. If you look at our guards, they kept it down. Justin (Smith), being in his first college game against somebody else, had four. You're going to hope a freshman obviously is going to learn the ropes a little bit. Even Clifton (Moore) had one. So five of our ten came from two freshmen in their first game. They'll get better."
· Newkirk, Jones also standout in backcourt: Senior Josh Newkirk and sophomore Curtis Jones also put together strong performances on Saturday, combining for 26 points and no turnovers in 49 minutes.
Newkirk was efficient – 3-of-4 on 3s and 4-of-6 from the free throw line – and Jones hit two of his four attempts from distance. The pair helped pick up the slack on an off night for Robert Johnson, who was just 3-of-13 from the field.
Given that Newkirk and Jones both had turnover percentages over 20 last season, the fact that neither guy had a miscue on Saturday is notable.
"Just being self-accountable," Newkirk said when asked what the key is to limiting turnovers. "Just making the right play. Getting into our offense. Just getting into our offense and making the right play and just things like that."
· Encouraging moments for a pair of freshmen: Justin Smith was the first freshman off the bench and his performance had its ups and downs.
On the plus side, Smith finished with nine points (5-of-5 from the free throw line) in 14 minutes. However, he committed a team-high four turnovers and also committed four fouls.
Clifton Moore, meanwhile, didn't play until late in the second half and finished with five points and five rebounds in 11 minutes. Moore still has to gain strength if he's going to play regularly in the paint against Big Ten opponents, but his agility for his size is impressive.
"These guys have been very coachable," Miller explained. "They're trying their best to learn what we're trying to get them to do. If you have a player that's willing to learn and willing to go through it the hard way, then they're going to experience at some point in time some good moments. When? That's all up to when they can find a way to become a college basketball player."
· A few changes to the game day experience at Simon Skjodt Assembly Hall: As you expect when there's a change in leadership, there were changes to the game day experience at Saturday's exhibition.
Most notably, the big heads are gone from the end zones behind the baskets. There was pre-game music, but no DJ live on the floor. And the pregame introductions were completely revamped with a much more modern look and sound.

Filed to: Marian University Knights