The Minute After: Marian University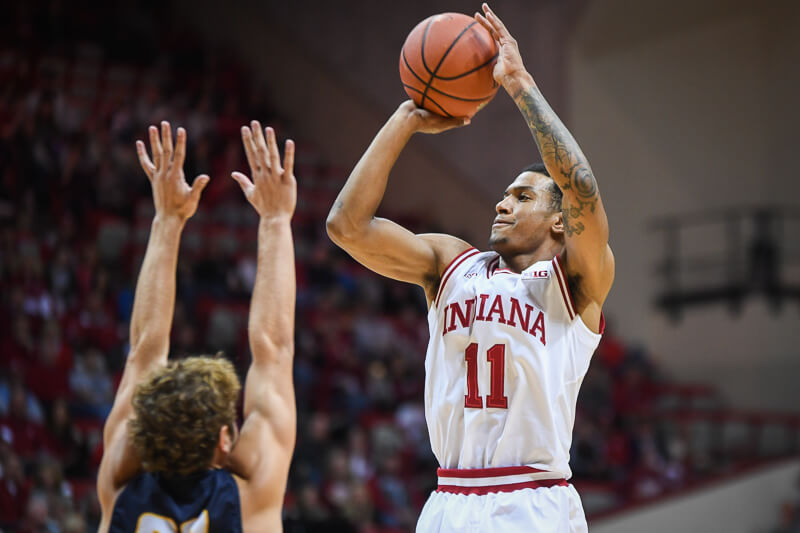 Thoughts on a 93-62 win against the Knights:
I. For two years running, Devonte Green's lit up Hoosier Hysteria. Last year, he followed it up with an uneven rookie campaign, drawing the ire of his former coach for freshman mistakes. It's early. The regular season has yet to begin. But it's starting to feel like this year's going to be decidedly different.
Green was sensational this evening inside Assembly Hall as he pulled out all the stops on offense. The sophomore splashed mid-range jumpers. He knocked down a couple triples (2-of-5). He drove to the rim and finished with strength. Green got his teammates involved too. He found them on the break and in the halfcourt. By night's end, he tallied seven assists and pumped in 22 points on 9-of-14 shooting in 30 minutes of action.
Green's super smooth. He's probably the best pure passer on the team. He's confident. And new coach Archie Miller seems more than willing to let him run the show, even with Josh Newkirk and Robert Johnson in the fold.
In a year the Hoosiers need somebody to fill the scoring void left by James Blackmon Jr. and Thomas Bryant, Green seems ready to step up to the plate.
II. Indiana began the contest playing from behind and turning the ball over at a 20 percent clip, both reminiscent of a season ago. But the Hoosiers eventually settled down and found better footing on both sides of the ball. It led to some encouraging numbers once the exhibition wrapped. Indiana's turnover percentage was strong at just 13.8 percent, while the Hoosiers turned the Knights over on 22.8 percent of their possessions. Indiana scored 20 points off of Marian's turnovers.
Newkirk and Johnson each played 26 minutes and neither had a turnover. Green had just two.
There weren't many head-scratching plays on defense to speak of, and as Alex noted in At the Buzzer, team technique seems to be improved.
III. Freshmen Justin Smith and Clifton Moore had some nice moments, but each looked out of sorts at times, too. Smith had four of Indiana's 10 turnovers and also had four personal fouls in just 14 minutes of action. But he also scored nine points including a 5-of-5 performance from the line, using his size to draw fouls and get to the charity stripe.
Moore didn't enter the game until the 11:05 mark of the second half and had a bad pass for his only turnover of the night. But he made his time worthwhile with the game already pretty much in hand. He snagged five rebounds (a couple coming on his own misses) and pumped in five points. He also had a nice block.
Neither freshman seems mature enough to handle heavy rotation minutes at this juncture. But on a team that's a bit devoid of size after De'Ron Davis, Indiana's likely going to need them to keep at it and improve as the season goes along.
IV. We got a Tim Priller bucket. And an assist! Rejoice, people.
Filed to: Marian University Knights