Big Ten Power Rankings: February 13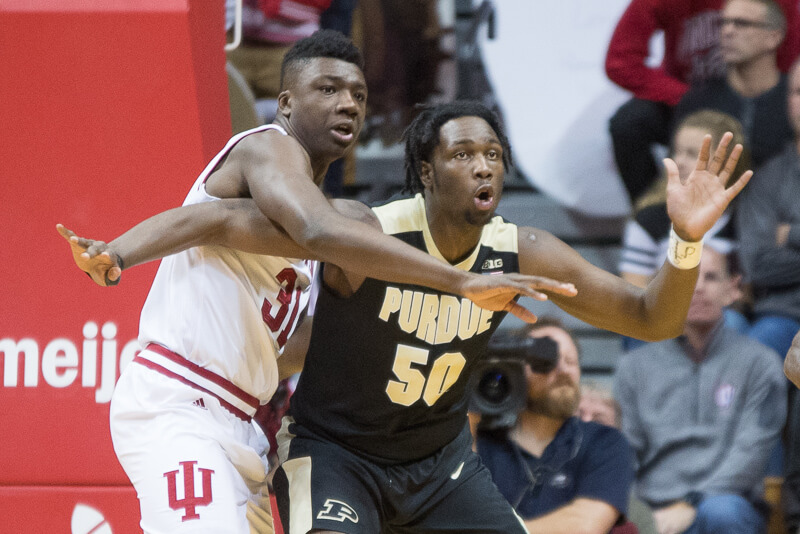 Entering into the final stretch of the Big Ten schedule, the league is making as little sense as it has all year.
Teams at the top of the standings are losing with more regularity, while those in the jumbled middle are becoming more difficult to gauge.
Here's a look at where each team stands after seven weeks of conference play:
14. Rutgers (13-13, 2-11; 0.87 points per possession, 1.03 points per possession allowed; KenPom – 136, Sagarin – 131, RPI – 150) (Last Week: 14)
The Scarlet Knights have lost 12 of their last 14 and have yet to beat a Top 80 KenPom team. Rutgers may win another conference game before season's end, but it's not going to come this week – they're major underdogs in road contests against Purdue (Tuesday) and Northwestern (Saturday).
13. Illinois (14-12, 4-9; 1.00 PPP, 1.09 PPP allowed; KenPom – 75, Sagarin – 72, RPI – 70) (Last Week: 13)
The Illini picked up what was arguably their best victory of the season last Tuesday by dispatching Northwestern in Evanston. How did they follow that up? With a 13-point loss at home to Penn State.
12. Nebraska (10-14, 4-8; 1.04 PPP, 1.08 PPP allowed; KenPom – 89, Sagarin – 88, RPI – 86) (Last Week: 11)
After starting the Big Ten season with three wins, the Cornhuskers have gone 1-8 since. They may have come close to downing Wisconsin on Thursday, but in a conference where the teams sitting slotted 6th through 13th in the standings are separated by just 2.5 games, moral victories are meaningless.
11. Ohio State (15-11, 5-8; 1.05 PPP, 1.10 PPP allowed; KenPom – 61, Sagarin – 57, RPI – 63) (Last Week: 10)
Any chance the Buckeyes' had of making a late run to the NCAA Tournament have probably gone out the window. In College Park on Saturday, Ohio State allowed the Terrapins to score 1.26 PPP, the most allowed by any Big Ten team over the weekend (even Michigan couldn't top that, scoring at a rate of 1.17 PPP at Indiana). Thad Matta's squad has yet to secure a victory over a Top-30 Kenpom team.
10. Indiana (15-11, 5-8; 1.08 PPP, 1.11 PPP allowed; KenPom – 49, Sagarin – 32, RPI – 93) (Last Week: 8)
The freefall continues for Indiana, losers of five of their last six. Worse, the team seems to be falling apart at the seams. Crean has criticized the leadership of some of the juniors throughout the season, but never as bluntly as he did during postgame Sunday – both during his radio interview with Don Fischer and at the press conference after the loss. A team that seemed to be a shoe-in for the NCAA Tournament back in November is now on the outside looking in.
9. Iowa (14-12, 6-7; 1.03 PPP, 1.08 PPP allowed; KenPom – 71, Sagarin – 70, RPI – 105) (Last Week: 9)
Iowa dropped two road contests last week, falling to 2-9 in games outside of Carver-Hawkeye Arena (the exceptions came on a neutral court vs. Northern Iowa and in Piscataway vs. Rutgers).
8. Penn State (14-12, 6-7; 0.97 PPP, 1.01 PPP allowed; KenPom – 80, Sagarin – 75, RPI – 67) (Last Week: 12)
Pat Chambers' club is having its best season under his six-year reign. After consecutive triumphs over Maryland and Illinois, the Nittany Lions find themselves a single win away from matching their highest conference win total with Chambers at the helm.
7. Minnesota (18-7, 6-6; 1.02 PPP, 1.00 PPP allowed; KenPom – 37, Sagarin – 37, RPI – 24) (Last Week: 6)
The Golden Gophers have managed to right the ship, winning their last three games after suffering through a five-game skid. None of the three wins (at Illinois, Iowa, at Rutgers) were anything special, but they are more than enough to keep them on track for an NCAA bid. Next up, a home contest with a reeling Hoosier team on Wednesday. Expect Williams Arena to be rocking.
6. Michigan State (15-10, 7-5; 1.04 PPP, 1.01 PPP allowed; KenPom – 54, Sagarin – 44, RPI – 41) (Last Week: 5)
It was a wild week for the Spartans. It began with a 29-point drubbing at the hands of arch-rival Michigan in Ann Arbor and ended with a necessary victory over Iowa. Michigan State now enters the final portion of a backloaded schedule (three of MSU's six remaining games – at Purdue, vs. Wisconsin, and at Maryland) with a bit of confidence.
5. Michigan (16-9, 6-6; 1.16 PPP, 1.10 PPP allowed; KenPom – 31, Sagarin – 29, RPI – 61) (Last Week: 7)
Derrick Walton Jr. has become the leader Michigan has been searching for, and the Wolverines are now on the right side of the bubble. Much like the Spartans, the Wolverines have a brutal stretch upcoming (four of their last six are on the road, the two remaining home games are vs. Wisconsin and Purdue).
4. Northwestern (19-6, 8-4; 1.05 PPP, 0.98 PPP allowed) (KenPom – 30, Sagarin – 30, RPI – 33) (Last Week: 4)
The Wildcats are learning to adjust to life without their leading scorer Scottie Lindsey, who has missed the last three games (mononucleosis). After stumbling against Illinois early last week, Northwestern bounced back, handing Wisconsin their first loss at Kohl Center in over 13 months. The successful trip to Madison puts the Wildcats in a position they have never been in before – with an NCAA Tournament berth essentially locked up.
3. Maryland (21-4, 9-3; 1.09 PPP, 0.99 PPP allowed; KenPom – 35, Sagarin – 34, RPI – 22) (Last Week: 3)
The Terrapins have fallen off a bit since entering the toughest portion of their schedule, going 2-2 over the last two weeks, with losses to Purdue and at Penn State. If Maryland hopes to earn a share of the Big Ten crown, they'll need to pick up two extremely difficult road wins this week (at Northwestern on Wednesday, at Wisconsin on Sunday).
2. Wisconsin (21-4, 10-2; 1.06 PPP, 0.95 PPP allowed; KenPom – 15, Sagarin – 13, RPI– 23) (Last Week: 1)
Wisconsin has been playing with fire for awhile, and on Sunday they paid for it. Against Northwestern on Sunday, the Badgers failed to climb out of the hole they dug themselves into. For all of the surprise when Wisconsin was left off the sneak-peek of the Top 16 that the selection committee released Saturday, the Badgers ended up proving the committee right.
1. Purdue (20-5, 9-3; 1.11 PPP, 0.99 PPP allowed; KenPom – 11, Sagarin – 12, RPI – 19) (Last Week: 2)
There's a new number one in this week's power rankings. When compared with Wisconsin, the Boilermakers have the better efficiency margin, the head-to-head win, have played a more difficult schedule, and have more marquee wins than Wisconsin (Purdue has two wins over Top 30 Kenpom teams, Wisconsin has zero). That more than makes up for the game the Badgers have at hand in the standings.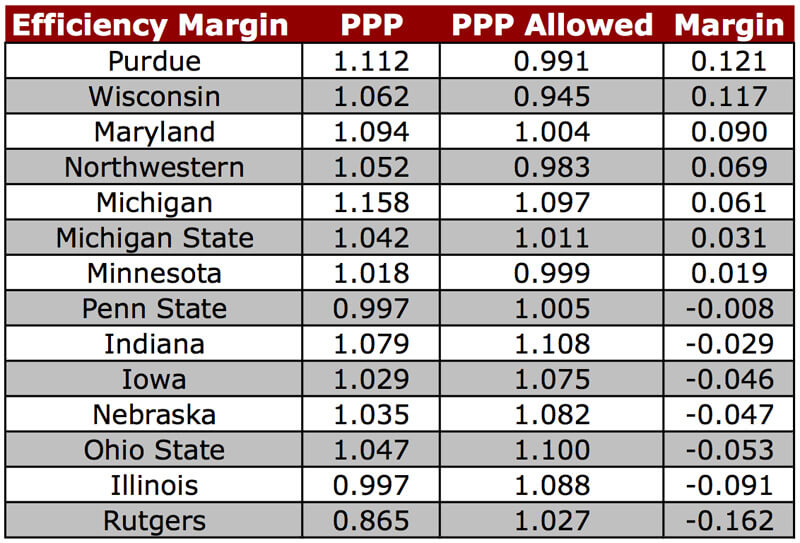 Filed to: Big Ten Power Rankings