The Minute After: Michigan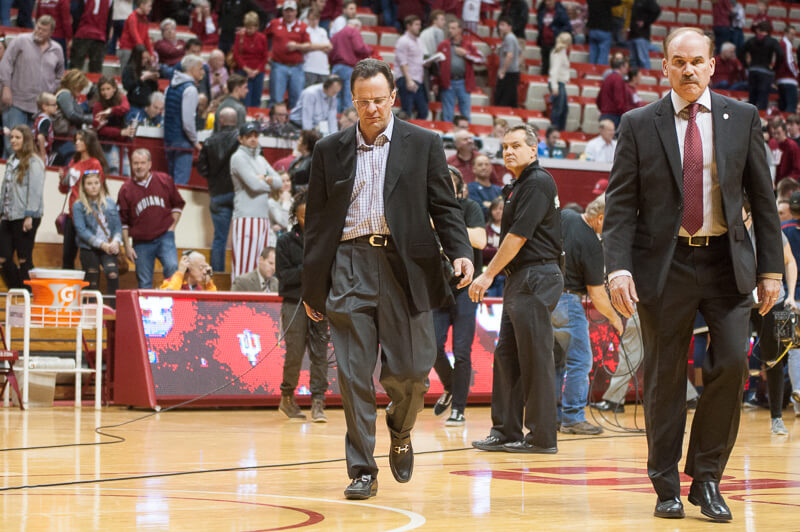 Thoughts on a 75-63 loss to the Wolverines:
Indiana entered Big Ten play riding high on a 26-game home winning streak — one of the longest in the country. No matter the ranking of the opponent that entered Assembly Hall, the Hoosiers had a way of showing up, knocking down shots and emerging victorious. We saw it against North Carolina in November.
But since conference play began, Indiana's home-court advantage has dissipated to near non-existence. Indiana came out flat against Nebraska to start Big Ten play and lost. Same thing happened against Wisconsin a few days later. And despite a valiant effort against Purdue on Thursday, it still resulted in a third home loss.
Indiana's fourth home loss in conference against Michigan today was a clunker. The Hoosiers never led. James Blackmon Jr. and Robert Johnson combined for just three shots in the first half and scored no points. They were both more aggressive in getting up shots in the second half, but without much better results. Both finished just 2-of-7 from the field and combined for just 11 points. Thomas Bryant's offensive output wasn't much better. Bryant missed all four of his 3-point attempts on an afternoon the Hoosiers hit just 4-of-19 from beyond the arc. The sophomore finished the contest with just eight points. For the game, the Hoosiers failed to score a point per possession (.98).
We know the Hoosiers have struggled to take care of the ball — something they did again this afternoon with a 23.3 turnover percentage — and haven't defended at a high level this season. But when you add a ho-hum offensive performance to the mix, you get a game like today where a Michigan comes to town 0-6 in true road games and dispatches of the Hoosiers with relative ease.
Today's loss had some historic implications as well. This was Michigan's third straight win against the Hoosiers, it's first time with such a streak since 1994-95. Michigan was 1-17 in its last 18 tries in Assembly Hall. We can make that 2-17 after today's win.
After the contest, Tom Crean did something different. He came into the press room much quicker than usual and before his players, an anomaly. He pulled no punches.
He said his team's "immaturity in the backcourt" is a large reason they've struggled since OG Anunoby went down with injury.
"I've never coached a team with this lack of maturity when they face adversity," he said on his postgame radio show.
Crean also shouldered the burden, saying: "I'm not shirking responsibility one iota. If I've learned one thing in nine years, it all falls on me."
With today's loss — and barring an unforeseen, miraculous run to a Big Ten Tournament championship win — Indiana's NCAA Tournament chances have just about gone out the door. And things could really get ugly the rest of the way out. Four of their remaining five conference games are on the road. The Hoosiers have just one conference road win this season against Penn State thanks to a Blackmon Jr. buzzer beater.
With all the turnovers, the poor defense, an offense that's losing steam of late and a team with an apparent lack of maturity, your Indiana Hoosiers are a middling Big Ten team unlikely to make the NCAA Tournament in a year the conference isn't as good as its been.
A sad reality after such a promising start to the season.
Filed to: Michigan Wolverines