Five takeaways from Indiana's loss to Michigan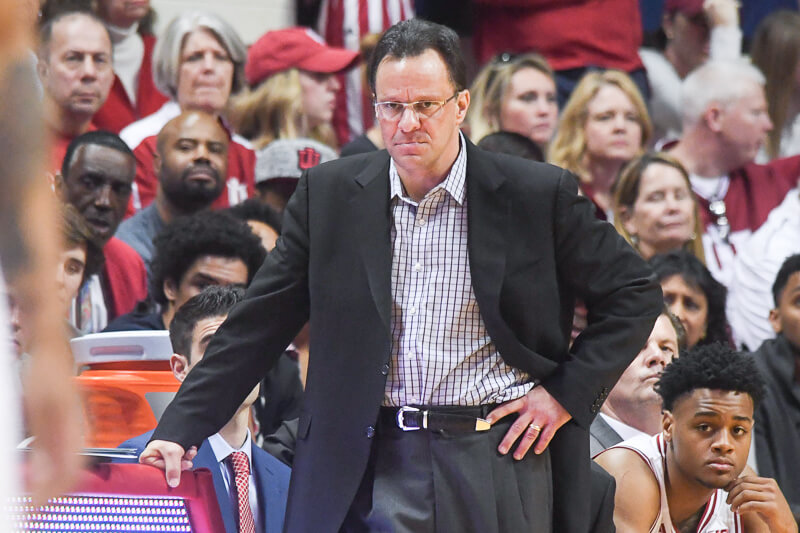 Indiana's season is officially in complete chaos as the Hoosiers fell 75-63 on Sunday afternoon to Michigan at Simon Skjodt Assembly Hall. The loss dropped Indiana to 15-11 overall and 5-8 in Big Ten play.
Here's a look at five takeaways from Sunday's debacle:
· Indiana laid an egg: This wasn't a hard fought loss. This was Indiana getting soundly beaten, wire-to-wire, by a team that hadn't won a road game all season.
The Hoosiers started slow and never really challenged Michigan, a head scratching result in a home game with the season on the line. Michigan hit uncontested 3s in the first half and Indiana turned it over to give the Wolverines extra chances. As the afternoon moved along, the crowd grew restless and was never fully engaged.
By the final 10 minutes, it was clear who was going to win as Indiana had already proven itself incapable of mounting a run. Most of Indiana's losses this season have had a similar theme: Poor defense and turnovers. This performance was no different.
· Tom Crean is feeling the pressure: After expressing a belief that Indiana has been getting better following each loss this season, Crean took a different approach after Sunday's loss.
Crean didn't hold back on the postgame radio show with Don Fischer when talking about some of his players.
"I've never coached a team with this lack of maturity when it comes to being able to respond and rebound from when things aren't going well for them personally," Crean told Fischer. "And that includes my teams that I had that won six and 10 games.
"So I've got to do a much better job because we don't respond and then our communication breaks down. It's not even close. Thomas (Bryant) is really trying to lead a team and he's not getting a lot of help. He's trying to make up for a group of juniors who just really have no ability to see past themselves when it comes to what it takes to be successful as a team."
Whether there is merit or not to the comments, they were poorly timed given that Crean waited until the team had dropped five of six games to make them. This isn't the first time this group has faced adversity this season, so why now?
Because Crean is surely feeling the heat from a fanbase that is tuning on this Indiana team. There were thousands of empty seats in Bloomington on Sunday. And the home finale against Northwestern in two weeks could be much worse.
· Turnovers, again: For the 10th time in 13 Big Ten games, Indiana had a turnover percentage north of 20. Michigan scored 20 points off of turnovers on Sunday.
In eight Big Ten losses, IU's opponents have outscored them by 83 points off of turnovers. It's a problem that is going nowhere.
"I'm trying to be proactive, and I'm not shirking responsibility one iota," Crean said in his postgame press conference. "It falls on me. One thing I've learned in nine years, it all falls on me. But the bottom line is that we've got to do something to get communication up."
· De'Ron Davis was the lone bright spot: Indiana freshman De'Ron Davis, who took a shot to the face in Thursday's loss to Purdue and didn't return, was terrific in 14 minutes on Sunday.
Davis, who has the potential to be Indiana's best back to the basket player since D.J. White, had 13 points on 4-of-5 shooting from the field and 5-of-6 free throws. On an afternoon where very little went right for the Hoosiers, the play of Davis was a positive.
"We've got to continue to play him more," Crean said. "And he's not as great in the ball screen coverages. So that sometimes limits some of that. But he's very, very hard to guard, and he's got great feet, great hands, great eyes. He can pass the ball."
· Indiana's guards struggle again: After an 8-of-34 performance against Purdue on Thursday, Indiana's trio of junior guards weren't much better on Sunday.
James Blackmon Jr. and Robert Johnson were both 2-of-7 from the field and Josh Newkirk was 5-of-10. Michigan senior guard Derrick Walton Jr., who had a game-high 25 points, outscored all three players combined on his own.
Johnson was asked postgame if the team would consider having players-only meeting to try and stop the free fall.
"I mean, I don't know, to be honest," he said. "I just think at the end of the day we just have to all come together in whatever it takes. If that's what it takes, maybe that's something we should think about, but at the end of the day we just all have to come together and decide that we're going to get better once and for all."
Filed to: Michigan Wolverines