What to Expect: Northwestern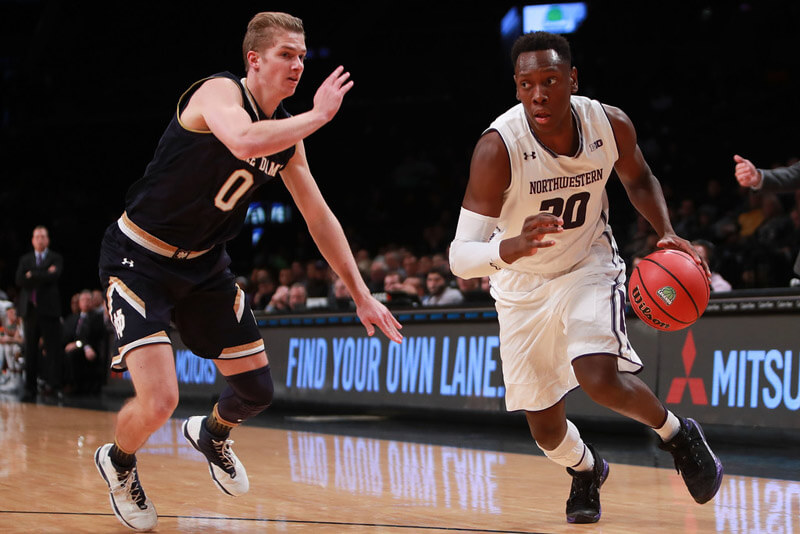 Indiana concludes a two-game roadtrip on Sunday evening in Evanston as the Hoosiers take on Northwestern. The Wildcats are 17-4 and 6-2 in the Big Ten.
The game will be broadcast at 6:30 p.m. ET on BTN with Wayne Randazzo and Jon Crispin on the call:
Indiana was embarrassed on Thursday at Michigan. The Hoosiers were blown off the floor for 40 minutes as the Wolverines cruised to a 90-60 victory.
The road doesn't get any easier from here.
Up next is a trip to Evanston to take on a surging Northwestern team that has won five straight and looks poised to break into the Associated Press top 25 poll on Monday.
Indiana's 2016-17 season has been one of dramatic twists and turns. The highs – wins over Kansas and North Carolina – made it seem like this team potential to be elite.
But the lows – Thursday's debacle at Michigan, a defense that is regressing, turnovers, losses to Fort Wayne and Nebraska and the injuries – have left this as a real possibility: Indiana might not even make the NCAA tournament.
That was unthinkable when the Hoosiers went to Fort Wayne in late November as the No. 3 team in the AP Poll. Now, two months later, reality has set in and Indiana is fighting to even remain relevant in the national conversation.
MEET THE WILDCATS
Indiana is the most disappointing team in the Big Ten this season and Northwestern is the league's feel good story. The Wildcats, barring a collapse, are on their way to the NCAA tournament.
It's just year three of the Chris Collins era, but the former Duke player and assistant coach has things moving in the right direction despite some preseason controversy.
How has it happened? Improved talent and a Big Ten that is void of elite teams this season.
Junior Scottie Lindsey, who was a role player in his first two seasons, has emerged as an All-Big Ten candidate. Lindsey is averaging a team-best 15.6 points per game and is shooting 37.2 percent on 3s and 54.2 percent on 2s in Big Ten play.
Lindsey (pictured) is a low-turnover, high efficiency offensive player who is good in transition (1.16 PPP), on cuts (1.43 PPP) and on hands offs (1.46 PPP).
Joining him on the perimeter is junior point guard Bryant McIntosh, a Greensburg product. McIntosh has struggled with his shot this season (27.1 percent on 3s), but is still one of the Big Ten's best distributors. His assist rate of 34.2 is fourth in the league and his turnover percentage is just 14.2 in Big Ten games. McIntosh is third on the Wildcats in scoring at 12.4 per game.
Redshirt sophomore Vic Law missed last season with a shoulder injury, but has been terrific this season. Law is second on the team in scoring at 14.3 points per game and second in rebounding at 5.8 per game. Law is an excellent 3-point shooter (44.3 percent) and is hitting 87.1 percent of his free throws in Big Ten play. The 6-foot-7 forward is most dangerous in spot-up situations (1.12 PPP), transition (1.22 PPP) and on cuts (1.43 PPP).
Senior wing Sanjay Lumpkin is Northwestern's glue guy. He's a low usage offensive player, but Synergy Sports grades him out as a very good defensive player. When Lumpkin does look to score, he's most effective drawing fouls and getting to the line. His free throw rate (FTA/FGA) is 45.4 percent this season and he's hitting 71.7 percent from the line in 39 attempts.
Freshman Isiah Brown is the primary backup option in the backcourt. Brown is hitting just 43.3 percent of his 2s and 28.6 percent of his 3s in Big Ten play.
The frontcourt is anchored by sophomore Dererk Pardon. Pardon is a 6-foot-8, 235 pound workhouse on the glass. He's coming off 19 points and 22 rebounds in Northwestern's most recent contest, a win over Nebraska. Pardon is finishing 58.8 percent of his 2s in Big Ten play and is the fourth best offensive rebounder in the conference. He also ranks fifth in the league in block percentage in conference games.
Gavin Skelly, a 6-foot-8 junior, is Northwestern's primary backup up front. Skelly is 13th in the league in offensive rebounding, but is hitting just 40 percent of his 2s in Big Ten games.
TEMPO-FREE PREVIEW

If Indiana doesn't come out with a better disposition defensively, it could be a long evening for the Hoosiers. Northwestern isn't as explosive as Michigan offensively, but the Wildcats are a much better defensive team.
Northwestern has the Big Ten's second best defense, as of Saturday morning, and the best effective field goal percentage defense. The Wildcats take care of the ball, don't give up a lot of 3s and are pretty good on the offensive glass.
Neither team is very good at drawing fouls or keeping the opposition off the line, so the free throw differential certainly bears watching.
WHAT IT COMES DOWN TO
The Pomeroy projection is Northwestern by six, with just a 32 percent chance of an Indiana win. Sagarin is less bullish on the Wildcats and projects a tw0-point win for Northwestern.
Northwestern enters this game with confidence and momentum. The Wildcats probably only need three more league wins to wrap up their first-ever NCAA tournament bid. With six home games remaining (including Sunday's), it'll be a major surprise if Northwestern doesn't enter the Big Ten tournament with a top five seed and 22 wins at the minimum.
Indiana is unpredictable on a game-t0-game basis. The Hoosiers are capable of playing well, but they're also capable of laying an egg like the one on Thursday in Ann Arbor. The momentum Indiana built with its recent three-game winning streak is gone and the possibility of a 4-5 conference mark returning home on Wednesday to play Penn State looks very real.
(Photo credit: Michael Reaves/Getty Images North America)
Filed to: Northwestern Wildcats