A look at Indiana's preseason national rankings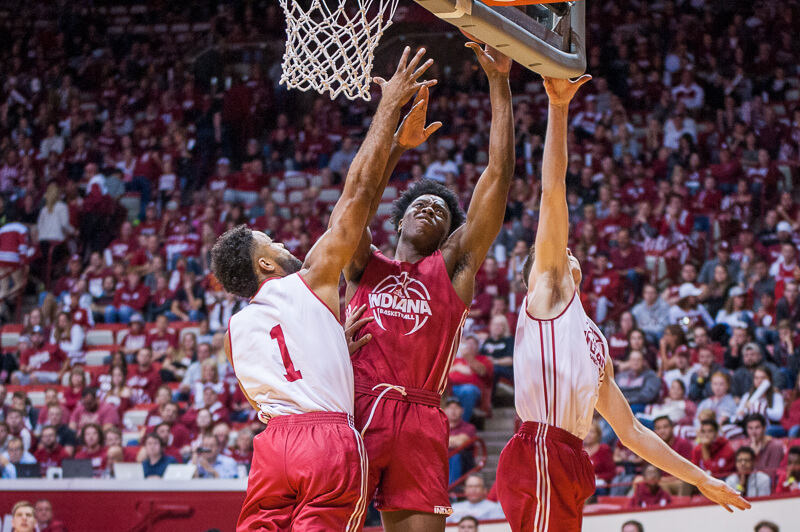 With the start of the regular season just one week away, numerous preseason rankings have been published dating back to the summer. Here's a look at all of them, including a snippet from each projection where available:
Note: Indiana is No. 11 in the preseason AP top 25, No. 12 in the preseason coaches poll and No. 16 in KenPom.com's initial rankings.
CBSSports.com: No. 9
The Hoosiers have a tremendous offense, led by Thomas Bryant down low and the return of James Blackmon on the wing. Yogi Ferrell graduated and Troy Williams left early for the draft, but expect Indiana to get pop from OG Anunoby, Juwan Morgan and Collin Hartman, when the latter returns from injury. Will be a fun team on offense again.
SBNation: No. 10
The two best players from Indiana's 2016 Sweet 16 squad are gone, but the Hoosiers still find themselves in our preseason top 10. The reason is that they have arguably the two top NBA prospects in the Big 10 in Thomas Bryant and OG Anunoby, and another guy who will one day get paid to play the game in James Blackmon Jr.
Dick Vitale: No. 10
Thomas Bryant will have to step up his production inside. The Hoosiers also need a healthy James Blackmon Jr.
Athlon Sports: No. 12
Thomas Bryant's return was a huge boon for the Hoosiers' hopes to repeat as Big Ten champs. Veteran Yogi Ferrell is gone, but OG Anunoby is ready to become a star.
The Sporting News: No. 13
If James Blackmon Jr. is completely healthy, he should be one of the Big Ten's top scorers, thanks to a diverse game that includes long-range accuracy and the ability to get to the basket.
NBCSports: No. 14
This isn't your typical, reigning Big Ten Conference champ. Yes, they return a pair of first round picks in OG Anunoby and Thomas Bryant, but with Yogi Ferrell gone, they lost their leader, their most talented offensive weapon and the guy that initiated everything for the Hoosiers offensively.
ESPN.com: No. 14
The Yogi Ferrell era is over, and now it'll be up to Tom Crean to find a point guard situation that works in Bloomington. The Hoosiers have plenty of offense still with James Blackmon Jr. and Robert Johnson on the perimeter and Thomas Bryant in the post. OG Anunoby could have a breakout season and gives IU that defensive toughness.
Sports Illustrated: No. 15
Bryant is now primed to take a giant leap forward, thanks to an off-season conditioning program that focused on adding muscle to his 255-pound frame, trimming fat and broadening his skill set.
Blue Ribbon: No. 18
This is a team capable of meeting raised expectations. After going through the on-court and off-court turmoil the last two seasons, the Hoosiers came out with their resolve tested.
Lindy's Sports: No. 38
There's talent on hand, but good luck replacing Yogi.
Filed to: 2016-2017 season preview