Indiana picked to finish sixth in Big Ten by Lindy's Sports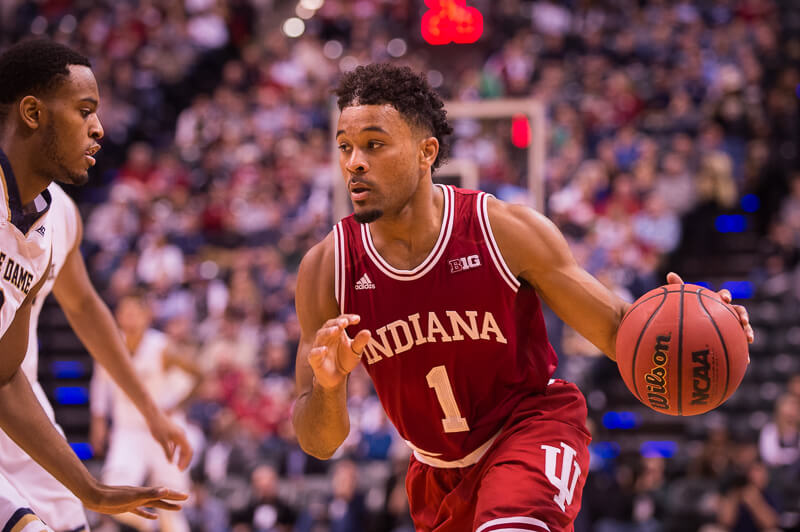 We recently shared preseason projections from the Athlon Sports college basketball preview, which was bullish on Indiana for the 2016-2017.
The second preseason college magazine preview magazine out this fall, published by Lindy's Sports, is not as high on the Hoosiers. (Last year, Lindy's ranked Indiana No. 4 in the preseason.)
Here are some notes on Indiana and the Big Ten at-large from the annual publication.
· Lindy's ranks the top 25 players at all five positions nationally and two IU players are featured. James Blackmon Jr. is ranked the third best shooting guard and Thomas Bryant is the nation's No. 2 center.
· In terms of frontcourts nationally, Indiana is ranked the eighth best behind Duke, Wisconsin, Kentucky, North Carolina, Oregon, Purdue and Kansas.
· Lindy's ranks its top 40 teams nationally and Indiana is the lowest ranked of the six Big Ten teams mentioned. Wisconsin is No. 6, Michigan State is No. 11, Purdue is No. 12, Ohio State is No. 29, Maryland is No. 37 and Indiana is No. 38.
· Here's the brief blurb explaining IU's national ranking: "There's talent on hand, but good luck replacing Yogi."
· The publication predicts the order of finish in the Big Ten as follows: Wisconsin, Michigan State, Purdue, Ohio State, Maryland, Indiana, Michigan, Illinois, Northwestern, Iowa, Penn State, Nebraska, Minnesota and Rutgers.
· On its preseason all-conference team, both Blackmon Jr. and Bryant are first team. The other first team members are Maryland's Melo Trimble, Iowa's Peter Jok and Wisconsin's Nigel Hayes.
· De'Ron Davis is regarded as the best incoming rebounder and the league's best "signing coup." Grant Gelon and Curtis Jones are mentioned in the recruiting/newcomers section as the best incoming shooters.
· 2016 NCAA tournament predictions for Big Ten teams are as follows: Wisconsin (Elite Eight), Michigan State (Sweet Sixteen), Purdue (Sweet Sixteen), Ohio State (Round of 32), Maryland (Round of 32) and Indiana (one and done).
· Indiana's incoming recruiting class is regarded as the 13th best nationally.
· The Big Ten is ranked as the third best conference in the country behind the ACC and Pac 12.
Lindy's Sports college basketball preview magazine featuring Indiana's Thomas Bryant #iubb pic.twitter.com/845rBIfq9k

— Alex Bozich (@insidethehall) September 8, 2016
Filed to: James Blackmon Jr., Lindy's Sports, Thomas Bryant