IU, Big Ten centric notes from Athlon Sports college basketball preview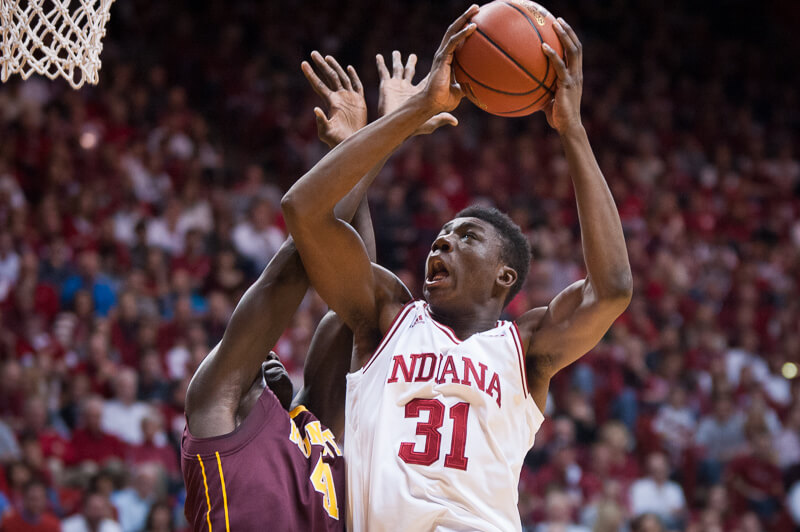 Last weekend, we shared that Indiana is ranked No. 12 in the preseason by Athlon Sports.
Now that the magazine is officially on newsstands, here are some additional notes on Indiana and the Big Ten at-large from the annual publication. (You can purchase the regional cover featuring Thomas Bryant here.)
· Athlon predicts the order of finish in the Big Ten as follows: Wisconsin, Michigan State, Indiana, Purdue, Michigan, Maryland, Ohio State, Penn State, Iowa, Northwestern, Illinois, Minnesota, Nebraska and Rutgers.
· In its preseason top 25, the Big Ten teams are Wisconsin (10), Michigan State (11), Indiana (12) and Purdue (14).
· Bryant is a preseason third team All-American. The only other Big Ten player on the three preseason All-America teams is Maryland's Melo Trimble (second team).
· There are also All-Senior, All-Junior, All-Sophomore and All-Freshman teams with strong Big Ten presence. Wisconsin's Bronson Koenig is on the second team All-Senior. Maryland's Melo Trimble is on the first team All-Junior. Bryant and Wisconsin's Ethan Happ are on the first team All-Sophomore while Purdue's Caleb Swanigan is on the second team. And Michigan State's Miles Bridges is on the second All-Freshman team.
· Athlon predicts Indiana to earn a No. 3 seed in its NCAA tournament projections. Other Big Ten teams projected to dance include Maryland (No. 11 seed), Purdue (No. 4 seed), Michigan State (No. 3 seed), Michigan (No. 12 seed) and Wisconsin (No. 3 seed).
· In terms of national "superlatives," Athlon lists Bryant as No. 3 on its list of best "post men." Ahead of Bryant are Cal's Ivan Rabb and Duke's Harry Giles.
· Josh Newkirk and Maryland's L.G. Gill are both listed among the nation's impact transfers, which is a list of 14 players.
· Three Big Ten coaches are on the hot seat: Pat Chambers, John Groce and Richard Pitino.
· Bryant is on the Athlon All-Big Ten first team while junior James Blackmon Jr. is on the third team. Other first team members include Hayes, Koenig, Trimble and Malcolm Hill of Illinois.
· Hayes is Athlon's pick for Big Ten player of the year, Happ is the pick for best defensive player, Ohio State's Jae'Sean Tate is the pick for "most underrated" and Bridges is regarded as the league's best newcomer.
Athlon Sports basketball yearbook regional cover featuring #iubb's Thomas Bryant pic.twitter.com/HzOnWHKPkB

— Alex Bozich (@insidethehall) August 22, 2016
Filed to: 2016-2017 season preview, Athlon Sports