Freshman Focus: Curtis Jones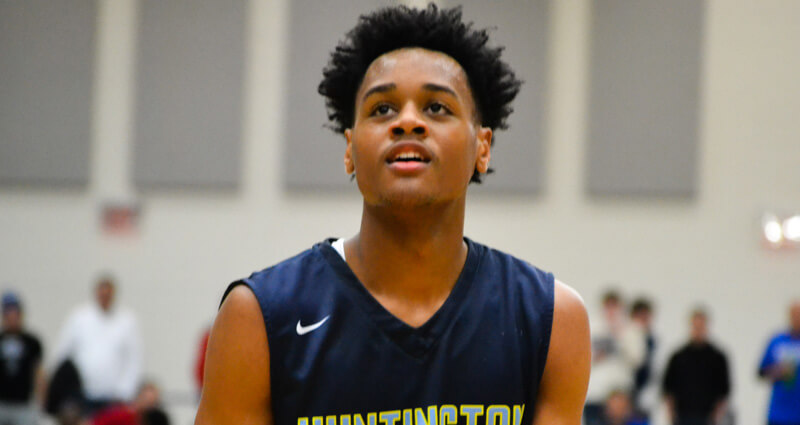 "Freshman Focus" is an Inside the Hall series on each of Indiana's four incoming freshmen. Over the summer we took an in-depth look at all four of IU's freshmen. Today, our final profile: Curtis Jones. (Previously: Grant Gelon, Devonte Green, De'Ron Davis)
For the third time in four recruiting classes, Indiana dipped into the Boo Williams Nike Elite Youth Basketball (EYBL) program for a recruit.
In 2013, it was Troy Williams, who went on to play three seasons in Bloomington before departing as an early entrant for the NBA draft. In 2014, the Hoosiers landed Robert Johnson, who has started from day one in Bloomington and figures to play a major role on a 2016-17 roster that could contend for another Big Ten title. And in 2016, the Hoosiers landed one of the better combo guards in the country in Curtis Jones.
Jones, who arrived on campus in June at 6-foot-4 and 175 pounds, is expected to carve out a role in a backcourt rotation that will also include Johnson, James Blackmon Jr., Devonte Green and Josh Newkirk.
"I'm impressed with his speed and athleticism," Tom Crean said of Jones after signing him last winter. "I'm impressed with his quickness. He gets to the glass. He really changes speeds."
In his final season on Nike's EYBL circuit with Boo Williams, Jones played primarily off the ball. He averaged 16.1 points in 27.8 minutes per game and shot 35.4 percent from behind the 3-point line.
In EYBL play, over 48 percent of his shot attempts came from behind the 3-point line and he posted an above average effective field goal percentage of 53.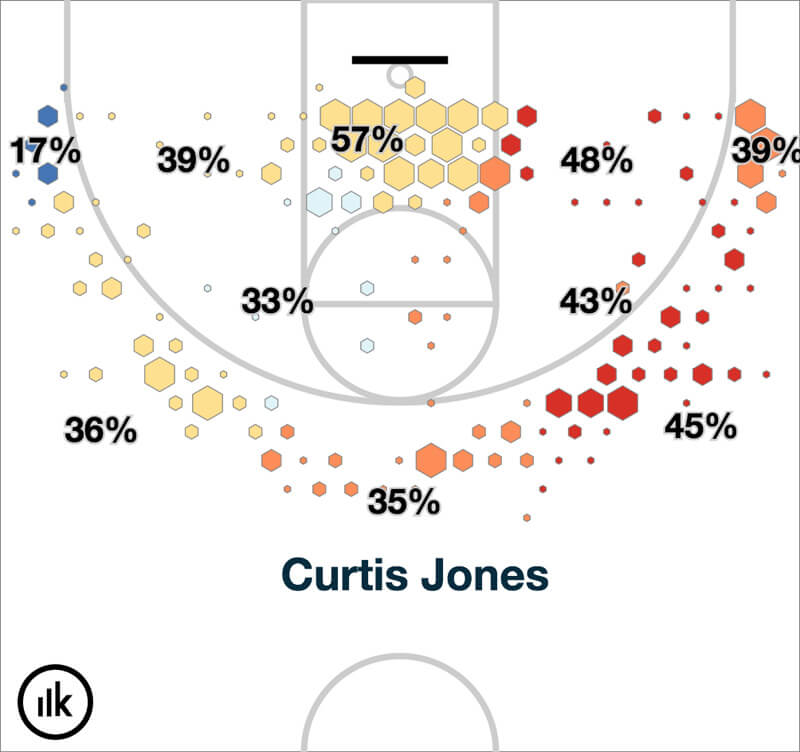 And as a senior at Huntington Prep, Jones, along with McDonald's All-American Miles Bridges, led the program to a 25-11 record while competing against a collection of teams that comprised one of nation's most rigorous schedules.
"I was the leader, tried to be the leader," Jones told Inside the Hall in April. "We had a lot of new pieces together so it kind of helped me to grow into a better leader. Telling them what to do and with them not really knowing the playbook and things like that."
Now as a freshman, Jones will lean on familiar faces as he adjusts to basketball at the college basketball.
He was one of three IU freshmen to spend the summer on campus working out with returning players. He's known Johnson since he was nine years old and his friendship with Bryant dates back to their days together at Huntington Prep.
That familiarity with Johnson and Bryant, along with his relationship with the coaching staff, were major reasons he chose Indiana.
"It helped a lot. When I got towards the end (of my recruitment), that was the place I felt most comfortable," Jones told Inside the Hall in the spring. "With coach (Tom) Crean and coach (Tim) Buckley recruiting me and then knowing Rob (Johnson), Thomas (Bryant) and Troy (Williams) a little bit and I really loved (strength) coach Lyonel Anderson."
The graduation of Yogi Ferrell means Indiana will be without the program's career leader in both assists and games played.
That means an opportunity to play some point guard for several newcomers, including Jones, could be there. It's a challenge Jones said he was looking forward to back in the spring.
"I played a lot of point guard this year, so just continuing to work on my point guard skills, but also scoring," Jones said. "Coach (Tom) Crean wants me to increase my range, put weight on, post feeds with getting Thomas and De'Ron (Davis) the ball and changing speeds. A lot of small things that will help a lot.
"The way the system is, there's a lot of people who can play point guard with Rob and James also. It's not really a big thing. We're all guards. We're all basketball players."
Filed to: Curtis Jones, Freshman Focus