Freshman Focus: Grant Gelon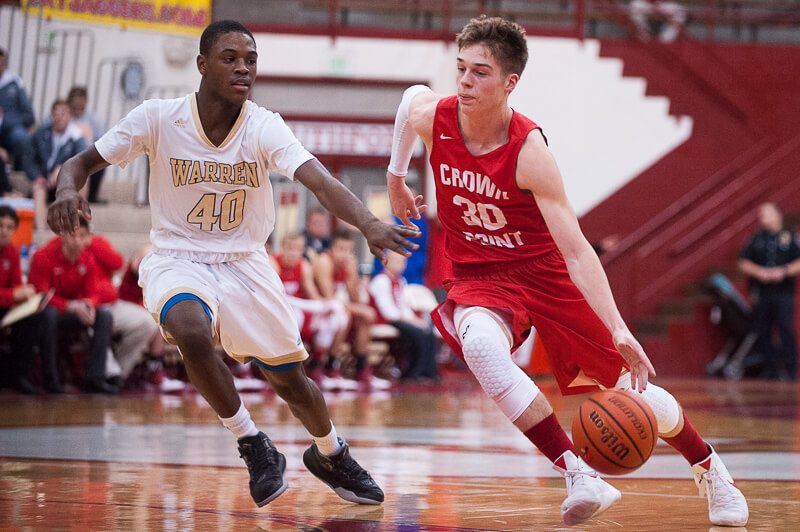 "Freshman Focus" is an Inside the Hall series on each of Indiana's four incoming freshmen. Over the next couple of weeks, we will take an in-depth look at all four newcomers. Today: Grant Gelon.
Crown Point coach Clint Swan was concerned.
As he prepared for the 2015-16 season, his senior leader Grant Gelon was about to face a new level of scrutiny.
After a strong summer with Indiana Elite on the adidas Gauntlet circuit, Gelon received a scholarship offer from Indiana and committed shortly after during an unofficial visit in August. An unheralded, two-star prospect, not only was Gelon going to face questions from Indiana fans about his standing in the recruiting rankings, Swan knew that opposing teams would be lining up all season to take their best shot at an IU recruit.
"I don't think he was prepared – I don't think anyone would be prepared – for the attention that was going to come his way," Swan said. "He definitely had a big bullseye on his back. So we were concerned, to be quite honest with you, we were like, 'how is this going to go?'"
So, how did it go?
Crown Point, which finished the season 19-9, won four games in the state tournament before falling to Warsaw in the Regional championship.
Individually, Gelon averaged 14.5 points and 5.7 rebounds per game and shot 38.9 percent from behind the 3-point line on his way to being named to the Indiana All-Star team.
"He handled it extremely well," Swan told Inside the Hall. "He continued to stay within the framework of how we wanted him to play. He didn't try going off on his own. He played extremely hard. He continued to develop himself as a player and he didn't let all of the attention get to him. It didn't end up being a negative aspect of his season."
Gelon has long been known in the Crown Point community school corporation as a shooter. Swan, who is entering his 11th season as the coach at Crown Point, says he became aware of Gelon as he came up through the middle school ranks.
His shooting prowess comes from a combination of a natural gift and countless hours in the gym. It wasn't uncommon for Swan to have to kick Gelon out of the gym after a Crown Point practice so he could lock up the gym and go home. He would often open the gym so Gelon could come shoot on his own. The shooting gun, which rebounds shots and throws them back automatically, has taken on significant mileage due to Gelon's use.
"Nobody has worked harder at perfecting that craft than Grant has," Swan said. "He's worked very hard at making himself into a better shooter and not just relied on his gift as a shooter alone."
That work ethic Swan references figures heavily into the equation when you look at the reasons Indiana was the only Big Ten school to offer Gelon a scholarship.
It was a move that was met with skepticism from fans and media alike, but Indiana has a track record with under the radar players with a work ethic. Those who have been most successful in Bloomington under Tom Crean have demonstrated a willingness to put in extra work to reach their potential.
That's not to say that Gelon should be compared to guys like OG Anunoby or Victor Oladipo – no one should – but the staff clearly believes they can develop him into a rotation player who can provide elite-level shooting.
As the Hoosiers enter another season with a preseason top 15 ranking and significant expectations, Gelon may not figure much into the immediate plans in terms of playing time.
That, however, isn't necessarily a bad thing in Swan's eyes.
"I think he can sit and watch and glean from the players that they have there right now and can pick up on not just how to play, but how to carry yourself," Swan said. "He can learn on a day-to-day basis what the expectations are. I think that's going to help him immensely."
It's likely to be a much different situation than the one that another Crown Point product, Spike Albrecht, faced when he headed off to the Big Ten.
"Compare that to Spike Albrecht when he went to Michigan, they had two point guards," Swan said. "They had Trey Burke and Spike Albrecht. He was going to have to play and that kind of scared me a little bit. I thought that was sort of alarming that he was going to be called upon to play immediately. I think Grant is going to be able to get acclimated in summer workouts and practices and fall workouts. He's going to be able to see how those guys carry themselves and see how they play. He'll be able to bring himself along at a comfortable pace."
Now that Gelon, along with Devonte Green and Curtis Jones, is in Bloomington, Swan's hope is that he's helped him prepare for what lies ahead.
Regardless of how his career turns out in terms of on the floor production, Swan says he wants fans to know how Gelon is viewing the opportunity to put on an IU uniform.
"It's not something he's taking for granted. He knows there's a huge responsibility that comes with it," he said. "That's why he's continued to work extremely hard since our season ended. He's done everything he could to get himself ready for these summer workouts that he's going through right now in Bloomington. It's a badge of honor for him. He's excited about it. He's very honored to put on an Indiana uniform."
Filed to: Freshman Focus, Grant Gelon