Freshman Focus: Devonte Green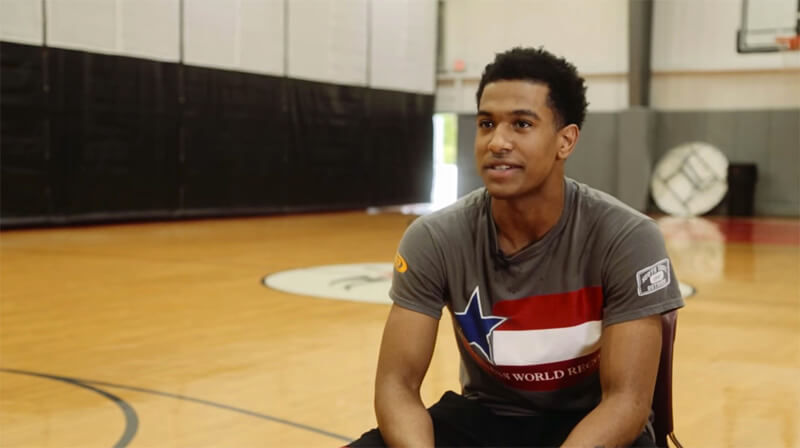 "Freshman Focus" is an Inside the Hall series on each of Indiana's four incoming freshmen. Over the next couple of weeks, we will take an in-depth look at all four newcomers. Today: Devonte Green.
Long Island Lutheran High School coach John Buck is excited about the future of Devonte Green.
One of four finalists for Mr. Basketball in New York as a senior, Green did it all for "LuHi" in his final prep season. He led the school in scoring at 20.2 points per game. But it wasn't just the scoring that filled up the stat sheet.
The 6-foot-2 guard was second on the team in rebounding at 6.1 per game. He was also second in assists with 3.3 per game and led the team with 70 steals and 20 blocks.
And when Green was given a shot at one of the nation's top guards, he delivered in a major way.
"His signature game for us, we played Sacred Heart from Connecticut in a showcase," Buck recalls. "They were ranked 17th in the country at the time and have a player, Mustapha Heron (Auburn signee), who is a consensus top 25 guy and Devonte had 39 points in a win. Really just a high level performance."
It was the type of performance that makes you wonder if Indiana has landed another piece capable of outperforming his 3-star ranking by the national recruiting services.
The younger brother of former North Carolina standout and San Antonio Spurs guard Danny Green, there's no questioning the talent of Devonte Green.
It's simply a matter of efficiency and consistency as he dives into the college game, according to his high school coach.
"He's so athletic and he has so much talent that if he just repeats the same shot motion every time and keeps the game really simple, I think he'll be really effective for Indiana," Buck told Inside the Hall. "He's just a tremendous athlete and he had a couple of games where he rattled off seven or eight 3s for us. He's got that ability, he's just got to keep the game very simple and stay very consistent."
More of a scorer than a point guard, Green chose Indiana in early January in a televised announcement on local TV in Long Island.
The Hoosier coaching staff had him on the radar for quite a while, but Tom Crean said earlier this month that his continued improvement is what ultimately sold him on offering a scholarship.
"He's exactly what we want the program to be about, improvement," Crean explained. "It's not just improving when you get to Indiana, it's the improvement you make before that. Devonte was one of those people, as we watched, I wanted to like him, I did like him. But I needed to see more, and by the time we offered him a scholarship, I'd seen plenty and I don't think we're even close to seeing how much we're going to see."
Buck describes Green as "sharp, witty and friendly" off the court and said that one of the most impressive things about Green is his desire to help his teammates improve.
"One of his goals at the beginning of this year, he said, was to help the younger guys get better," Buck said. "Just for a senior in high school to say something like that shows some good maturity and an understanding of playing a team game rather than just as an individual."
Now Green, who arrived on campus earlier this month, faces the challenge of carving out a role for himself as a freshman on an Indiana team with significant expectations.
The Hoosiers return James Blackmon Jr. and Robert Johnson and also welcome a top 60 guard in Curtis Jones to the roster, but the departures of Yogi Ferrell, Nick Zeisloft and Harrison Niego should provide an opportunity for Green to crack the rotation.
Buck sounds bullish on that happening.
"When he's locked in defensively – and everyone talks about him offensively – but defensively was his greatest asset for us. He's really, really good on the ball. He plays very hard. He has the ability to do so many different things just looking at his stat line.
"I think the ability is all there. People want to see that consistency. With the regimented program that he'll have at Indiana, just being pushed by their staff, I think that will just help him continue to grow and mature into using all of the incredible potential he has. This is not a guy where you say, 'we have to teach him how to shoot or we have to teach him how to create his own shot.' He can do all of that. It's just now making it really efficient and consistent."
Filed to: Devonte Green, Freshman Focus