Freshman Focus: De'Ron Davis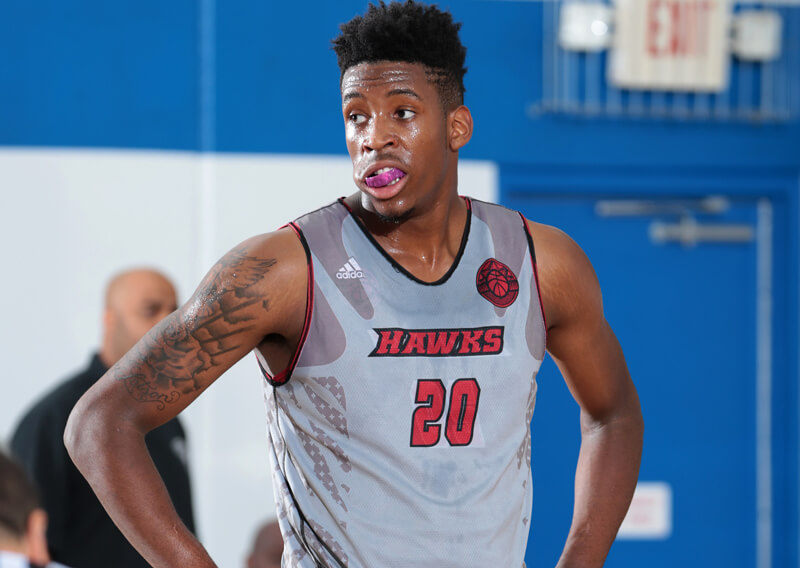 "Freshman Focus" is an Inside the Hall series on each of Indiana's four incoming freshmen. Over the next couple of weeks, we will take an in-depth look at all four newcomers. Today: De'Ron Davis. (Previously: Grant Gelon, Devonte Green)
Overland High School coach Danny Fisher first met De'Ron Davis as a fifth grader.
The journey the two have been through together is one that Fisher will not forget. It's a relationship that extends beyond basketball.
Fisher met Davis not long after the IU signee's father passed away. He was his coach when he was ranked one of the top players in the country early in his high school career and the scholarship offers began pouring in. He was there when Davis struggled with his weight and as a result, tumbled in the rankings and saw his recruitment cool off. And together Fisher and Davis, Colorado's Mr. Basketball in his final prep season, put Overland in the record books by leading the school to consecutive Class 5A state championships.
"Shortly after his father died, I met him," Fisher told Inside the Hall. "So his transformation from that point to now has been something that has really been cool to be a part of. Just how he's matured, how difficult that (his father's death) was, how much it changed it his life. And then just seeing him make sense out of everything, getting himself realigned and really making a full commitment to basketball. It's been an awesome journey."
The journey, at least as player and coach, will conclude at some point in the next month. Davis is expected to complete his remaining academic requirements and move to Bloomington to join his teammates at Indiana.
The relationship between Davis and the Indiana coaching staff grew roots because of loyalty. When the Hoosiers offered Davis a scholarship early in his prep career, Fisher acknowledges that he believed it was a fluff offer to just get on the radar with his star player.
But as adversity hit Davis and other schools soured or moved on to other prospects, Indiana didn't alter its approach.
As Fisher recalls it, Davis hit a lull in his prep career. He gained weight as a result of a poor diet and a busy travel schedule. His explosion suffered. And as a player many viewed as one of the nation's best, he was scrutinized and his profile nationally suffered.
"In all honesty, it was true," Fisher said. "And it hurt him. But I think ultimately, it kind of drove him and helped him step back from all of the ranking systems and how much stock he was putting into all of that. It helped him focus more on who De'Ron is and what he needed to do to be the best version of De'Ron."
Indiana never lost the vision it had for Davis when Tom Crean offered him a scholarship before his freshman year of high school. Other schools came and went in his recruitment.
Indiana was the constant.
"That meant everything. I think that was the deciding factor," Fisher said. "That was the piece that really helped him develop a deeper relationship with coach Crean and his staff through those tough times. When a kid is on top of the world, everybody loves them. But a kid doesn't have a chance to build a real relationship with someone when they're on top of the world.
"He was able to build a relationship with them through adversity. When you have an opportunity to do that, it's real."
Fisher has also been with Davis through his latest journey – his unexpected summer in Colorado.
While Devonte Green, Grant Gelon and Curtis Jones prepare for their first collegiate season in Bloomington, Davis is finishing up academic requirements back home.
He's with Fisher five or six days per week for eight or nine workouts. Indiana assistant coach Chuck Martin was in to see Davis at his home earlier in the week just to check in.
"He's finishing up some academic requirements and making sure he's 100 percent cleared by the NCAA," Fisher said. "He had to do some summer stuff for that. He's on the path that we all need him to be on."
There will be ground for Davis to make up once he arrives in Bloomington in terms of basketball. As his teammates have worked out all summer with Lyonel Anderson and the coaching staff, Davis has done his best to stay on track with Fisher's help.
But Fisher can't simulate what Davis will encounter in those workouts or the benefit he'll receive from playing against Thomas Bryant, OG Anunoby and Juwan Morgan every day.
"I can't wait to see what that does for him every single day," Fisher said. "I think at the end of his freshman year, midway through his freshman year, we're going to see a completely different player. He's truly going to see what he's capable of. It's going to make everybody go back and look at those rankings and say 'how did we miss on this kid?' Because De'Ron is a kid who gets better through adversity and when he's challenged."
For Fisher, Davis moving on is bittersweet.
It'll be a new era for Overland basketball. Fisher says he's excited for that challenge while also acknowledging that he may never coach another player as talented as Davis. Overland's defense, a trademark over the last two seasons, won't be nearly as formidable without the presence of Davis.
But when Fisher speaks about what he'll miss most about his star player, the basketball aspect isn't the first thing that comes to mind.
"I'm going to miss his leadership, I'm going to miss his smile," Fisher said. "His ability to control the temperature of the entire gym, the mood and the energy of the entire gym.
"As he got older, we became a lot closer. As he became more of a man, we were able to have men conversations. I'm going to miss him as a friend. That's something we developed over the last year or so. We went from coach and player and were able to turn that off and simply talk about things and life that were bothering us, things that we were going through. Every aspect of who De'Ron Davis is, I'm going to miss it heavily."
Filed to: Deron Davis, Freshman Focus