The Inside the Hall Mailbag: August 3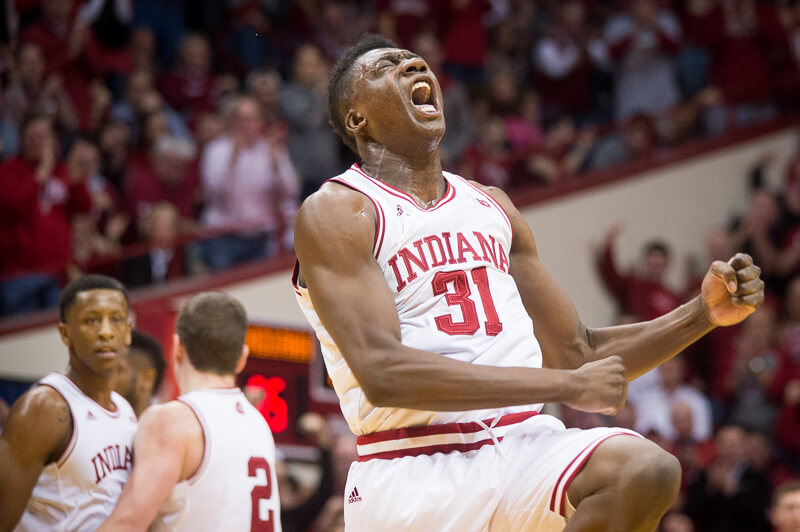 The Inside the Hall Mailbag is a collection of questions tweeted to us via Twitter (@insidethehall), via email, submitted on our premium forum and sent to us via our Facebook page. Submit your questions and we'll answer as many as we can.
CampHoosier in the premium forum writes: What kind of defenders are the incoming Freshmen and McSwain? Obviously we can only go on tape from high school and AAU but are there any takeaways you have for the guys?
The two players I expect to standout defensively in terms of the incoming players, just based on what I've seen and from conversations with their coaches, are Devonte Green and De'Ron Davis. Obviously, Davis still has to make his way to campus, but that's expected to happen before classes begin on August 22.
With Davis, he's not an elite athlete or overly explosive, but he understands positioning pretty well and blocked a ton of shots at the high school and AAU level. His high school coach, Danny Fisher, told me he's the best big man to ever come out of Colorado and reiterated multiple times the importance of De'Ron's defense as a reason Overland won back-to-back state championships.
In terms of Green, I haven't seen him a ton in person, but his coach John Buck says his defense was his best asset during his senior season. And if Green wants to carve out a rotation role as a freshman, he's going to have to bring it on that end as he competes with Josh Newkirk, Robert Johnson, James Blackmon Jr. and Curtis Jones for playing time. – Alex Bozich
GloryDazeIU in the premium forum writes: Do you see the Big Ten moving to 20 conference games like the ACC? If so, how do you think that affects IU's non-conference schedule going forward?
Anything is possible, but I have no insight as to whether it's something that is currently on the table or even being discussed at this point. Would I like to see it? Absolutely. The unbalanced schedule right now in the Big Ten is a bit of a joke. Trying to come up with an 18-game schedule with 14 teams is always going to lead to certain teams benefiting from an easier road. It's obviously not realistic to have a full round-robin schedule with this many teams, but eight single plays is too many.
If it happens, I wouldn't expect it to eliminate any of the "guarantee" or "buy" games that have become a staple of scheduling in college basketball. Athletic departments have home dates to fill and they will be filled. Losing two non-conference games would probably lessen the chances of Indiana (and other programs) playing in some of the non-conference marquee events that happen at neutral sites in the future. – Alex Bozich
twoturntables in the premium forum writes: How are are we looking after the July eval period? Has our position changed with any of the in-state recruits (Wilkes, Scruggs, Williams) and what new names have emerged that are high on IU?
IU is in a good position with several class of 2017 recruits, as we've outlined on our latest 2017 recruiting board. It's still early for recruiting, but lists are beginning to get paired down and visits are also being scheduled.
In terms of position with the three names you mentioned, I'm not sure there have been any major developments to report. Wilkes has official visits coming up to UNC and UCLA and is expected to visit Indiana as well at some point. Scruggs recently took an unofficial visit to Bloomington and an official visit to Xavier is next. The Musketeers are considered the favorite by many to land Scruggs, but his Indiana visit also reportedly went very well. Ideally, Indiana would like to try to get him back on campus once again before any final decisions are made. With Williams, his latest visit was an unofficial trip to Louisville.
As far as other guys Indiana seems to be in good position with? I'd keep a close eye on these names: Tremont Waters, Jordan Tucker, Jermaine Samuels and Justin Smith. – Alex Bozich
MGDC in the premium forum writes: Since TC has been a head coach, both IU and before IU, how many of his assistants have moved on to be head coaches?
Here are the notable ones that I'm aware of: Darrin Horn, Bennie Seltzer, Tod Kowalczyk, Brian Wardle, Steve McClain and Buzz Williams. I wouldn't really consider Williams a part of Crean's coaching tree as he was an assistant for just one season under Crean at Marquette. Kyle Green also worked under Crean at Marquette and went on to become a head coach at Division II Lewis University and Division III Wisconsin-Eau Claire. Jon Harris, the coach at SIU Edwardsville, played for Crean at Marquette. – Alex Bozich
sknits nad in the premium forum writes: What are some changes/improvements you see that could help Hoosier Hysteria for both fans and recruits?
Overall, I think Hoosier Hysteria is a well-run, laid back event that fans and recruits enjoy every year. My only critique, and it's a small one, is that the event sometimes tends to drag on a little longer than needed. Indiana always has a strong contingent of recruits in attendance and this year's event should have a little extra buzz given all of the renovations to Assembly Hall. – Alex Bozich
cobussd in the premium forum writes: Since the number of scholarships available seems to be a big discussion point here and on the main site, to your knowledge have we lost a sought after recruit during Tom Crean's coaching time because we haven't had a scholarship available?
My stance on this, and it's one that a lot of Indiana fans don't and may never agree with is that the scholarship situation always works itself out. And until it doesn't, it will remain my stance.
For some reason, there is a narrative advanced by some that this is an Indiana or a Tom Crean problem. It is not. The transfers and attrition are happening all over college basketball. Michigan had four guys transfer this offseason and there was no public outcry. But if it happened in Bloomington, you can be sure that the message boards would have been flooded with messages.
Now that this mini-rant is over: No, I am not aware of any recruit not coming to Indiana because there was no scholarship available. – Alex Bozich
@TroutyB on Twitter writes: If Tim Priller can grab a few rebounds and space the floor, could he crack the rotation? Maybe 5-10 minutes?
Highly doubtful. Tim Priller hasn't shown us anything through his first two seasons that suggests he'll be a part of the rotation. This season, Indiana's frontcourt is going to be arguably more talented with Thomas Bryant, OG Anunoby, Juwan Morgan, De'Ron Davis, Collin Hartman and Freddie McSwain.
I don't see Priller beating out any of those guys for minutes. And even if he did improve tremendously in the offseason, that still might not be enough to crack the rotation. – Alex Bozich
@BierUndTuba on Twitter writes: How have the workouts been this summer? Who's dominating drills/workouts? Who's been a surprise? Who has work to do?
If you'd like some insight into how the summer workouts have been going, I'd suggest doing a couple things. First, our podcast earlier in the offseason has some terrific insight.
Second, Indiana does a good job of posting updates on social media platforms, including Snapchat, that provide a small glimpse inside the program.
Beyond that, there's not a ton to report because the workouts are not open and the coaches have not spoken to the media since the offseason workouts began in early June. – Alex Bozich
Filed to: Twitter Mailbag