The Minute After: Purdue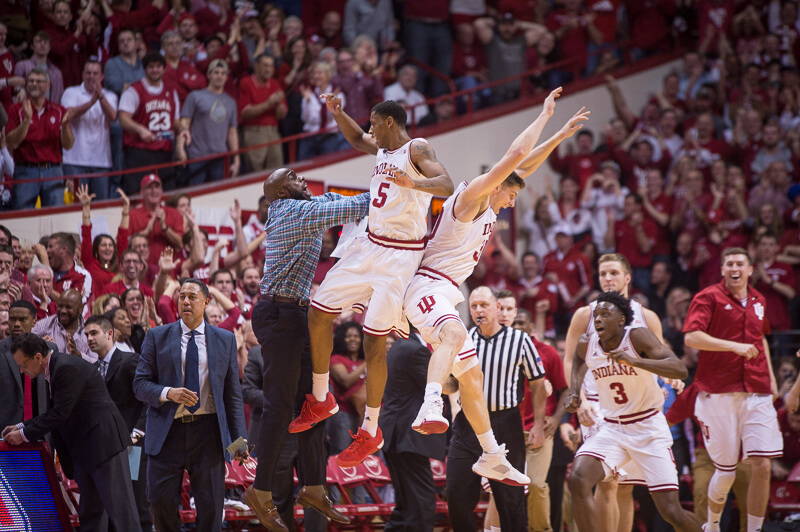 Thoughts on a 77-73 win over Purdue:
Bloomington buzzed on an unseasonable warm February afternoon. The student GA line kept going and going and going. And once the game tipped, the Hoosiers did what they usually do: Take out a ranked opponent inside Assembly Hall.
Last time around against Nebraska, we touched on Indiana's lack of rhythm to start games on offense. It didn't happen tonight because the Hoosiers were so clean with the ball. Indiana's first turnover of the game came late in the half — a Robert Johnson offensive foul at the 2:54 mark. The Hoosiers had just four miscues all game (season-best 6.5 TO%). John Gasaway wrote earlier this month that Indiana's turnovers were costing them more points than any other team in the country. So it was no surprise the Hoosiers were up over 1.6 points per possession midway through the first half as they'd yet to squander away any possessions, leading by as much as 12 at the 6:21 mark.
Ferrell (18 points, 7-of-13) had broken out of his slump in a big way and Troy Williams (19 points, four steals, zero turnovers) brought it at a high level on both ends. Indiana was playing clean and clear on offense and down and dirty on defense, as Robert Johnson probed on double teams and made Purdue's intimidating frontcourt a little skittish.
But Indiana's offense went flat from there on out in the half, as it only mustered three points before half. They stopped moving the ball and settled for too many contested 3-pointers. Though the Hoosiers carried a comfortable seven-point lead into the break, it could have been more.
It was more of the same in the second half. Max Bielfeldt hit over AJ Hammons on one end and tricked him into an offensive foul on the other. Johnson continued his great double-teaming. The Hoosiers were knocking down the 3-ball in a big way (12-of-28, 42.9%). Despite some foul trouble across pretty much its entire forward and center rotation, Indiana went up 19 at 9:57 after an OG Anunoby rebound and putback slam.
But Purdue got hot down the stretch and made things interesting. Too interesting for comfort. Over the final 9:42 of the contest, Purdue hit seven 3-pointers. Vince Edwards hit three of those. Dakota Mathias splashed in two. Add in a Hammons 3-point play at the 8:11 mark and the Boilermakers chipped away at those 19 points in a hurry, outscoring Indiana 33-18 down the stretch and making a game of it. Purdue also threw a full-court press at Indiana. Ferrell got picked from behind on it with 44 seconds to go.
An ensuing Mathias 3-pointer pulled the Boilermakers within two. But Ferrell sealed the deal for the Hoosiers on their next possession, as he was able to free himself on a drive to the hoop and get Hammons on a goaltend call to put the Hoosiers up four with eight seconds to go.
Indiana gave up an even 1.0 points per possession to the Boilermakers at half, but all those late 3-pointers had Purdue finishing at 1.2 points per possession for the game, marking the third time in four games Indiana has given up 1.2 points per possession or more. But the Hoosiers' ability to take care of the ball and tremendous work on the boards against the best offensive rebounding team in the conference helped them prevail, as Purdue rebounded just 18.2 percent of its misses tonight.
Down go the Boilermakers. Three games to go in Big Ten play and the Hoosiers holds their fate in their hands. Win out and the conference title is theirs.
Filed to: Purdue Boilermakers