The Minute After: Nebraska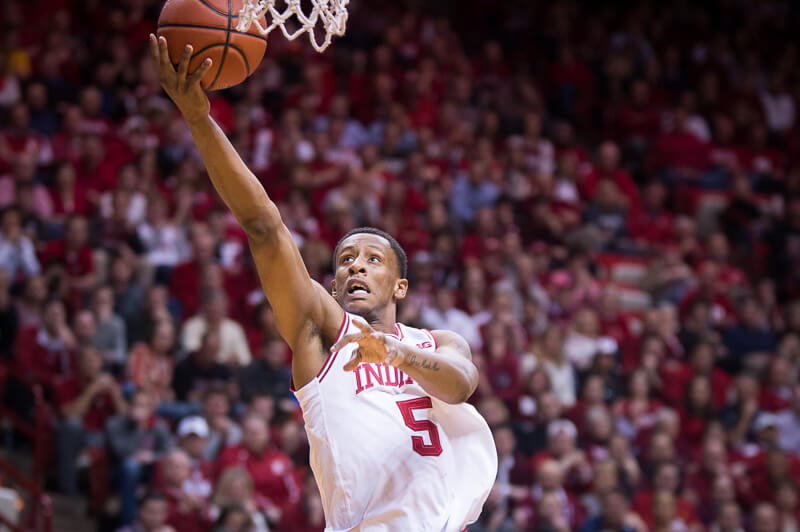 Thoughts on an 80-64 victory over the Cornhuskers:
Our recent podcast guest Jon Crispin hit the nail on the head at half.
"I think this Indiana team needs to find a way to find rhythm early," he said. "Play 40 minutes of basketball the way they can play and they are near unstoppable. The problem is it takes them time to find rhythm."
A lack of rhythm has indeed been a problem for Indiana at times to start games this season. Early turnovers have hurt the offense and put them behind the 8-ball. Those early turnovers were there again tonight. But that wasn't the only problem. Nebraska was seriously locked in on defense, denying the 3-point line with fury and double-teaming the post. Tim Miles stomped and called out movement and it was all working.
Indiana was out of sorts and Nebraska was dictating the terms on Branch McCracken Court.
But Indiana's simply been too good this season at home to let it last all game. And so the Hoosiers didn't.
They started to finally find the rhythm to close the first half. From there, save for a run in the middle of the second half from the Cornhuskers, it was a dominant performance for Indiana. After being down six (30-24) at the 5:09 mark in the first half, Indiana outscored Nebraska by 22 the remainder of the contest (56-34) to come away with the 16-point victory.
Troy Williams wasn't Good Troy tonight. He was Great Troy. Yes, he committed four turnovers. But when you couple those four turnovers with a team-high 18 points (8-of-9), five rebounds, three assists, a block and a steal, you can live with the miscues. It's when the rest of the box score is empty when Williams' turnovers stick out like a black eye. The junior was able to keep control on a number of wings drives for buckets and did a nice job of finding teammates on other drives when he attracted the defense. Nebraska simply had no answer for him.
On a night OG Anunoby didn't have his best defensive performance and scored just three points, fellow freshman Juwan Morgan stepped up and posted a career-high 12 points off the bench. Morgan found himself in good position on both ends during his floor time, added five rebounds, a steal and a wide open corner 3-pointer off a dribble drive from Williams.
Yogi Ferrell (2-of-8, 11 points) is still struggling to get the ball to go down. He hit just 1-of-5 3-pointers tonight, but man, did he have a few that were down and then out. And in a cruel twist, he hit an absolutely ridiculous contested 3-pointer as time expired in the first half. But it didn't count, as the replay revealed he just missed getting it off before the buzzer.
He's due for a breakout. It's coming soon.
Indiana's defense deserves some praise tonight as well after getting destroyed by Denzel Valentine and company on Sunday in East Lansing. Nebraska came in with the fourth best offense (1.11 points per possession) in conference, but Indiana held yet another conference opponent under a point per possession — just barely (.99).
With four Big Ten contests left on the schedule, Indiana finds itself in a tie for first place in the conference. The Hawkeyes still appears to be in the driver's seat, but as their loss in Happy Valley proved tonight, anything can happen.
Indiana lurks and has kept itself within striking distance of a conference title. We'll soon see how it plays out.
Filed to: Nebraska Cornhuskers