Notebook: Williams, Morgan lead Indiana back to first place with Nebraska win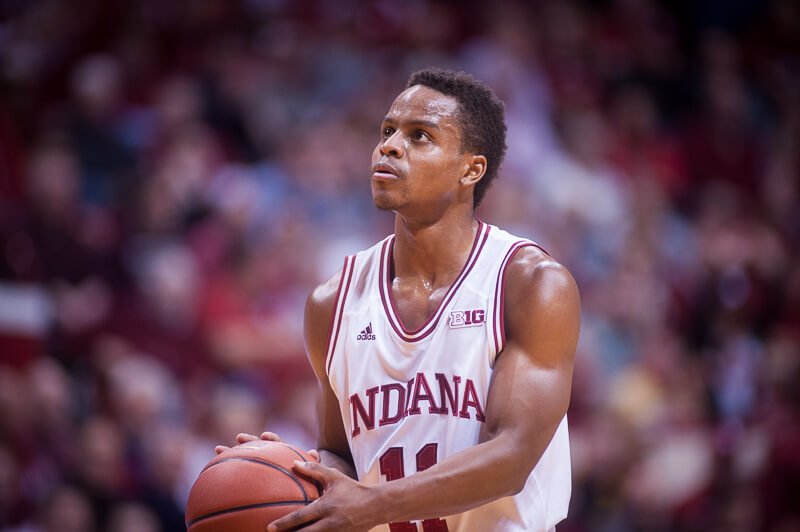 As it looked to pick up win number 11 in Big Ten play, the majority of the first half was ugly for Indiana. But a strong close to the half and a surge to start the second half helped the Hoosiers pick up that win over Nebraska 80-64 at Assembly Hall to move to 21-6 overall and 11-3 in the Big Ten.
The win keeps IU undefeated in Assembly Hall this season with just two home games left.
Troy Williams was the story of the game, scoring a game-high 18 points on 8-of-9 shooting. He also grabbed five rebounds and had three assists to go along with four turnovers.
"Troy has got unique talents, and sometimes he's his own worst enemy with the things he tries to do," Tom Crean said. "What he did in the second half was what we were trying to get him to do in the first half, and he had a couple footwork errors. That's the way Troy needs to play. Troy needs to be aggressive, attacking, but reading the situation and that's obviously what we want to try to get him to have."
Nebraska coach Tim Miles said it was like Williams "got shot out of a cannon" and that his team didn't handle that very well.
Williams needed a game like this after an uninspiring performance at Michigan State Sunday, where he scored zero points.
"After Michigan State, I didn't come out aggressive and I watched, we watched it, and me and Coach Crean had talked and we decided it's time to put on an aggressive mindset," he said. "Playing like that, I see the results it gets me."
Morgan has career high
Williams wasn't the only one who had a breakout game. Freshman Juwan Morgan scored a career-high 12 points and five rebounds in just 11 minutes. With Thomas Bryant struggling, his performance was encouraging — especially considering he could see more playing time on Saturday against a much bigger Purdue team.
"It was just my teammates setting me up, putting me in a position to get easy baskets," Morgan said. "I remember the most recent one, Troy drove to the lane hard — like we said — with that attacking mindset, and all I did was move out of the way and he found me. Just them making plays like that opened up everything for me and I can't thank them enough."
Robert Johnson and Yogi Ferrell were the two other Hoosiers who reached double figures with 13 and 11 respectfully.
"(Morgan) is taking an active part in his improvement," Johnson said.
Back in first place
Indiana got some help from Penn State on Wednesday night, as the Nittany Lions took down No. 4 Iowa in Happy Valley. Iowa's loss combined with IU's win moves the Hoosiers back into a first place tie at 11-3. Maryland sits right behind them both at 10-3 and will play Minnesota on Thursday in its effort to make it a three-way tie. The Hoosiers will play both the Hawkeyes and Terrapins in March.
After the game, Johnson was alerted to the fact that Iowa had lost.
"Well, that's a good thing," Johnson said. "We are just going to try to take it one game at a time, one play at a time and let the results come as they may."
Filed to: Juwan Morgan, Troy Williams