Five takeaways from Indiana's win over Iowa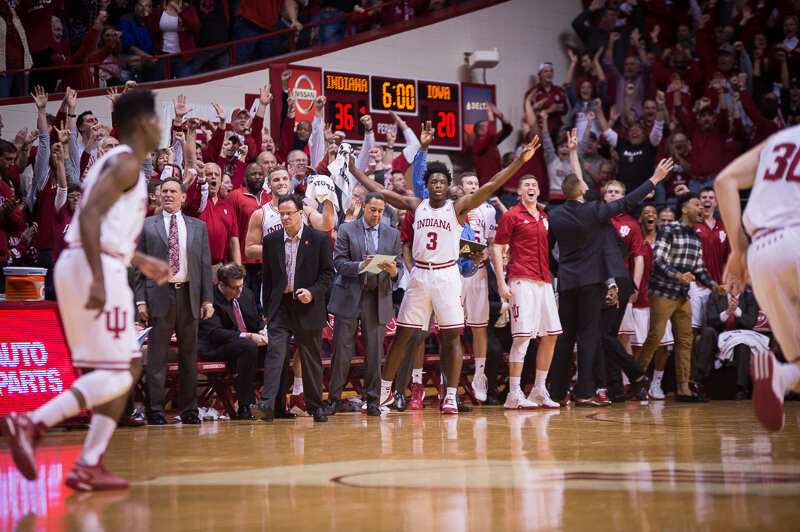 Indiana moved into a first place tie atop the Big Ten standings with an impressive 85-78 win over Iowa on Thursday night at Assembly Hall. It was the 20th victory for the Hoosiers, matching last season's win total.
Here's a look at five takeaways from the win over the Hawkeyes:
· Indiana exposed Iowa's one weakness: As we pointed out in What to Expect, there was one major flaw on Iowa's profile coming into Thursday: defensive rebounding.
Iowa entered Assembly Hall allowed Big Ten opponents to rebound 31 percent of their missed shots. The Hoosiers grabbed 54 percent of their misses against the Hawkeyes and scored 26 second chance points. It helped offset an usually poor effort by IU on its own defensive glass as Iowa rebounded 49 percent of its own misses for 20 second chance points.
It was a balanced rebounding effort as eight different players grabbed an offensive rebound with Thomas Bryant and Troy Williams leading the way with five each. Bryant, who battled foul trouble all game and played just 14 minutes, was a major reason Indiana jumped out to an early lead. Four of his six first half points came off of offensive rebounds.
· Ferrell delivered when IU needed it most: It was a forgettable night for Yogi Ferrell in terms of shooting from the field, but when the Hoosiers needed him to deliver, he did.
Ferrell made just one field goal in the second half, but it came at a crucial time. With Indiana leading 67-62 at the 6:24 mark, Ferrell took a pass from Max Bielfeldt in the right corner and buried a 3-pointer. He then made six straight free throws down the stretch to seal the win.
"I felt like we played through adversity, played great defense and just found a way to win," Ferrell said.
· Players give Crean the credit for helping weather Iowa's run: Blowing a 16-point lead could have led Indiana to begin doubting itself as Iowa began to hit its stride offensively late in the first half and into the second half.
But even as the Hawkeyes surged to a four-point lead with just under 10 minutes to play, Indiana never lost complete control. Postgame, Collin Hartman credited Crean as a major reason that he and his teammates were able to take a punch from Iowa and respond.
"Coach stayed with us, like he always does," Hartman explained. "He stays with us and doesn't get mad at us too much and keeps us confident, keeps our hopes up and keeps us playing hard. It's all motivation right there, and he never gives up on us, never quits no matter what happens in the games. And him coming out and talking to us and trying to get us going and keep us going, it really helps throughout the game, and I think all the guys can agree with that."
· Indiana made Jarrod Uthoff earn it: Iowa senior forward Jarrod Uthoff might be the runaway choice for Big Ten player of the year, but he had to earn nearly every point he scored on Thursday in Assembly Hall.
The 6-foot-9 forward scored a game-high 24 points, but needed 20 shots and eight free throw attempts to get there. Those are numbers you can certainly live with if you're Indiana, which used a variety of different players to try and slow down Uthoff.
"He's athletic, he's longer than people think," Crean said. "I think the key is you can't give him a steady diet of anything. We did not guard him as well, obviously, as we wanted to. We did not defend him the way that we had practiced as much. But that's a tribute probably to him, as much as us."
· Bench comes up big: Iowa is considered one of the deeper teams in the league and is recognized for the fact that it doesn't have much dropoff when it goes to guys like Nicolas Baer and Dominique Uhl off the bench.
On Thursday, however, it was the Indiana bench that shined. The Hoosiers bench outscored Iowa's 28-0 as five different guys scored. The contributions came from a variety of places.
Max Bielfeldt (1o points, four rebounds) filled in well for Bryant and had some key buckets on Adam Woodbury in the paint. Nick Zeisloft splashed in three 3-pointers. OG Anunoby had four points and two assists. Juwan Morgan had three rebounds, with one offensive board leading to a key bucket down the stretch to put Indiana up nine with just over three to play. And walk-on Harrison Niego played stellar defense in his seven minutes of action and also knocked down a baseline jumper.
"That's what's so special about our team," Ferrell explained. "Everybody comes in and they do what they're supposed to do. They played their role, never get discouraged about not getting the ball. They get in and defend. And they definitely — everybody is a key part of this team and I felt like everybody tonight that went into that game impacted the game."
Filed to: Iowa Hawkeyes, Tom Crean, Yogi Ferrell