IU beats Iowa, moves into tie for first place in Big Ten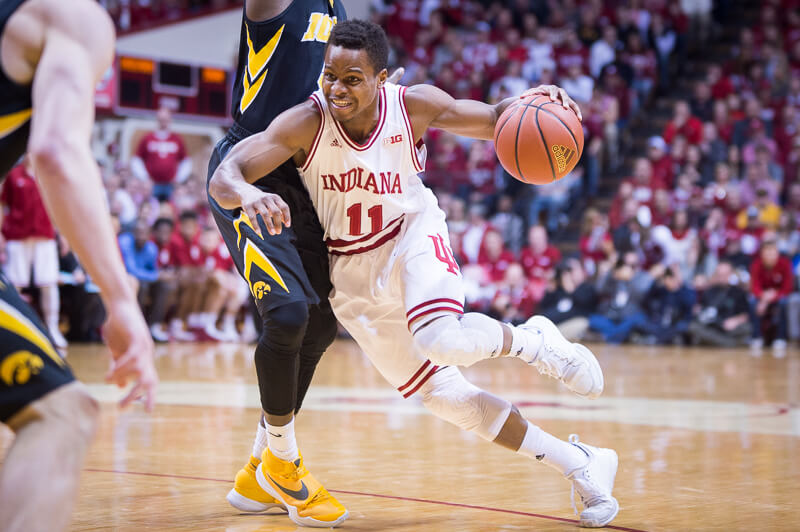 Indiana, in need of a major resume boosting win, got just that Thursday night beating No. 4 Iowa 85-78 in front of a electric crowd at Assembly Hall.
Tom Crean said it was an atmosphere that likely was louder than when Cody Zeller, who was in attendance Thursday, was playing for the Hoosiers during the 2011-2012 and 2012-2013 seasons.
"It was excruciatingly loud and it was tremendous," Crean said.
It was a balanced attack, with no player scoring more than 14 points, yet all 10 guys who played scored. The win moved the Hoosiers into a three-way tie for first place in the Big Ten with Iowa and Maryland.
Yogi Ferrell had a team-high 14, and four others joined him in double-figures: Robert Johnson and Troy Williams each with 13, and Thomas Bryant and Max Bielfeldt each with 10.
"I had tremendous confidence in our players tonight," Crean said. "Saturday night I got a little upset with them at times. I didn't see the same look back. And I think tonight they really wanted to win."
Bielfeldt's 10 may have been the most important, as Bryant battled foul trouble all game, playing only 14 minutes. Bielfeldt played 25 minutes, and also had four rebounds and two blocks.
Despite being a walk-on, freshman Harrison Niego came in early in the first half and provided a huge boost on both ends of the court. He only scored two points, but he forced a turnover and took a charge.
"It was rocking. The fans were electric," Niego said of the atmosphere. "When they get behind us and we get rolling, it's a lot of fun to play. It's definitely a big reason why I decided to come here."
A resume building win
The Hoosiers didn't have a win over a ranked team (at the time they played) until they topped Iowa. Not only should it serve as a confidence boost heading up to East Lansing where they will face Michigan State, but it also is a boost in the eyes of the selection committee. A win over a team like Iowa could potentially move IU up a seed line when the 2016 NCAA tournament bracket is announced.
"(The win) can just propel us to our ultimate goal, which is to win a Big Ten championship," Ferrell said. "We definitely want to win it outright. . . it's definitely another step in the right direction for our team."
After the game Crean discussed IU's schedule, which is much tougher in the second half of conference play.
"We got the schedule that the computer gave us, so it is what it is," Crean said. "There's going to be television ramifications in there for the time of year with Big Ten Network, ESPN, CBS, things like that, I understand that. But I think the mentality of this team, especiall going back to December, has been nobody has taken anybody lightly that we play."
Bench provides major boost
This was a game where Indiana had to comeback after its own 16-point lead was taken, and did so with Ferrell struggling to shoot. IU turned the ball over just 11 times, won the rebounding battle 39-35 and outscored the Iowa bench 28-0.
Iowa's Fran McCaffrey chose not to play his bench extended minutes, but when he did it was ineffective. Indiana on the other hand, capitalized off of the play of Bielfeldt, Zeisloft and Niego.
"They came in and gave us great energy, you know, Nick, OG, Juwan," Ferrell said. "Juwan especially, he had a key offensive rebound tip-in with about two or so minutes to go. That's what's so special about our team. Everybody comes in and they do what they're supposed to do."
Filed to: Iowa Hawkeyes, Tom Crean, Yogi Ferrell