What to Expect: Iowa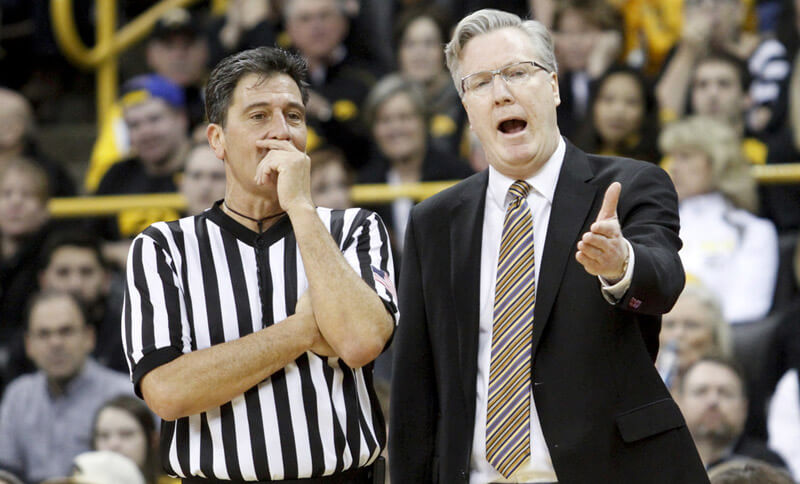 After a disappointing 68-63 loss at Penn State, Indiana returns home on Thursday night for a meeting with Big Ten leader Iowa. The Hawkeyes, ranked No. 4 in the latest Associated Press Top 25 poll, are 19-4 and 10-1 in the Big Ten.
The game will be broadcast at 9 p.m. ET on ESPN with Rece Davis, Dick Vitale and Kaylee Hartung on the call:
Thursday's meeting in Bloomington between Indiana and Iowa was supposed to be for first place in the Big Ten. But after Indiana's disappointing performance at the Bryce Jordan Center on Saturday, the Hoosiers can only play for a tie with Fran McCaffery and the Hawkeyes.
Iowa is the surprise story in not only the conference this season, but also nationally. Picked by most to finish no better than sixth or seventh in the league, the experienced Hawkeyes have one of the nation's most well rounded teams.
And McCaffery, who has never lost fewer than 12 games in a season as Iowa's coach, is right there at the front of the discussion for both Big Ten and national coach of the year. We've written since late December about the Big Ten schedule being backloaded with words of curiosity as to how Indiana will respond to the highest level of competition. Based on resume and results to-date, it's not going to get much tougher than the challenges Iowa will present in primetime on Thursday under the bright lights of Assembly Hall.
MEET THE HAWKEYES (all statistics and graphics are for conference games only unless otherwise noted)
Iowa senior Jarrod Uthoff is finally the main cog in Iowa's offense and while many thought the Hawkeyes would drop off following the losses of Aaron White and Gabriel Olaseni, the opposite has happened.
The 6-foot-9 Uthoff is the frontrunner for Big Ten player of the year and is in the discussion for national player of the year as well. He averages 18.5 points and 6.6 rebounds in league play and is shooting 43.8 percent on 3s, 41.8 percent on 2s and nearly 85 percent from the free throw. Uthoff also ranks fourth in the conference in block percentage. As his ShotAnaltyics chart below shows, he can do damage in a variety of ways: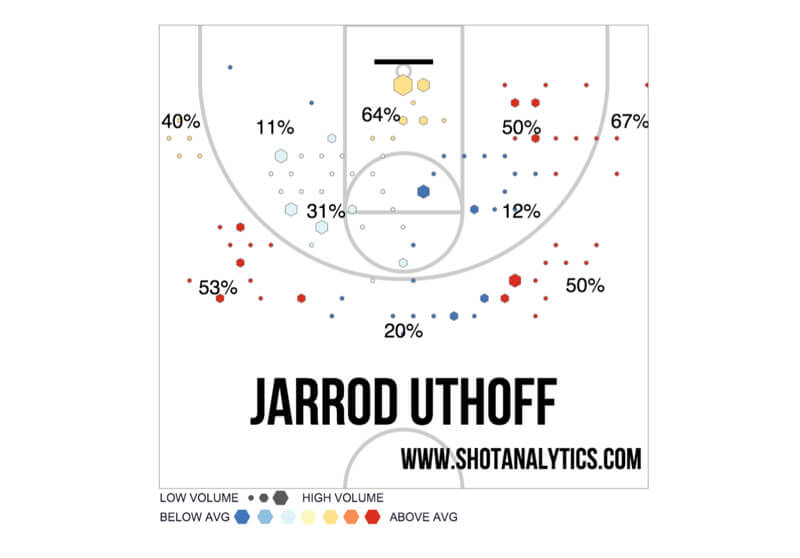 Not far below Uthoff on the scouting report for Iowa is junior guard Peter Jok, who could very well join Uthoff as a first team All-Big Ten selection. Jok is second on the team in scoring (17.5 ppg) and is eighth in the conference in effective field goal percentage. Jok is making 48.7 percent of his 2s and 44.6 percent of his 3s in league games. Jok does have the Big Ten's fourth best steal percentage, but according to Synergy Sports, he's Iowa's worst defender in terms of points per possession allowed.
Like Uthoff, Jok must be accounted for at all times as he can score from the perimeter and at the rim: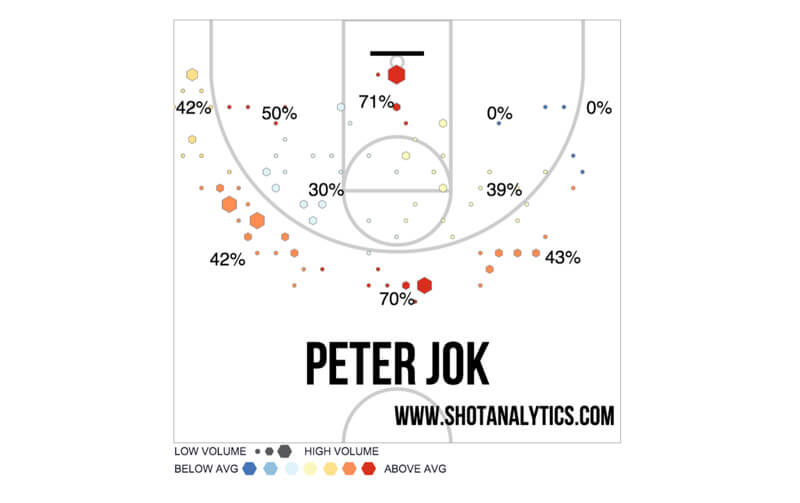 After Uthoff and Jok, Iowa has some balance. Four players – senior Anthony Clemmons, senior Mike Gesell, senior Adam Woodbury and sophomore Dom Uhl are averaging between 9.1 and 7.5 points in Big Ten play.
Clemmons and Gesell, who are both 6-foot-2, start in the backcourt with Jok and Uthoff on the wings and Woodbury in the post. Clemmons is a great finisher (55.2 percent on 2s), but is making just 33.3 percent of his 3s against Big Ten opponents. Clemmons is the second best distributor on the team (20.5 assist rate) and also does a pretty good job of drawing fouls with a free throw rate of 42.1 percent, which is 15th best in the Big Ten.
Gesell has been even worse from the perimeter (23.1 percent on 3s), but does a good job finding his teammate off the pick-and-roll. His assist rate of 28.3 is eighth in the Big Ten and he's fifth in the conference at getting to the line with a free throw rate of 64 percent.
The 7-foot-1 Woodbury isn't a featured offensive player, but when he gets opportunities, he's cashing in. Woodbury is making 56.7 percent of his 2s in league play. He's a plus-rebounder on both ends with an offensive rebounding percentage of 12.3 and a defensive rebounding percentage of 27. Both rank in the top six of the conference.
When Woodbury goes to the bench, Uhl provides a much different look at the five for McCaffery. The 6-foot-9 sophomore is shooting a ridiculous 53.8 percent on 3s in league play.
Freshman walk-on Nicolas Baer, who is 6-foot-7, is playing close to 15 minutes per game in conference play and is making 66.7 percent of his 2s and 36.4 percent of his 3s.
TEMPO-FREE PREVIEW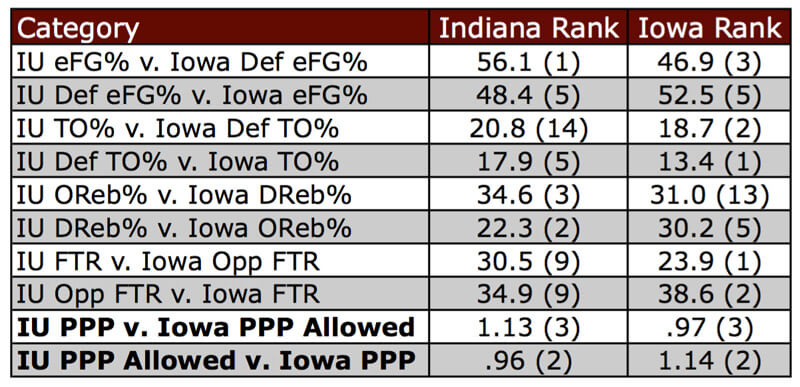 A look at the numbers paints a pretty clear picture as to why Iowa is successful. The Hawkeyes take care of the ball extremely well. They don't send opponents to the foul line while guarding at a high level. They also shoot it at a very efficient clip from distance.
Iowa's turnover percentage of 13.4 is the best in the Big Ten and its opponent free throw rate of 23.9 is also setting the pace in the conference. The Hawkeyes are second in the conference in 3-point shooting (just ahead of IU) at 39.6 percent.
There are difficult matchups all over the floor when trying to defend Iowa because their primary scorers are all tall with long arms. That also translates to success on the defensive end as Iowa is 3rd in defensive block percentage and second in steal percentage.
So what are the keys to success for IU? The Hoosiers must take care of the ball, which has happened in recent home games. IU hasn't had a turnover percentage above 17.1 in Assembly Hall since the Wisconsin game. Iowa is also vulnerable on the defensive boards as opponents have rebounded 31 percent of their missed shots. When IU is thriving offensively, the Hoosiers are attacking the boards relentlessly and scoring second chance points. And finally, IU must figure out a way to make 3s, which is easier said than done against Iowa's length. The Hawkeyes are second in 3-point field goal percentage defensive in Big Ten play at 28.9.
WHAT IT COMES DOWN TO
This isn't a make or break game for Indiana in terms of making the NCAA tournament, but if the Hoosiers wish to remain a legitimate player in the conference race, it's pretty darn close.
A win ties Indiana, Iowa and Maryland in the loss column at two and makes for a potentially intriguing finish to the regular season. The Hawkeyes are still the favorite regardless of the outcome, but you can bet Maryland will be rooting hard for an IU victory, particularly after the Hoosiers lost at Penn State.
The Pomeroy line has Iowa as a 2-point favorite and gives the Hoosiers just a 44 percent chance of winning despite a perfect 13-0 home record so far. Sagarin actually favors IU when adjusted for home court by a point. And the Vegas line, which opened with Iowa as a 2-point favorite, is down to Iowa by 1.5 as of 2 p.m. ET on Wednesday afternoon.
Indiana has been a very good team at home under Tom Crean, particularly coming off an extended period of time to prep. Crean is also 5-4 at IU in head-to-head matchups with McCaffery. But this Iowa team is different. The Hawkeyes have won at Michigan State and Purdue and have just one narrow Big Ten road loss, which came at Maryland.
The Hoosiers must find a way to successfully combat Iowa's size and length to be effective offensively and avoid turnovers which could potentially be crushing in a close game.
In terms of early February basketball, there are no shortage of storylines in this game when you consider the conference race and the fact that both teams are playing for NCAA tournament seeding. Iowa can solidify its march toward a No. 1 if it keeps winning and Indiana is very much in need of quality wins to boost its resume.
(Photo credit: Matthew Holst/Getty Images North America)
Filed to: Iowa Hawkeyes