The Minute After: Penn State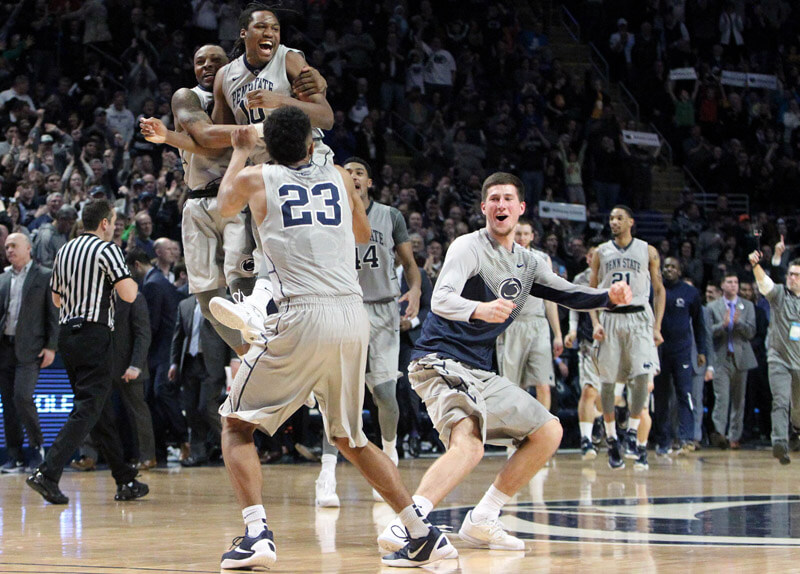 Thoughts on a 68-63 loss to the Nittany Lions:
No 25-0 runs in this one. No dominating road win.
Just a bad loss in Happy Valley.
It started poorly. Turnovers. Overdribbling. Lack of energy. But we've been here before. The Hoosiers have had rough starts, overcome them, found their stride and cruised to victory. But they simply never recovered tonight. The offense, such a constant source of strength all Big Ten season, fell off a cliff at the Bryce Jordan Center.
Indiana shot just 36 percent from the field. Its effective field goal percentage of 45.6 was a season-low. Yogi Ferrell finished 1-of-6 from deep and only 3-of-12 overall. Worse yet, he had five turnovers. Ferrell has been brilliant for weeks on end now. But this was a terrible performance from Indiana's senior leader and no one was around to pick up the slack.
Thomas Bryant, saddled with foul trouble, didn't really ever get involved until Indiana needed buckets late. He had just four shot attempts for the game. With so many of Indiana's shots not falling, the offense would have been better served to feed the big man, but it just didn't happen. Troy Williams tried too much one-on-one stuff and it meant less ball movement and other guys standing around. OG Anunoby, another rock of consistency the last several weeks, didn't score. Collin Hartman also didn't make a shot in 23 minutes of action.
Couple a poor shooting night with Indiana's penchant for the turnover (22.7 TO%) and it led to a night the Hoosiers failed to muster over a point per possession (.96).
Outside of Nick Zeisloft (4-of-7 from deep) and Indiana's ability to get to the line (20-of-26), there wasn't much to write home about. It was an ugly offensive performance.
On the other end, Indiana allowed 1.05 points per possession, its second highest of the Big Ten season (1.09 at Wisconsin). Brandon Taylor terrorized the Hoosiers all night on his way to a game-high 24 points (10-of-20). He was a tough cover in the paint and Anunoby had trouble with him. Taylor also made it happen for Penn State late. He got open in the left corner out of Indiana's zone and hit a couple backbreaking 3-pointers.
The Nittany Lions made shots tonight. The Hoosiers didn't.
For whatever reason, Indiana has had trouble against Penn State the last couple times out and it resulted in a loss this evening. The Hoosiers were supposed to head into the Iowa matchup on Thursday with a chance of snatching first place in the conference all by themselves. Now they'll need a win to keep pace or risk falling two games back in the loss column.
It's not easy to go an entire Big Ten season and win every game you're supposed to — especially on the road. Still, this is the kind of game that may very well come back to haunt the Hoosiers both in terms of their finish in the Big Ten and possible NCAA tournament seeding.
It was a bad loss and a disastrous performance against a team that Indiana is clearly better than. But there's no time to hang heads. Thursday's game is a big one and the Hoosiers need to put this loss behind them.
(Photo credit: Matthew O'Haren/USA Today Sports Images)
Filed to: Penn State Nittany Lions