The Minute After: Rutgers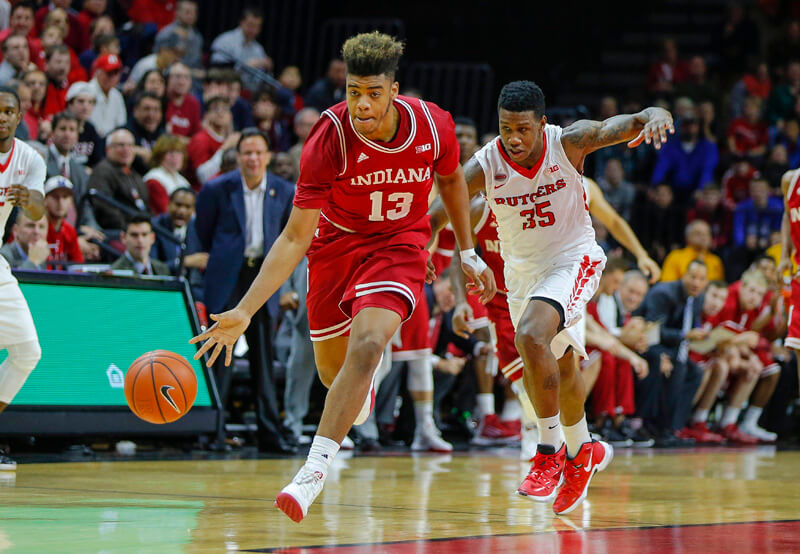 Thoughts on a 79-72 win against Rutgers:
As we turn over to conference play, a trend has emerged. Indiana doesn't win clean and clear. It's often a frustrating struggle to the bitter end.
This was an ugly contest. Indiana reverted to Maui form with a number of inexplicable turnovers. Bad passes to no one. Dribbles off feet. With a turnover percentage of 31, it was its worst performance valuing the ball on the season. As Alex noted in ATB, this is about the only team in the conference you can hand the ball over to on nearly a third of your possessions and still win. Had this not been Rutgers, IU might have just started the conference season 0-1 on a bad performance.
Instead, the Hoosiers are 1-0 and survive a weird weekday tip time in Piscataway. Troy Williams went Bad Troy with the ball and turned it over a career-high seven times. Yogi Ferrell, the sure-handed senior, didn't do much better with six turnovers, though he had a nice second half and scored a game-high 20 points. Robert Johnson was awful today in what was maybe his worst performance in the cream and crimson. Johnson has been about the most consistent player on IU's roster this season, but it didn't show today. He had five turnovers of his own and missed all six of his shots, including three from distance.
Rutgers converted Indiana's 23 turnovers into 37 points — just over half of their scoring output (51.3 percent).
Thomas Bryant had a height advantage on Rutgers' frontline, but he couldn't stay on the court. Bryant fouled out in just six minutes of action. Some fouls seemed a bit ticky-tacky, but his limited action meant just one shot attempt. He was fouled on a dunk and hit the and-1 for three points on the afternoon.
So thank goodness for Max Bielfeldt.
The Michigan graduate transfer had career-highs of 18 points and 14 rebounds and a number of smart defensive possessions. He hit from 3-point range and in the paint. His performance was key in a game he was needed. Indiana also got a number of great bench performances as James Blackmon Jr. was out with a knee injury and other starters fumbled the ball away. O.G. Anunoby scored eight points (2-of-2 from distance) and snagged seven rebounds in 15 minutes. His play the last couple games has made him a factor in the lineup.
Ryan Burton also came in and made an impact. Burton knocked down two 3-pointers in 10 minutes of action. Juwan Morgan only got six minutes of playing time, but had a nice steal on a sideline inbounds pass and dunked it home on the other end.
For Indiana, the defense was good enough. Not great. Good enough. The Hoosiers held the Scarlet Knights to under a point per possession (.96) and contested shots. Rutgers went to a lot of isolation play — stepback jumpers and such and so there were at least hands around the ball. The Scarlet Knights also drove to the hoop a lot on Indiana, but Hoosier defenders stuck with those drives and at least had a body around the ball and put up some resistance. Yes, of course, the Hoosiers allowed their standard open layups on occasion, but they didn't define the game like they have at other times this season.
Had Indiana not been so careless with the ball, the Hoosiers would have won this game going away.
But they didn't. It was a little too close for comfort. But as we've found this season so far, that's been the Indiana Way. It'll work against Rutgers. But the rest of the conference won't make it so easy.
(Photo credit: Jim O'Connor-USA TODAY Sports)
Filed to: Rutgers Scarlet Knights