The Minute After: Kennesaw State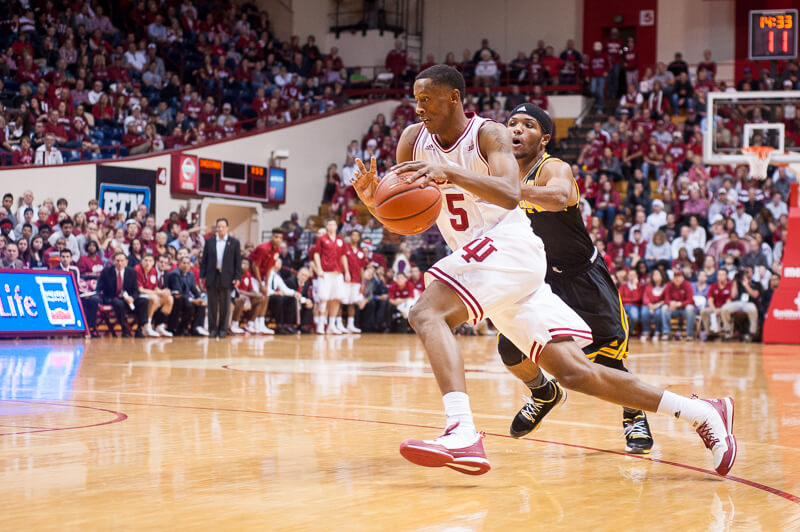 Thoughts on a 99-72 win against the Owls:
This one was supposed to be a breeze.
But the Hoosiers don't do breezy. They don't do easy. They let wildly inferior offensive opponents like the Kennesaw State Owls, who entered the contest with the 333rd most efficient offensive in the country, score their most first half points of the season (38) and a season-best 1.08 points per possession.
Open 3-pointers. Open rim runs. Poor communication. Weak effort.
It is frustrating. It is confusing. It keeps happening.
But if this game and Indiana's Saturday win against Notre Dame have taught us something, it's that Tom Crean appears to be finding a way to adjust in the second half. More defensive-minded lineups are seeing the floor as James Blackmon Jr. rides the pine. It's just enough to stop the bleeding, snatch momentum and seize victory.
Because in the end, the Hoosiers still won this game by 27 points — exactly Ken Pomeroy's line on the contest.
Against Notre Dame, Indiana forced a shot clock violation in man defense and tightened up their zone after that for several possessions over the last five-plus minutes of the contest. Tonight against Kennesaw State, Indiana started its defensive march a little earlier.
The Owls were as close as seven (52-45) with 15:08 to play, but never got any closer the rest of the way. Juwan Morgan and Robert Johnson checked in for Blackmon Jr. and Troy Williams a bit earlier at the 17:46 mark. They, along with Yogi Ferrell, Collin Hartman and Thomas Bryant went to work. They forced a shot clock violation. Morgan (one block, one steal, two points), in his best performance of the season, brought energy and used his length to bother the Owls.
Yes, Kennesaw State made some buckets during this stretch. But hat's off to them. Because the Owls converted some tough shots they had to earn. Kennesaw State was fouling Indiana a ton at the other end and the Hoosiers were in the double bonus at the 11:02 mark. Indiana did a solid enough job there (22-of-31) to push the lead out to 12 (63-51) when Blackmon Jr. checked back in as Troy Williams hit a pair at the line.
Speaking of Williams, he's another big part of these last two final 20 minutes. Against Notre Dame, his energy and play was an additional reason Indiana pulled out the game. No different tonight. On Indiana's next possession after his two free throws, he dribbled in off the perimeter and dunked it home untouched. He then stole the ball on the other end and went into playmaking mode for Indiana, finding Hartman in the lane for two points. Williams then hit a 3-pointer on Indiana's next possession and the blowout was pretty much on.
Williams scored 20 points (7-of-8), made a career-high three 3-pointers on four attempts, and dished out a career-high six assists. He had his standard four turnovers as well. But he was sensational for the above stretch and Good Troy beat out Bad Troy tonight.
Against a team without much height, Thomas Bryant had an efficient field day (8-of-9, 20 points). Freshman O.G. Anunoby also followed up his nice second half against Notre Dame with another good one against the Owls. Anunoby brought the proper effort and intensity on defense, had another offensive rebound putback and even splashed a 3-pointer late — looking smooth doing it. He and Morgan shared the floor for a stretch and that was cool to see, too.
Non-conference play is over and the Hoosiers finished it 10-3. It probably didn't look the way we expected, but this team still sits at No. 25 on KenPom with the fifth most efficient offense in the country as they enter conference play.
Will they build on these last two defensive-minded final 20 minutes? That's the question heading into conference play.
Filed to: Kennesaw State Owls