What to Expect: Kennesaw State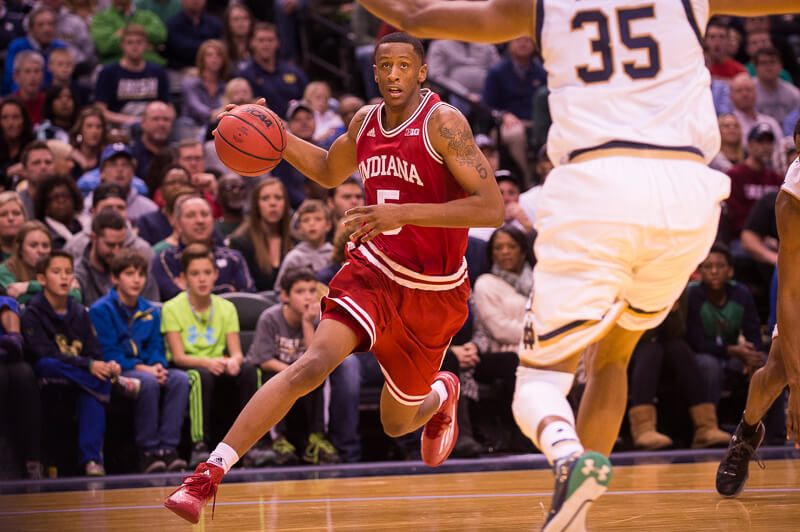 Indiana wraps up the non-conference portion of its schedule on Tuesday night at Assembly Hall with Kennesaw State. The Owls, a member of the Atlantic Sun Conference, are 3-10 overall and 0-8 on the road.
The game will tip at 6 p.m. ET on the Big Ten Network with Cory Provus and Jon Crispin on the call:
Indiana is two games deep in a 10-game stretch of contests in which it should be favored every time out. So far, the Hoosiers are 2-0 with wins over McNeese State and Notre Dame.
That record should extend to 3-0 on Tuesday night as IU welcomes Al Skinner and Kennesaw State to Assembly Hall. It's the final guarantee game of the season as the Big Ten schedule tips off in just eight days in Piscataway.
MEET THE OWLS (All tempo-free stats are for D1 opponents only)
Kennesaw State has played just seven guys in its last two games as Skinner, who previously spent time as a head coach at Rhode Island and Boston College, preps his team for conference play.
The two names at the top of the scouting report are Yonel Brown, a 5-foot-9 senior guard, and Kendrick Ray, a 6-foot-1 junior guard.
Brown is using a team-high 28.5 percent of the team's possessions while on the floor and is averaging a team-high 16.8 points. But his efficiency isn't great as he's shooting just 41.1 percent on 2s and is a respectable, but not great, 35 percent on 3s.
Ray is second on the team in scoring at 15.5 points per game and uses 27.2 percent of possessions. His efficiency is slightly worse than Brown's, but he does do a decent job of getting to the foul like (40.5 free throw rate).
A third guard, 6-foot-5 sophomore Nick Masterson, joins Ray and Brown in the backcourt. Masterson is hitting just 26.8 percent from distance and only 30 percent on 2s.
Freshman guard Kyle Clarke, who is 6-foot-5, sees rotation minutes as a backup and is strictly a threat inside the arc. Of his 21 field goal attempts against Division I opponents, 20 have been 2s.
Bernard Morena, a 6-foot-8 junior, is Kennesaw's biggest player and best shot blocker (4.4 block percentage). Morena is finishing 43.5 percent of his 2s.
Sophomore forward Jordan Jones, who is also 6-foot-8, is a low usage offensive player (12.4 Poss%) who does a poor job finishing the opportunities he does get (36.6 percent on 2s).
The final Owl worth mentioning, 6-foot-6 junior Aubrey Williams, is the team's best rebounder. He leads the program in both offensive (11.7 OR%) and defensive rebounding (20.7). Williams is the best finisher among Skinner's frontcourt options as he's making 47.1 percent of his 2s.
TEMPO-FREE PREVIEW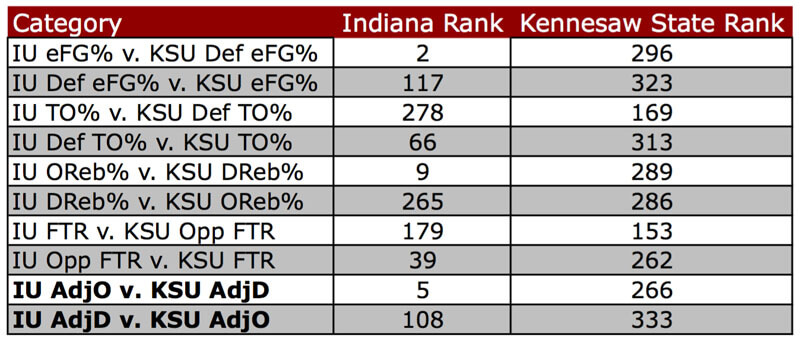 There's not much to say about this matchup. Kennesaw is a terrible defensive team and an even less competent offensive team. The Owls turn it over at a high rate, shoot it poorly, don't get to the line or hit the offensive boards.
Meanwhile, IU still has one of the nation's best offenses and an overmatched opponent like this should help its overall defensive numbers improve as well.
WHAT IT COMES DOWN TO
Simply stated: This is a game Indiana should win comfortably with little resistance and move onto the start of the Big Ten schedule next week.
The Pomeroy prediction likes the Hoosiers by 27 and Sagarin likes IU by 30. A win moves the Hoosiers to 3-0 in a critical 10-game stretch that is going to tell us plenty about the direction of IU's 2015-2016 season that started with great promise.
Filed to: Kennesaw State Owls