Film Session: Duke
Duke feasted on Indiana's soft defense on Wednesday night. In the first half, the Blue Devils scored 1.62 points per possession against the Hoosiers and dropped in a number of 3-point buckets (6-of-13).
Man. Zone. Transition. No matter what defense Indiana threw against the Blue Devils, it was no match. (Justin Albers of AllHoosiers also went deep on D last night.)
We'll mostly take a look at Duke's first half 3-pointers in the latest edition of Film Session:
On the first play of the game, a familiar theme occurs: an IU player getting beat off the perimeter:
James Blackmon Jr. does a decent job of staying with Matt Jones and Collin Hartman helps as well: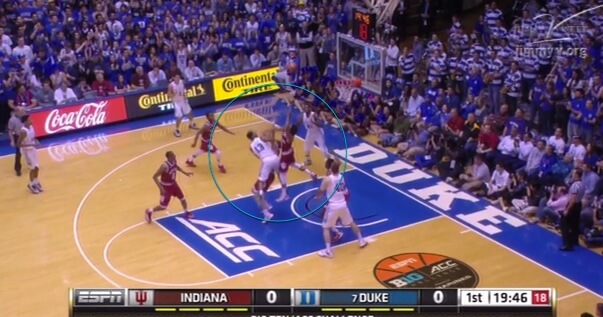 The shot doesn't fall. Yogi Ferrell has left Grayson Allen and comes all the way over from the left corner to mix it up for a rebound. The entire Indiana team is not far away: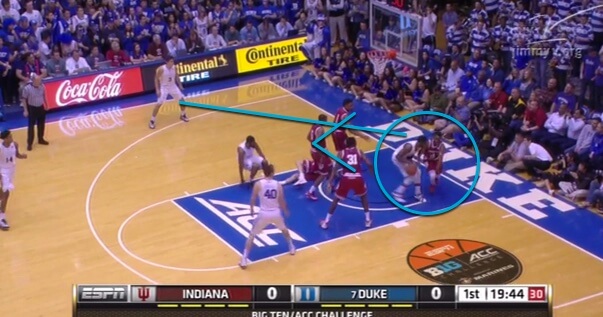 He's able to knock it loose from Amile Jefferson: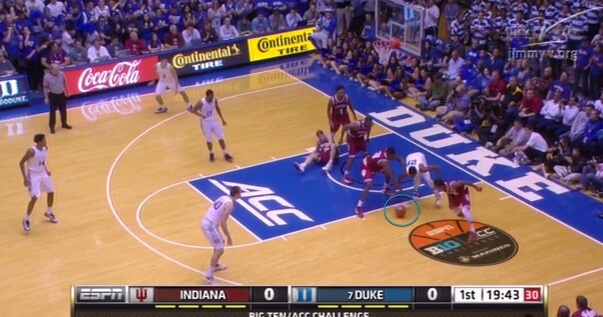 With the ball up for grabs, Indiana has Thomas Bryant on the floor and the rest of the Hoosiers in the paint. This has left a host of Blue Devils open on the perimeter: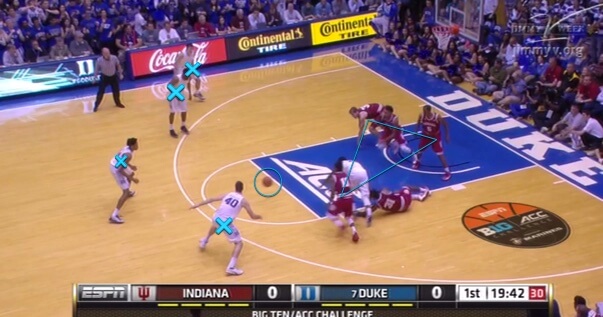 The ball simply rolls out to Brandon Ingram. Ferrell has trailed the ball, but he's so concerned about getting back to Grayson Allen — his man and probably the top guy on Indiana's scouting report — that he chooses against guarding the ball and sprints back to the corner: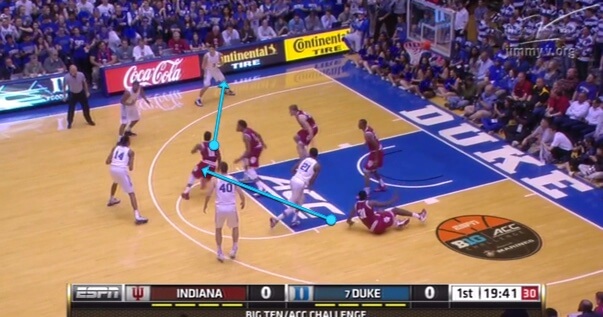 Blackmon Jr. also goes past Ingram in favor of getting out to the left wing to re-pick up Jones. As Ingram gets the wide-open shot off, it's too late of a recover and he drops in the first of many shots in this half: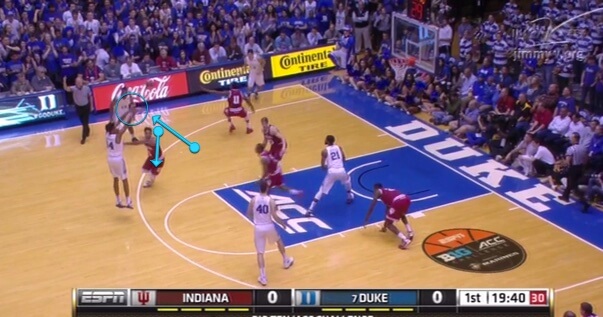 Tom Crean has talked often about situational rebounding for his guards. Not sure what the situation called for here. But with Indiana bringing everyone to the basket on the miss and fighting for the rebound, it got their defense completely out of whack in terms of spacing. And with two Indiana players deciding against guarding the ball, Ingram simply took a wide open shot and connected. It no doubt helped him get going.
Video:
Filed to: Duke Blue Devils