A closer look at Big Ten predictions for the 2015-2016 season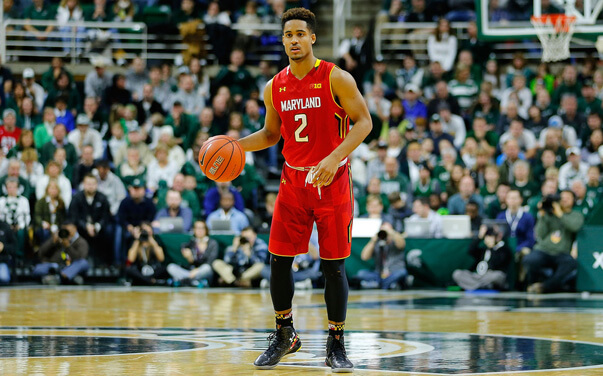 Exhibition games will begin soon; Big Ten media day is in the rearview; and we're less than three weeks away from the season opener. It all means it's time for a closer look at expectations for the conference at-large.
Over the last two months, we've given you a run down of projections from all of the major preseason magazines, including Athlon Sports, Blue Ribbon, Lindy's Sports and The Sporting News.
As we've done for several years now to provide a more comprehensive look at how the Big Ten is being viewed from a national perspective, we've combined the conference picks from those four magazines with a couple of other projections.
This year, we've added KenPom.com's model as long as Sports Illustrated and NBC Sports. (Note: Both KenPom and SI used computer models to come up with their projections.)
Here's a look at all seven sets of picks along with an eighth column that includes the order of finish if you average them out (click on the image to expand):

As you'd expect, Maryland is the nearly a unanimous pick to win the Big Ten. Pomeroy's model isn't as high on the Terps, but much of that has to do with the fact that Maryland won a ton of close games last season. Maryland has been in nearly every preseason top five nationally that we've seen and is a strong favorite to win the league despite a difficult league schedule.
The next tier of teams includes Indiana, Michigan State, Purdue, Michigan and Wisconsin. The Hoosiers were a pretty comfortable pick for No. 2 in the composite rankings after being picked to finish second in five of the seven projections and no lower than fourth.
After IU, the next four spots were all very close with Michigan State, Purdue, Michigan and then Wisconsin. Is this the year the Badgers finally finish outside of the top four? SI (and Dan Hanner) sees it as a real possibility, picking the Badgers to finish seventh:
Bo Ryan has guided the Badgers to a top-four finish in the conference for 14 seasons in a row, but pushing that streal to 15 may prove elusive. Nigel Hayes will bring the fun—and talent—back from last season, while Bronson Koenig will be asked to score as often as he dishes. Ethan Happ, who sparred with Frank Kaminsky in practice last season, should help Wisconsin stay competitive down low. And as always, expect Wisconsin to have a previously unknown player enjoy a breakout season—Zak Showalter and Vitto Brown are the early favorites.
The third tier is the teams who are likely to end up on the NCAA tournament bubble and each of them has questions:
· Ohio State is young, lost a ton of experience and scoring and is going to need some sophomores to take major leaps in production.
· Iowa returns four starters, but lost its two best frontcourt players in Aaron White and Gabriel Olaseni.
· Illinois has major injury issues with Tracy Abrams out for the season and Leron Black, Jaylon Tate and Kendrick Nunn currently recovering from various injuries. Freshman Jalen Coleman-Lands has also missed valuable preseason time.
· Northwestern is a program on the rise, but are they ready to make a move into the top half of the league?
If things break the right way for a couple of these teams, the Big Ten could be in line for seven or eight NCAA tournament bids come March.
Beyond the third tier, there's another drop to the final four teams: Minnesota, Penn State, Nebraska and Rutgers, the consensus pick to finish in the cellar.
Overall, the Big Ten appears to be stronger in the middle than it was a season ago, but lacks a dominant team at the top like we saw with Wisconsin a season ago. The conference did produce a pair of Final Four teams last season, but is still looking to rid itself of a national title drought of 15 years.
Filed to: 2015-2016 season preview