IU, Big Ten centric notes from Athlon Sports college basketball preview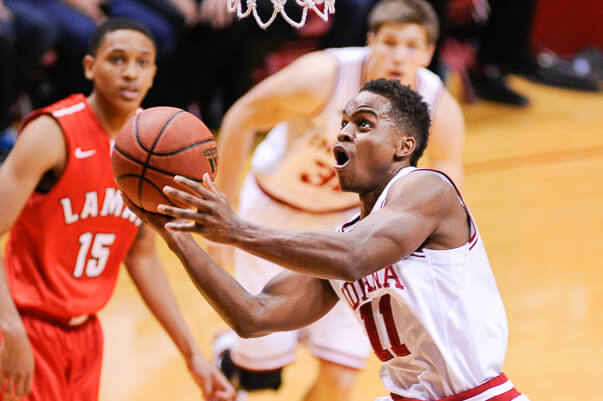 Last week, we wrote that Athlon Sports ranked Indiana No. 17 in its preseason top 25 and picked the Hoosiers to finish fourth in the Big Ten in its 2015-2016 preview magazine.
Previously: Indiana ranked preseason No. 4 by Lindy's Sports
Now that the magazine is on newsstands, here are some additional notes on Indiana and the Big Ten at-large from the annual publication.
· Yogi Ferrell is a preseason third team All-American selection. He's joined on the third team by Michigan's Caris LeVert and Wisconsin's Nigel Hayes. Maryland's Melo Trimble is a preseason first team All-American pick.
· Athlon also picked first and second teams for seniors, juniors, sophomores and freshmen. Ferrell is on the second senior team and James Blackmon Jr. is on the second team of sophomores.
· One of the magazine's "10 things to watch in '15-16" is Indiana's "love/hate relationship with Tom Crean."
· Athlon picks Indiana as a 5 seed in its NCAA tournament bracket and has the Hoosiers losing in the round of 32.
· Thomas Bryant is among the 15 "impact freshmen" in the country. Maryland's Diamond Stone and Purdue's Caleb Swanigan also made the list.
· Ferrell is listed as the No. 5 floor leader in the country in the magazine's "superlatives" section.
· John Groce of Illinois is the only Big Ten coach on the list of 10 coaches on the hot seat.
· Athlon's preseason All-Big Ten team is Ferrell, Purdue's A.J. Hammons, Hayes, LeVert and Trimble. Trimble is the pick for conference player of the year, Michigan State's Denzel Valentine is listed as the league's best defensive player and Stone is tabbed as the newcomer of the year.
· The complete predicted Big Ten order of finish is: 1. Maryland; 2. Michigan State; 3. Purdue; 4. Indiana; 5. Wisconsin; 6. Michigan; 7. Iowa; 8. Ohio State; 9. Northwestern; 10. Illinois; 11. Penn State; 12. Minnesota; 13. Nebraska; 14. Rutgers
Filed to: James Blackmon Jr., Thomas Bryant, Yogi Ferrell