Bielfeldt looking to help lead Hoosiers by example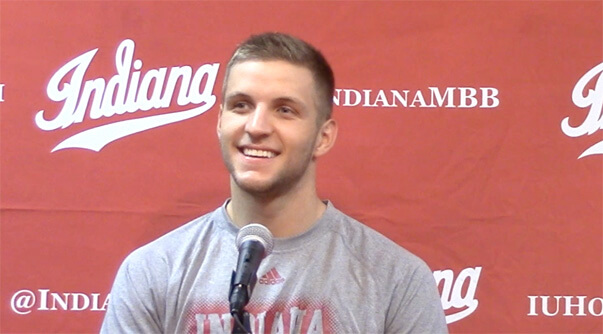 Max Bielfeldt didn't know he'd be in this situation.
After four years at Michigan, he waited to find out if there would be a scholarship for his fifth year of eligibility. He waited some more, but eventually it became clear he had to explore other options.
Bielfeldt received a waiver to transfer within the conference and after multiple visits, he committed to play his final season for the Hoosiers in early June.
"I think of the choices I had for my last year of eligibility, Indiana was a pretty unique one," Bielfeldt said. "(Indiana) has a heck of a tradition and coming here and meeting with some of the guys I could tell they had really good personalities and were good guys that I've seen come together and play good basketball. Combine that with the coaching staff and the stress they have on player development, as well as me getting into the business school, those were some of the big things for me."
Last year with the Wolverines, Bielfeldt averaged 5.1 points and 3.6 rebounds in about 14 minutes per game. He was a member of several highly successful teams, including a 2013 national runner-up group in Ann Arbor. In that season, Indiana won the Big Ten thanks to a season sweep of Michigan, including an 81-73 win at Assembly Hall.
"I remember just the noise level," Bielfeldt said. "Especially when Michigan and Indiana were No. 1 and No. 3, this was one of, if not the loudest place I've ever played. The passion this state has for Indiana basketball is unbelievable."
Despite just arriving on campus in June, Bielfeldt is already embracing the Indiana culture. He recently sent a letter to former IU guard A.J. Guyton in response to recent off the court issues involving his teammates.
"I wanted to apologize for everything you have had to deal with as an alumni of this university, and I wanted to personally tell you that I will do everything in my power to lead this team from within to make you proud to cheer for the Hoosiers without any distraction," Bielfeldt wrote. "I understand that this basketball program is special, and it is an honor to be apart of this storied tradition, even if it is only for 9-10 months."
Guyton and Bielfeldt both are from Peoria, Ill. The 6-foot-8 forward said the letter was something he thought "needed to be done."
With far less depth in the front court than what was expected coming into the season, Bielfeldt is expected to see major minutes at both power forward and center. Indiana dismissed three players this offseason, including Emmitt Holt and Hanner Mosquera-Perea.
"Coach Crean and I have talked, and he said come in here and don't have any hesitations," Bielfeldt said. "I'm only here for a year so I don't really have time to feel things out by January and then be a leader. Come in right away and share my experience and share that positive attitude."
He said while the system at IU is very different than what he ran at Michigan, he is picking it up quickly.
"As far as philosophies, I'd say they are a little more on the opposite sides of the spectrum," Bielfeldt said. "Michigan is very methodical, we run our offense, we run things with spacing and perfect timing, whereas Coach Crean is little more free, and likes guys to use their instincts and cut more freely. It's a little bit different but I'm getting adapted to it pretty quick."
As a Wolverine, he also didn't shoot many 3-pointers – he shot 8-for-30 last season – yet that is something he has worked on a lot this offseason with Crean and the rest of the coaching staff.
With his experience within the Big Ten, he said he has extensive knowledge of how the other teams play, and what they look for when running their offenses. He called being in the right place at the right time his biggest strength on defense, something the Hoosiers are looking to improve upon this season.
Due to Michigan's intense rivalry with Ohio State, he joked about how he was not allowed to wear red to workouts, unless he wanted to be faced with a "punishment workout", but is now restocking his closet.
Bielfeldt's experience within the conference is something that should prove valuable in an otherwise inexperienced IU frontcourt.
"I think my role off the court, being a 22-year old, a leader that's seen what it's like to get to the Final Four, that's seen what it's like to win Big Ten championships, and kind of be that voice in the locker room that can make everyone stay focused and stay on the right track and make sure everything is being done in the right way."
Filed to: Max Bielfeldt