Newkirk planning to make an impact in redshirt year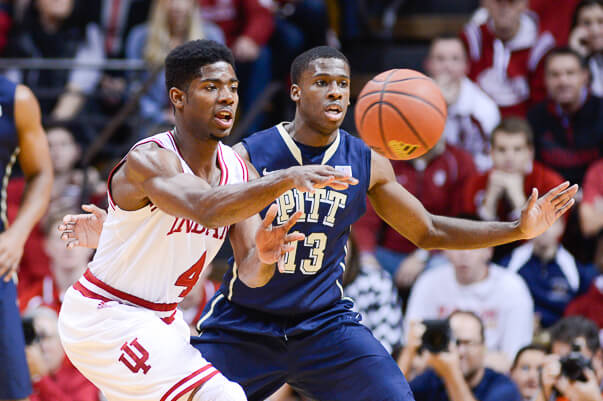 Josh Newkirk won't get the opportunity to take the floor this season for an Indiana team that should begin the season ranked in the top 15, but he's still expecting to make an impact on the program.
The 6-foot-1 guard, who transferred from Pittsburgh, will sit out this season due to NCAA transfer rules.
As he continues to recover from microfracture surgery on his left knee and becomes more involved in workouts and practice this fall, Newkirk has plans to push his teammates.
"I think for me, not being able to compete in the games this year, it's just making practice competitive," he said on Thursday. "Bringing the extra edge to practice, always bringing the energy, being a leader and always making practice competitive."
In two seasons at Pittsburgh, the Raleigh (N.C.) native averaged 5.2 points and 2.2 assists in 18.9 minutes per game, but announced that he would seek a transfer in early August.
Things moved quickly with Indiana from there as Newkirk visited, committed and then moved to Bloomington in less than a week.
"Coming to Indiana was a decision based on the tradition," Newkirk explained. "Coach (Tom) Crean has a lot of guys that weren't highly ranked out of high school, but he develops them into great players. That kind of caught my eye when choosing to come to Indiana."
At his last media availability at Lucas Oil Stadium in late August, Crean said he "wanted a guard that could play this year as much as anything else because I think we need it."
Newkirk won't be able to play immediately, but he will give the Hoosiers another experienced guard to work with in practice.
"Coach Crean has been big about me just talking," Newkirk said. "I'm not as involved with the drills and stuff, so he just wants me to stay active and stay talking. I'm just being a leader, speaking up, those are the main things."
For now, the junior guard is focusing on rehab and getting back onto the floor. He hopes to soon reach a milestone in that process with the official start of practice just a few weeks away.
"I haven't started jogged, but I'll probably start in the next few weeks," he said. "I've just been working on little stuff like ball handling, correcting things with my jump shot, my passing ability. I'm just sharpening things up."
Filed to: Josh Newkirk