Emmitt Holt, Thomas Bryant cited for illegal alcohol possession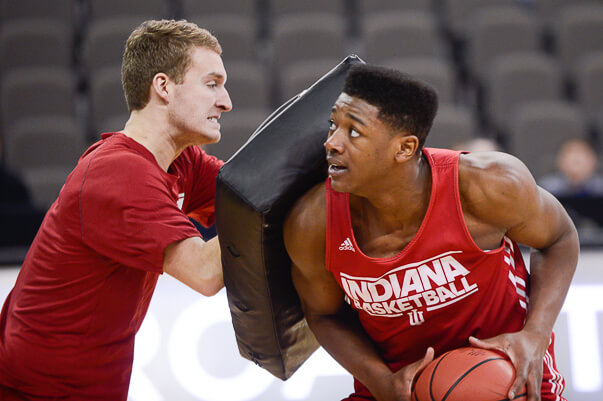 Indiana sophomore forward Emmitt Holt and freshman forward Thomas Bryant were cited for illegal possession of alcohol early Saturday morning. The news was first reported by Jennie Runevitch of WTHR.com.
State excise police say the citations were given at 12:50 a.m. on Saturday, August 22.
Here's the full release from the excise police:
Bloomington, Ind. (Aug. 24) – Indiana State Excise Police officers cited two members Indiana University's basketball team early Saturday morning on the preliminary charges of illegal possession of an alcoholic beverage.

Emmitt D. Holt, 19, and Thomas J. Bryant, 18, were each issued citations at approximately 12:50 a.m. after uniformed officers allegedly observed each of them in possession of a bottle of vodka while they were seated in a parked vehicle in which they were passengers in.

The vehicle was parked in the lot of Convenient Food Mart located at 1401 N. Dunn St. Officers were alerted to the five people seated inside the vehicle when Holt allegedly attempted to conceal a 750 milliliter bottle of vodka as an officer walked past it. Holt, who was a backseat passenger in the vehicle, reportedly shouted to alert the front seat passenger of the officer's presence. The officer then allegedly observed the front seat passenger, Bryant, attempt to conceal a 1.75 liter bottle of vodka.

Bryant and Holt were each issued summonses and released from the scene. They will be required to appear in a Monroe County court at a later date. The three other occupants of the vehicle were not cited for any offenses.

As the enforcement division of the Indiana Alcohol and Tobacco Commission, the primary mission of the Indiana State Excise Police is to promote public safety by enforcing Indiana's Alcoholic Beverage Code. While excise officers have the authority to enforce any state law, they focus primarily on alcohol, tobacco and related laws.
Indiana released the following statement early Monday evening.
"We are aware that men's basketball players Emmitt Holt and Thomas Bryant were each cited Friday for underage possession of alcohol. We take this matter very seriously and are continuing to gather information."
Bryant, 18, is entering his first season at IU and played at Huntington Prep and is a native of Rochester, New York.
Holt, 19, was the driver of a car that struck Devin Davis last November. He had a blood alcohol content of .025 at the time of the accident and was suspended for IU's two exhibition games and first two regular season games.
This story will be updated as more information becomes available.
Filed to: Emmitt Holt, Thomas Bryant