A closer look at the Josh Newkirk addition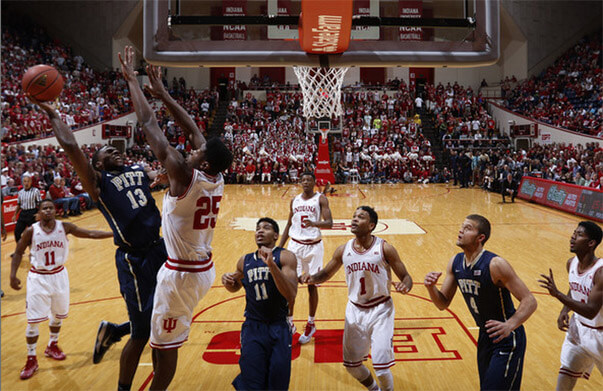 On Sunday, Indiana added a 13th scholarship player to its roster in Josh Newkirk, a transfer from Pittsburgh who will sit out the 2015-2016 season. The 6-foot-1 guard, a native of Raleigh, North Carolina, has two years of eligibility remaining.
The program has yet to officially announce Newkirk's signing. But given that he must sit out a year, he joins Crown Point wing Grant Gelon as the second member of IU's 2016 recruiting class.
So what kind of player was Newkirk last season? For some perspective, we reached out to Paul Zeise, a reporter who covers Pitt for the Post Gazette and is also a radio host on 93.7 FM in Pittsburgh.
"At the start of the season, his role was much bigger because Cameron Wright was hurt and they had some injuries," Zeise said. "But as the season wore on, his minutes really started to drop. One, because they got healthy and two, because he sort of became less and less effective over the course of the season.
"He started out looking like he was going to have a big year and I don't know if he lost confidence, but something happened, something changed midway through December, late December and he just started to look like he was lost out there."
In ACC play, Newkirk averaged just 4.5 points on 31.3 percent shooting in 17.7 minutes per game.
Zeise believes Pittsburgh had a bigger role in mind for Newkirk, who was a consensus top 150 recruit coming out of high school in 2013. It never materialized, however.
As suggested by his father, Reggie, Zeise agrees that style of play was a contributing factor.
"Absolutely (it was a factor). This is a tough place to play if you're a guard that likes to get up and down the court, create stuff and get to the basket and score," Zeise explained. "It's a real rigid offense, it is structured. There have been a number of guys that have come to Pitt that kind of figure it out pretty quickly, playing in Jamie's offense can be tough if you're a guy that likes to create, likes to score, likes to get up and down.
"And the other part of it is, Jamie likes those guys that can lock down on defense. And Josh is small and matchups were tough for him. Fit wise, it probably wasn't the best place for him to be here."
Players needing a change of scenery or a change in system happen frequently in college basketball as evidenced by transfer numbers that continue to grow each year. This offseason, there were over 700.
But is Newkirk a better fit at Indiana? What can he bring to the program when he becomes eligible for the 2016-2017 season? And why would Indiana, who is heavily recruiting the guard position, take a transfer rather than trying to fill the spot with a 2016 player?
To start, let's take a look at Newkirk's numbers over two seasons at Pitt:

As the numbers above show, his stats regressed as a sophomore as his minutes grew from 17.1 per game as a freshman to 20.7 last season. The 3-point field goal percentage dropped, as did the 2-point field goal percentage while his turnover rate went up. Newkirk did show improvement from the foul line and posted a better assist rate.
Here are shot charts for his first two seasons, with his freshman season on the left and sophomore season on the right: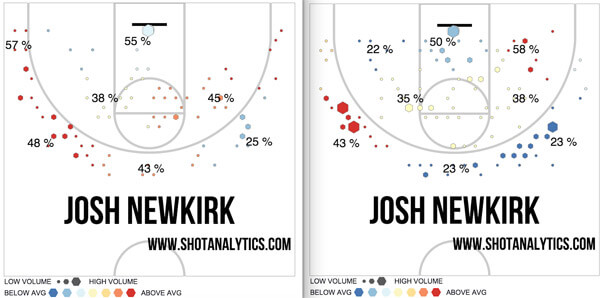 Pinpointing a reason for the decline in the numbers from his freshman to sophomore years is an imperfect science. It's possible that Newkirk was better suited for a backup role and when given more minutes and shots, his effectiveness declined. And it's also possible that, on a Pittsburgh team that struggled for most of the year and failed to reach the NCAA tournament, Newkirk wasn't surrounded by enough talent to maximize his effectiveness. Injuries, of course, can also play a factor and Newkirk's father mentioned in our Q & A that he complained about knee issues toward the latter part of the season.
But looking forward to the future when Newkirk does become eligible, experience won't be an issue that keeps him off the floor. He has two years of playing in the ACC on his resume, including a NCAA tournament appearance as a freshman, and also will get this season to practice with Indiana when he becomes healthy.
Indiana also faces uncertainty at the guard position beyond this season. Yogi Ferrell and Nick Zeisloft are both graduating and James Blackmon Jr., who looked hard at declaring early for the NBA draft, could find himself in position to leave after this season with a monster sophomore campaign.
If Blackmon Jr. were to leave early, the only upperclassmen guard remaining on the roster would be Robert Johnson, which would put the Hoosiers very short on experience in the backcourt.
Even if Blackmon Jr. and Johnson, who would both be juniors, are back in 2016-2017, Indiana needs guard depth. The position is being pursued heavily in 2016 recruiting and getting a talent like Newkirk in the program now is a good first step in beginning to solidify that depth.
On paper, Indiana still has two available scholarships for 2016 and that's assuming no one leaves early, which is unlikely to be the case with Troy Williams looking like a good bet to be picked in the first round next summer.
We've penciled the 2016 class in as a five or six man group on the recruiting board for months now, which means three or four more players could be added. Newkirk doesn't put Indiana out of the running for 2016 guards because the program is going to need at least one or two more next season, even if Blackmon Jr. is back.
Filed to: Josh Newkirk