Q & A: Newkirk's father discusses Indiana commitment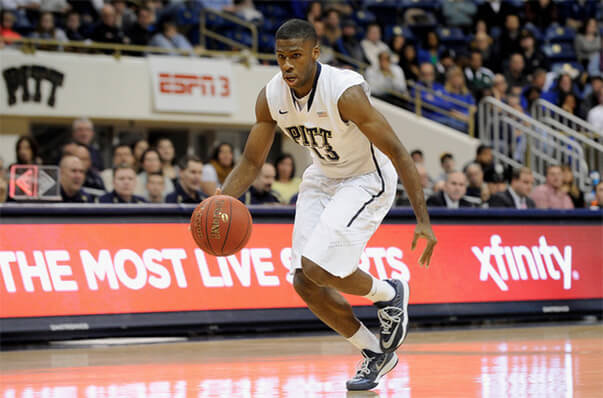 Indiana added a 13th scholarship player to its 2015-2016 roster over the weekend when Pittsburgh transfer Josh Newkirk committed to the program.
Newkirk, a 6-foot-1 guard, is in Bloomington and started classes today. Inside the Hall spoke with Newkirk's father, Reggie, for insight on his decision to transfer to Indiana. Our full Q & A is available after the jump.
Inside the Hall: What was the tipping point when Indiana became involved that pushed them into the forefront and ultimately led him to his commitment?
Reggie Newkirk: "Ironically, he had a good game against Indiana when they played Pitt. The fact that Indiana was involved with him during his 10th grade year when they offered him a scholarship. He loved Assembly Hall when he played against Indiana. He loved the crowd, he loved how hyped it was. He said it was just a fun atmosphere. He remembered that about it.
"He definitely loves the transition style that they play because they were dunking like every other play against Pitt. They got a lot of transition baskets against Pitt. That's where he excels is in transition. When they called, he knew that was the kind of offense he wanted to be in. That's the fit for me."
ITH: How big of a factor was the fit a factor as his decision to leave Pitt? Obviously he had some bright moments there, but it seems like maybe the style of play may not have been conducive to how he likes to play.
RN: "I would say for the last six months … He didn't really express it to me about how unhappy he was at Pitt, but he's got a best friend, he expressed a lot of stuff to him and he talked to me about it. That's when I realized it.
"He wasn't really progressing at Pitt. He wasn't happy, it wasn't a fit for him and they didn't want to get out in transition. It just left a bad taste in his mouth. Initially, they said when they were recruiting him that they were going to switch their style to his style because they were moving to the ACC. And they felt like he was an ACC type guard. It just never happened, though."
ITH: As far as the visit to Indiana and how everything came together, was it just as simple as IU getting in touch, setting up the visit and going from there?
RN: "It literally went in like one week's time. Everything happened so fast. Sunday night they called. And Monday afternoon we were on a plane to Indiana for an official visit. And Wednesday night he committed."
ITH: What did you see on the visit and what did he see on the visit that made him feel comfortable?
RN: "We loved the coaching staff. A lot of times you can tell when someone is trying to make something look good, but they don't look like they put on a bit. The fact that they got at least three assistant coaches that used to be Division I coaches somewhere and they've got a phenomenal strength and conditioning coach. We got introduced to all of those guys.
"He just felt at home. It was a warm feeling. When we walked around the campus, everybody was friendly. Even in town, everybody is friendly and everybody speaks to you. We just felt welcome."
ITH: His surgery in May, what exactly was the injury and when it happened? What's his prognosis on recovering from that?
RN: "He's actually about two months from getting his release. He had a torn meniscus and a microfracture. IU let their doctors take a look at it. They didn't do an MRI, but they looked on the outside and moved it around a little bit. They said it looked good. They're going to do a MRI six months after the surgery and look inside. When he left Pitt, they said the recovery was going good and he was ahead of schedule.
"They took a look at it in the offseason, but I think it actually happened during the season because he complained to me a lot about how his knee was hurting. They took a look at it right after the season, did some X-rays and that's when they discovered what it was."
Filed to: Josh Newkirk