All eyes on Bryant as Hoosiers head into new season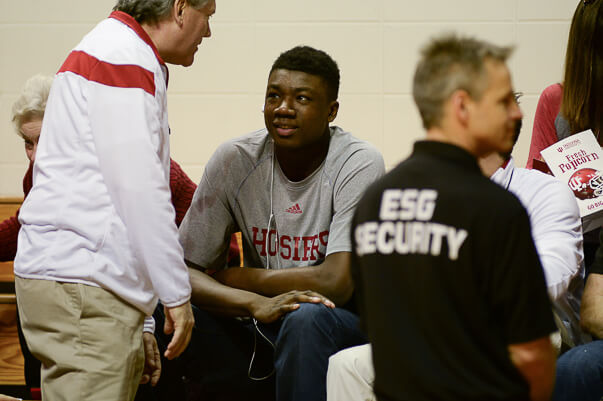 Thomas Bryant has only been on campus since June 13, but he's already making his mark on the IU basketball program.
The 6-foot-10 freshman forward is the fifth McDonald's All-American Tom Crean has signed for the Hoosiers. His addition is being viewed by many as the missing piece that could elevate Indiana into the top 15 this season.
But to live up to those expectations, Indiana's defense must improve significantly. The Hoosiers had the Big Ten's worst 2-point field goal percentage defense last season in conference play. Crean believes Bryant can help change that.
"The one area statistically that I think will change is our field goal percentage defense because now we're going to be a little bit better at the rim, which is going to enable us to get out and pressure the ball a little bit more," Crean said Tuesday on a conference call for the Maui Jim Maui Invitational. "We didn't block shots very well last year. I think we blocked a shot about one out of every 23, 24 possessions. A team like Kentucky blocked a shot one out of every 11 or 12. You've got to have rim protection, so right away he brings that."
But what many fans may not know is the versatility Bryant possesses as a player who can also make plays on the perimeter. Throughout his high school career, the Rochester (N.Y.) native showed an ability to step out and make shots and also make plays with the ball in his hands away from the basket.
His coach for his first two high school seasons, Jon Boon, told Inside the Hall earlier this year that playing outside of the paint was one of Bryant's primary strengths during his time at Bishop Kearney.
On Tuesday, Crean said Indiana hopes to use that versatility to its advantage as much as possible.
"He's an emerging shooter and a guy that's going to be able to not only shoot catch-and-shoot 3s, but a guy that's going to be able to shoot it off the move," he said. "We're going to be able to do a lot of things in the ball screen with him, and eventually –I don't know if it will be by November – but it will eventually lead with him handling the ball in the ball screen."
The signing of Bryant, coupled with the decisions of Yogi Ferrell, James Blackmon Jr. and Troy Williams to return to school, have shifted Indiana from a program that was picked by many to finish 10th in the Big Ten in 2014-2015 to one of the conference favorites entering the fall.
ESPN.com ranks the Hoosiers No. 14 in its early top 25 for next season and CBSSports.com has IU at No. 13.
In an interview with Inside the Hall for the most recent edition of Podcast on the Brink, IU athletic director Fred Glass said he embraces those lofty expectations and mentioned Bryant as a major reason why.
"I'm certainly optimistic and I think Thomas is a big reason why," Glass said. "I think we need to be a little careful not to put too much pressure on the poor guy … walking in and he's billed as a savior in some quarters. I think he'll be a real big plus. But I think we need to have some patience and let him grow.
"He's a great kid. Even before he was on campus, just a real pied piper for Indiana basketball and kind of has a magnetic personality. I think he's somebody our fans will love. I know he's somebody that his teammates love."
Filed to: Thomas Bryant