Glass on Louisville-IU series: "I don't think it will be for this upcoming season"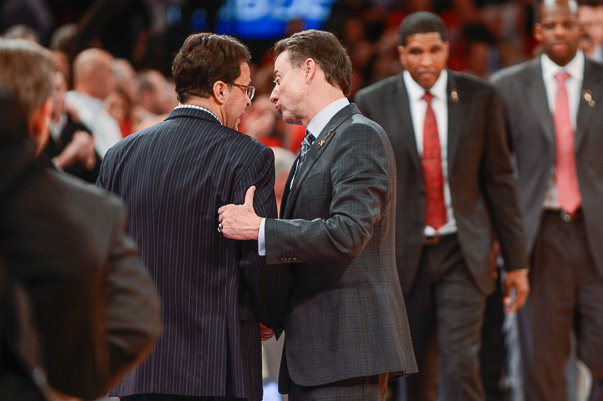 In February, word broke that Louisville and Indiana were in talks for a three-year series. Cardinals coach Rick Pitino said at the time the two teams could play during the 2015-2016 season at Lucas Oil Stadium.
On Wednesday at IU's first "on the road" tour stop at Huber Winery, athletics director Fred Glass said the two sides continue to talk, but do not have plans to play next season.
"No update other than both sides wanna do a deal," Glass said. "We've had very serious conversations about that. Like everything else, the devil's in the details. There are conference challenges and schedule challenges, but coach Pitino and everybody at Louisville and coach (Tom) Crean and everybody at Indiana wanna get a deal done and I expect that to happen in fairly short order. I don't think it will be for this upcoming season."
The proposed three-game series discussed back in February by Pitino said that the teams would meet at Lucas Oil and split a ticket allotment of 35,000 seats per school. If Lucas Oil Stadium was not going to be available, the schools would then potentially play at Bankers Life Fieldhouse and split an allotment of 10,500 tickets per school. The neutral court game would then be followed by a game at Assembly Hall and a game at the KFC Yum! Center.
A potential Indiana-Louisville series has been a discussion point since Pitino said during the 2012 NCAA tournament that he is open to restarting a series whenever the Hoosiers are ready.
The two sides played last December for the first time since 2003, a 94-74 Cardinals win in the Jimmy V Classic at Madison Square Garden.
Indiana's non-conference schedule for next season includes the 2015 Maui Invitational, the Crossroads Classic at Bankers Life Fieldhouse against Notre Dame, the ACC/Big Ten Challenge at Duke and a home game against Creighton in the Gavitt Tipoff Games.
Filed to: Fred Glass, Louisville Cardinals