Indiana and Louisville in negotiations for three-year series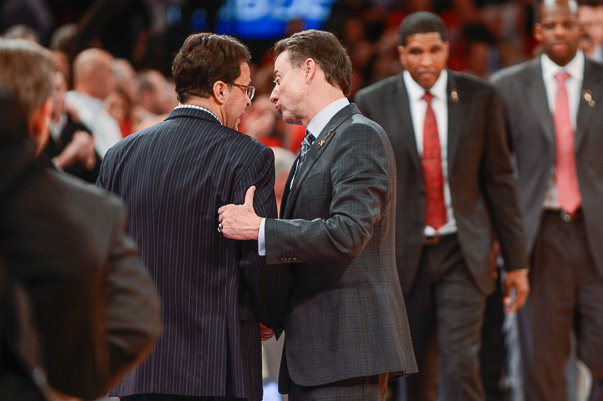 Indiana and Louisville are currently in negotiations for a three-year series, Hoosiers coach Tom Crean confirmed on Tuesday.
The series will involve games at either Lucas Oil Stadium or Bankers Life Fieldhouse depending on date availability, Assembly Hall and the KFC Yum! Center, potentially starting as early as next season, Cardinals coach Rick Pitino said during his radio show on Monday evening.
"I would say if we get this series completed, a three-year series that it is, a series of that magnitude really deserves the respect of an official announcement and it being a big deal," Crean said on Tuesday. "Because it would be. But are we in the midst of that, among other things that we're doing? Absolutely. We are in the midst of that. And we have been.
"With a series of that magnitude and the dates that we would potentially play and where we would play, a lot of things would have to get worked on."
Pitino said on Monday that ideally the two teams will play in Lucas Oil Stadium next season, splitting a ticket allotment of 35,000 seats per school. If Lucas Oil Stadium is not available on those dates, they would then potentially play at Bankers Life Fieldhouse and split an allotment of 10,500 tickets per school.
A potential Indiana-Louisville series has been discussion point since Pitino said during the 2012 NCAA tournament that he is open to restarting a series whenever Crean is ready. The two sides played this season for the first time since 2003, a 94-74 Cardinals win in the Jimmy V Classic at Madison Square Garden.
Any game between Indiana and Louisvile next season would have to fit into an already congested Hoosiers non-conference schedule.
Indiana has already committed to the 2015 Maui Invitational, the Crossroads Classic and the ACC/Big Ten Challenge, and there is a chance the Hoosiers could be slotted to play in a Gavitt Tipoff Games matchup the first week of the season, as well.
"It's premature for us to talk about it," Crean said on Tuesday, "But I hope when that time comes that it's a big enough deal that it deserves a proper announcement."
Filed to: Louisville Cardinals