The Minute After: Purdue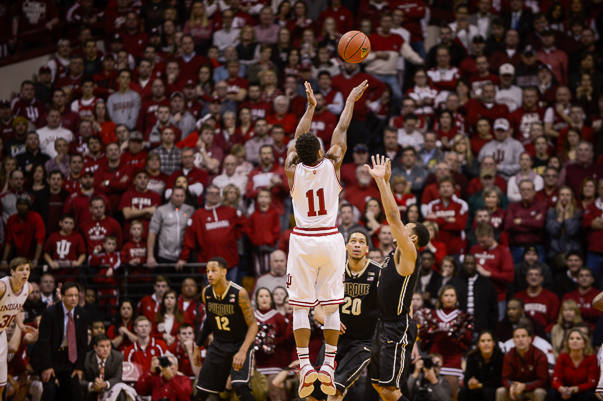 Thoughts on a 67-63 loss to the Boilermakers:
Most teams entering Assembly Hall this season left feeling the wrath of Indiana's explosive offense. The pace and space, the 3-balls, the extra passes and great ball movement.
But not the Boilermakers. They came to Bloomington a confident — maybe even cocky — crew. They left with a victory on the strength of a great defensive effort and a sweep of this Big Ten series.
Forget the name on the front of the jersey, Purdue is a tough matchup for these Hoosiers. A.J. Hammons and Isaac Haas are the twin towers inside Indiana has no answer for, despite the great effort Stanford Robinson and others put up against them to try and deny the ball. It's men vs. boys. Hammons finished 8-of-9 (20 points) and hit two free throws to seal it late. If he was able to catch over the Indiana defender fronting him, it was a sure bucket. Haas wasn't quite as dominant (12 points, 3-of-8), but went 6-of-6 from the free throw line and picked up nine rebounds — including six on the offensive glass to keep possessions alive for the Boilermakers.
Purdue would end the contest rebounding 50 percent of its misses for 14 second-chance points. It also posted a strong free throw rate (40.4) and hit 17-of-21 from the line. That helped balance out too many turnovers (23.3 TO%) and a rough 2-of-18 mark from distance. Purdue and Indiana shot nearly identical (48.2 vs 48.1 eFG%) as Purdue scored 1.04 points per possession to Indiana's .98.
Purdue's defense was impressive in holding Indiana under a point per possession, just the second time it's happened all Big Ten season (Jan. 5 loss at MSU).
After racking up eight blocks in their blowout victory in West Lafayette, Hammons posted four tonight. His ability to essentially zone the rim against Indiana had them thinking twice and second-guessing around the cup — blocked shot or not. To try and avoid him, the Hoosiers had some odd-looking takes. Troy Williams got blocked by Hammons on one of his going away towards the right side hook attempts in West Lafayette, so he hurried it in the first half against him on a similar take and the shot hit hard against the backboard. It didn't fall. When Yogi Ferrell put the team on his back down the stretch to try and steal a victory, he had to get cute against Hammons on the left block to try and avoid him, and his shot didn't fall — just missing. It would have given Indiana a one-point advantage with 1:02 to go.
Beyond Hammons, Purdue's perimeter defense played physical, slowed the game down and forced Indiana into tough 2s. It's the kind of shots Indiana has rarely taken this season, but with the shot clock winding down and little else to do, the Hoosiers took more long 2s than usual. There were also some questionable shots in and around the paint that just didn't look right. Indiana also tried to make some close passes in the paint that just weren't there — a Stanford Robinson pass inside and across the paint to Max Hoetzel in the second half for a turnover comes to mind — as Purdue's defense continued to keep the Hoosiers from going off.
Purdue held Indiana in check from distance, never letting them get into a rhythm or find momentum. Indiana had just three makes from distance heading into the closing minutes before Ferrell and James Blackmon Jr. hit two to keep things interesting. Indiana finished just 5-of-16 from distance after hitting 18 in Assembly Hall just four days ago.
Despite the struggles on offense, Ferrell tried a similar 3-pointer like the one he missed against Maryland to try and give the Hoosiers a one-point lead with six seconds to play, but it missed. It was a little rushed and he didn't have quite as much space. He would call it "bad shot" after the contest.
In any event, Purdue has won 7 of 8. The Boilermakers are now 10-4 in the Big Ten and sit in second place. Despite some bad non-conference losses, this is a good basketball team on a roll playing with a lot of confidence. They're a nightmare matchup for the Hoosiers.
It all culminated with a victory in a place pretty much no team has been able to slow the Hoosiers down this season.
Filed to: Purdue Boilermakers