What to Expect: Louisville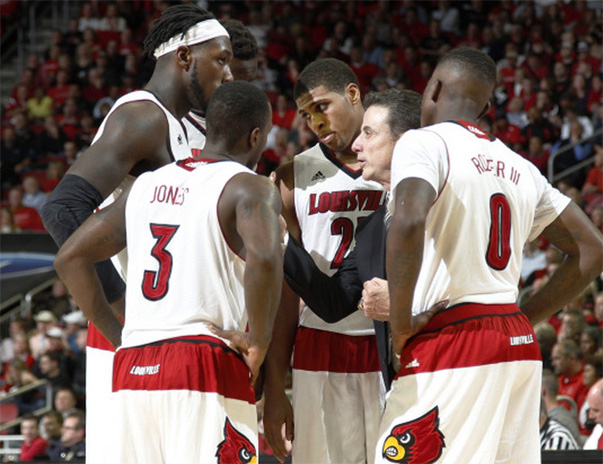 Indiana's first test away from Assembly Hall is a significant one as the Hoosiers face No. 4 Louisville on Tuesday at Madison Square Garden in New York in the Jimmy V Classic.
The game will be broadcast on ESPN at approximately 9:30 p.m. ET with Dan Shulman, Dick Vitale and Andy Katz on the call:
Indiana and Louisville, two schools separated by just over 100 miles, will play on Tuesday for the first time since February of 2003 and it took a trip to the "World's Most Famous Arena" and a prime-time slot to bring the two programs together.
Both Tom Crean and Rick Pitino have talked about starting a series for several years, but nothing has ever materialized despite support in both fanbases to see the programs, who have combined for eight national championships, play. But even if an annual series fails to start up in the coming years, Tuesday's game is one that is good for the sport of college basketball and also good for this particular Indiana team. The Hoosiers have yet to be tested away from Bloomington and facing one of the country's elite teams on the grandest stage should give Crean a better grasp of where this team stands with the start of Big Ten play now less than four weeks away.
Intrigue was added to the game earlier this year when former Indiana assistant coach Kenny Johnson, who was a key figure in the recruitments of Robert Johnson, Troy Williams and others, left Bloomington for a hefty pay raise to work for Pitino at Louisville. While Johnson was nothing but complimentary of Indiana in his comments shortly after arriving in Louisville, you can bet the competitor inside of him as well as the competitor inside of both Crean and IU's players have been looking forward to this game.
For the first time this season, Indiana is a decisive underdog going into a game. How will the Hoosiers handle the stage and the pressure defense of Louisville? We'll find out in short order.
LOUISVILLE PROFILE
The Cardinals come into MSG with a 7-0 record that includes wins over Minnesota (in Puerto Rico) and Ohio State (in Louisville), but no other games against KenPom top 100 teams.
Pitino's teams have typically been built on defense and this group is no different as Louisville ranks No. 2 nationally in adjusted defensive efficiency. Opponents are averaging just .84 points per possession against the Cardinals and Minnesota's .87 points per trip is a season-high against Louisville, which is a scary thought.
So why is the Louisville defense great? A bevy of reasons.
Their guards are ultra aggressive with ball pressure as opponents are turning it over on 27.7 percent of their possessions through seven games. Pitino mixes zone and man-to-man in the halfcourt and uses full court pressure to cause turnovers and ultimately, wear opponents down.
Louisville is fourth nationally in 3-point percentage defense (22.8 percent) and sixth nationally at defending 2s (35.9 percent). Their opponents are also only hitting 56.3 percent of their free throw attempts, which may be some luck, but is probably more due to the fatigue that the pressure defense ultimately imposes as a game wears on.
The shot chart below, via Shot Analytics, shows that there's really no clear hole which to exploit: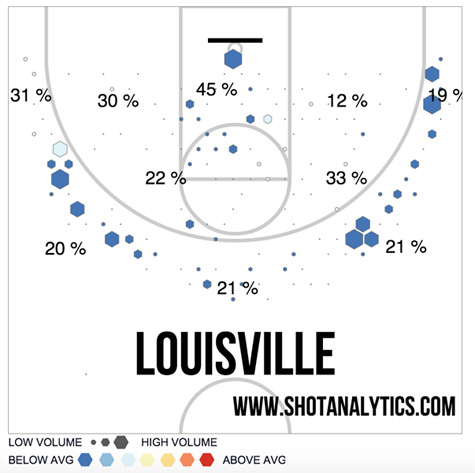 Louisville's offensive profile isn't nearly as impressive, but it's still top 30 nationally and ranks in the top 20 nationally in both offensive rebounding percentage and getting to the foul line. The Cardinals are an awful 3-point shooting team (28.6 percent) and free throw shooting team (59 percent), but that hasn't mattered as Louisville has an All-American in Montrezl Harrell who can dominate the inside and a very good penetrating guard in Terry Rozier, who hasn't been great this season but has the talent to take off at any time.
PERSONNEL
The Cardinals aren't particularly deep, but their starting five is plenty experienced. The aforementioned Harrell is the team leader in scoring (16.1 ppg) and rebounding (9.4 rpg) and if Louisville is a top 10 team all season, has a chance to end up in the national player of the year discussion.
Originally a Virginia Tech recruit, Harrell was a late add for the Cardinals in the spring of 2012 after Seth Greenburg was fired in Blacksburg. Pitino has been a big beneficiary of coaching changes in recent history as Luke Hancock, the most outstanding player of the 2013 Final Four, also came to Louisville from George Mason after Jim Larranaga departed for Miami (FL).
Defensively, Indiana will be hard pressed to find an answer for Harrell, who is 6-foot-8 and 235 pounds, so making it difficult elsewhere is going to be a key.
Louisville's perimeter trio of Rozier, Chris Jones and Wayne Blackshear has struggled offensively with Rozier and Blackshear both sporting effective field goal percentages of 48.6 and Jones at just 37.3 percent. Jones is taking far too many shots (using 26.1 percent of possessions while on the floor) on a team with better offensive options and his 28.3 percent shooting on 2s is baffling for a player with his strength and quickness.
As for Rozier, he's being talked about as a potential first round pick in the next NBA draft, but he's hitting just 25 percent of his 3s and a shade under 65 percent of his free throws. He's most dangerous as a penetrating guard who can finish at the rim and create plays for others (20.4 assist rate).
Blackshear, who came to Louisville as a McDonald's All-American, is a bit of an enigma in that he never really materialized as a major prospect for the next level and has been inconsistent throughout most of his career offensively. He, too, has struggled on 3s (30.2 percent), but is taking care of the ball (9.9 TO%) and is hitting close to 54 percent of his 2s.
Beyond those four, Louisville also plays freshman big men Chinanu Onuaku and Anas Mahmoud. Onuaku has been a monster on the boards with an offensive rebounding percentage of 16.3 and has no doubt been a beneficiary of teams looking to find Harrell every time a shot goes up. Mahmoud is very skinny (7-foot and 200 pounds), but Pitino's success in developing project bigs suggest he could turn into a solid player down the line. Sophomore big Mangok Mathiang has been slowed by an ankle injury and it's unclear as to whether he'll be available tomorrow.
Sophomore Anton Gill and freshman point guard Quentin Snider are the primary backups in the backcourt, but with Jones and Rozier both playing 28 minutes per game, their minutes haven't been plentiful. Gill is coming off a team-best 15 points in Louisville's win over Florida International on Friday.
WHAT IT COMES DOWN TO
Indiana, as mentioned earlier, isn't expected to win this game and both Pomeroy and Sagarin have the Cardinals as a double-digit favorite. The Pomeroy projection likes Louisville by 10 with an 84 percent chance of victory and Sagarin's projection is Louisville by 11.
So what must Indiana do to make it a game?
Take care of the ball, make 3s and deliver a season-best performance on the defensive glass. Louisville has yet to allow an opponent to score more than 68 in a game this season and it's unlikely that the Hoosiers, one of the best scoring teams in the country at 88.4 points per game, will get anywhere close to that average without valuing the ball and knocking down 3s.
The Hoosiers have experienced some physicality in early season matchups with SMU and Pittsburgh, but this is a challenge on a different level and one that should pay dividends with non-conference games against Butler and Georgetown looming as well as the start of Big Ten play.
(Photo credit: University of Louisville athletics)
Filed to: Louisville Cardinals