Five takeaways from Indiana's win over Northwood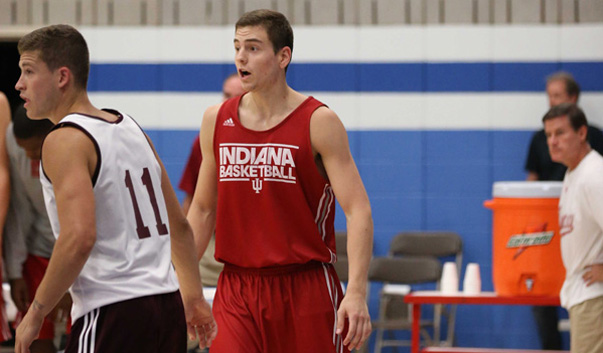 In our first exhibition look at the 2014-2015 Indiana Hoosiers in Assembly Hall, the outcome was a 94-70 win over Division II Northwood on Thursday night.
Here's a look at five takeaways from the win:
· Nick Zeisloft comes out firing: The Illinois State transfer was the surprise of Indiana's trip to Montreal in August and on Thursday night, Zeisloft showed no hesitation to generate offense when the ball came his way. His numbers through two seasons in the Missouri Valley Conference don't suggest he'll be featured and last night shouldn't change that thinking. However, there's a lot to like about what Zeisloft can potentially bring. He's confident, seems to have a good connection with his teammates and is a guy who will take care of the ball.
On the evening, Zeisloft finished with 24 points, including a 10-of-10 performance from the free throw line. With defenses keying on Yogi Ferrell and James Blackmon Jr., the opportunities for Zeisloft to find space for open looks should be plentiful.
"My teammates made the extra pass a lot tonight," he said after the win. "We're going to continue, and there's a lot of shooters out there and a lot of weapons that we have, and plenty of guys that can find the open man and make the play to get someone else open."
· Will IU be capable of generating enough easy looks? The Hoosiers struggled to find many easy baskets early on in the exhibition and while adding Stanford Robinson and Troy Williams back into the rotation should give this group a more balanced look offensively, the fact that IU doesn't have much of a post presence isn't changing.
IU took a ridiculous 38 free throws last night, but in terms of getting to the offensive glass (a stat of major importance), only grabbing 26.4 percent of offensive boards is a low number considering the opponent. When you dig a bit deeper into the numbers, only one of the team's starters, Hanner Mosquera-Perea, was able to corral an offensive rebound. With an undersized frontline, there's going to be pressure on IU's guards to rebound and on nights when outside shots aren't falling, easy buckets will be difficult to come by. That's just reality.
Join DraftKings.com's $40,000 1-day fantasy basketball league. Inside The Hall readers will receive FREE entry with their first deposit! First place takes home $5,000 and the top 4,600 users will win cash.
· James Blackmon Jr. is a college ready scorer: Some freshmen have an adjustment period when the real games begin, and it's possible that may indeed be the case for Blackmon Jr., but he's probably the best pure scorer that Crean has recruited to Indiana. Cody Zeller was obviously a more impactful player for many reasons, but Blackmon Jr. is probably the best newcomer since Eric Gordon at generating instant offense.
In his prep career, Blackmon Jr. not only scored a ton of points, but he did it in an efficient manner. Last night, he hit seven of his 11 shots from the field and went 10-of-10 from the foul line.
"It felt really good to play my first game here," Blackmon Jr. said. "I felt my teammates gave me the confidence I needed to get going, and once they got me involved, I felt like it got better for me scoring the ball."
· How will IU defend the post? It's a legitimate question at this point and one that this roster will have a tough time answering. Hanner Mosquera-Perea still has shaky hands, but his play on defense, particularly on the defensive boards and in protecting the rim, are going to be major for this group.
Last night, Mosquera-Perea played 33 minutes and only picked up two fouls, which is an accomplishment in itself when you examine his fouls per 40 minutes numbers from his first two seasons. There are going to be nights, however, when Mosquera-Perea finds himself in foul trouble. When it happens, what's going to be the solution?
· Now, it's about basketball: That's not to say that the off court problems or the horrific injury to Devin Davis are to be forgotten or brushed aside, but this story now shifts to how Indiana performs on the court this season. When Tom Crean was asked on Wednesday if what happened to Davis was an eye opener for his team, his response was simple: "I would certainly hope so."
Last night after the win, comments from Mosquera-Perea seemed to indicate that the group is collectively doing its best to move forward.
"We have been dealing with that stuff, but we cannot let anything really get in between us right now," he said. "We just need to keep being strong, just keep working hard because we have a long season ahead of us, so just keep working on it."
Filed to: Hanner Mosquera-Perea, James Blackmon Jr., Nick Zeisloft, Northwood Timberwolves