Hanner Mosquera-Perea adjusting into 'big role'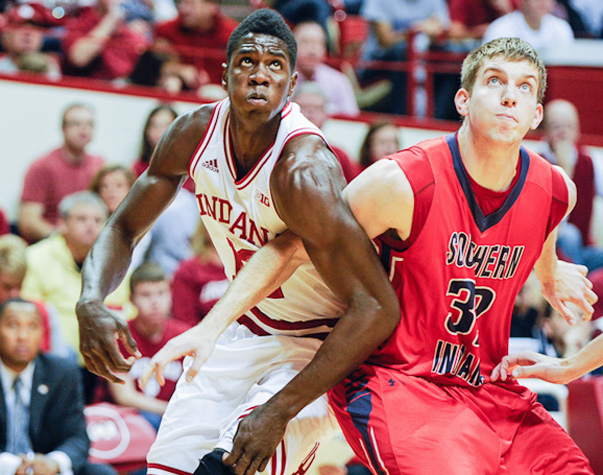 During the offseason, Indiana coach Tom Crean was not shy about what he wanted to see from junior Hanner Mosquera-Perea this season.
He wanted to see the 6-foot-8 forward, who has missed time from suspensions in both of the two seasons he has played at Indiana, become more consistent on the court and more of a leader off it.
"It's time to play," he said in June. "It's time to be really serious about playing extended minutes. It's time to be an enforcer at the basket. It's time to show that toughness that his body gives you. It's going to have to happen or he won't be out there as much. We need his consistency.
"It's no more fun and games, now it's time for you to lock in and mature and not anymore talk, let's get at it."
Nobody has received the message more clearly than Mosquera-Perea.
Just weeks into practice for this season, teammates are raving about the junior's on-court performance. And the Colombia native said he has felt an increased responsibility to become more of a factor this season.
"My role right now is a big role," Mosquera-Perea said on Monday. "Not just being that, being one of the oldest guys on the team. I feel like I have a lot that I need to accomplish with the team, helping the team on the court and off of the court."
With the departures of Cody Zeller and Noah Vonleh over the past two seasons, Indiana has been left with little post presence heading into this season. It has led to Crean calling on Mosquera-Perea to raise his performance level.
During his previous two years at Indiana, Mosquera-Perea has shown flashes of his skill but has yet to do so on a consistent basis — averaging just 7.7 minutes per game last season. And on a roster with just three players taller than 6-foot-9 — including Jeremiah April, who has been limited in practice thus far, and Tim Priller, who is not a natural post player — Mosquera-Perea is that much more of an important player this season, according to Crean.
"There's no more inconsistency that can be there with Hanner, because if he gets consistent, he's going to play in the NBA and there's no question about that, with that athleticism, that length, that talent and when you see that body and you see that speed that he's capable of," Crean said. "But he's got to become consistent because he epitomizes what we need in play harder, longer. That's a big, big thing for us."
And so far, according to everyone involved, Mosquera-Perea has stepped up to the plate. Over the summer, in July, Crean said, "His body looks extremely good. He's gaining confidence. He's gaining stature around his teammates. He's gaining more of a voice. He's becoming a better worker."
And during practice on Monday, Mosquera-Perea appeared more aware on the court, producing multiple deflections on defense during 5-on-5 drills.
"Not having Cody or Noah here kind of pushes us to get better, to do the best we can to help the team win," Mosquera-Perea said.
That added pressure Mosquera-Perea has put on himself has resulted in a change on the court. Sophomore Devin Davis noted Mosquera-Perea's confidence level is significantly higher and that he is scoring around the basket more, rebounding more, blocking shots more and being patient more.
To freshman James Blackmon Jr., Mosquera-Perea has shown he is "just being more aggressive, all around post play."
"If he keeps playing the way he is, if he keeps being consistent how he is, it's crazy the leap he took in a year," Blackmon said. "Just all around, being a leader, talking to guys. When I first got here, he showed me the ropes. Now I get it and I can tell other guys what to do."
The process toward consistency and making an on-court impact is something that Mosquera-Perea knows will not happen overnight. But he said he knows he has the support and confidence that will get him to that point.
"I feel way better just after playing against great players that are in the NBA right now, just going against those guys every day," he said. "It makes me feel way better knowing that my team believes in me. They feel like I can be there to help them. That makes me feel a lot better."
Filed to: Hanner Mosquera-Perea