O.G. Anunoby's high school coach on his decision, long term potential and more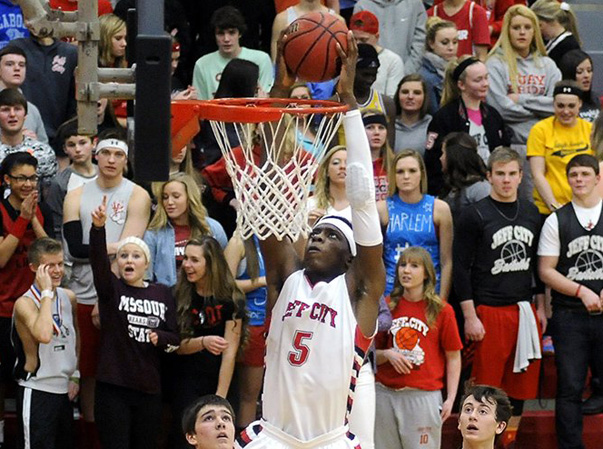 Blair Thompson, the coach at Jefferson City high school in Missouri, has an up-close perspective on IU's latest commit, O.G. Anunoby.
As a junior at Jefferson City, Thompson was on the sideline as Anunoby averaged 21.3 points, 9.9 rebounds and 3.4 blocks per game and was named first team all-state in Missouri for Class 5.
Inside the Hall caught up with Thompson for an in-depth conversation on Anunoby and we discussed what put Indiana over the top in his recruitment, how Anunoby handled the recruiting process, his long term potential and much more.
Here's a transcript of our conversation with Thompson:
On what pushed Indiana ahead of the other schools in O.G.'s recruitment:
"The relationship he developed through the recruiting process with the coaching staff was a big key. I think he was thankful to be part of the Indiana tradition and compete at the highest level in a very good conference. I feel like all that along with his visit to Indiana went really well.
"All those things considered, I think, gave him the information he needed to base his decision off of. I think in the end, everything he was looking for in a school, Indiana offered. I think through the process of going through that, when all the smoke cleared, Indiana is where he wanted to go."
On how difficult of a decision it was for Anunoby and how he handled the process:
"I feel like he handled it really well. He's a very intelligent kid. I think he studied his options very thoroughly. He was not quick to dismiss anybody that was pursuing him and … there were times I think … I mean he had a lot of good options in front of him and I think when he sat down and started listing pros and cons and what he was looking for, in the end I think Indiana just offered those at a different level than the other schools that he was looking at.
"Again, the chance to be a part of a school, a program with the kind of tradition that Indiana has I think excited him. I feel like in the end the last couple of days that really became evident in his decision making. I think he realized that and you got the decision you got."
On how big a factor Indiana's player development was in the decision making process:
"I think it was crucial. That was actually one of the things he mentioned. As you look at these different schools, who's very efficient in the player development process?
"I think that's one of the things that he discussed with the coaching staff at Indiana. He was excited about it. Coach Crean has a reputation for developing players. He's done it time and time again throughout his career. O.G. was aware of that. He'd done his research and follows players that have been through the program.
"That's something he got excited about. He, obviously, like most players wants to get the most out of his potential. When you get in a situation where you've got guys who are paying that much attention to detail, and helping him achieve the highest level of success that he possibly can, that got him excited. It's something that he wanted to be a part of.
"When the day comes that he steps on campus, I think he knows that he's got a lot of work to do. But I think at the same time he's eager to do it."
On O.G.'s long term potential and his game:
"When you're signing kids out of high school, the word potential is always going to be used because ultimately that's what you're banking on is the fact that that kid has a lot of potential. But at the same time the kid is very, very good. His skill set as a player is very unique to him. A lot of times you get … it's hard to find the whole package. Maybe you find a big athletic kid … a lot of times you find a big athletic kid that can't shoot or that can't handle it or they do one thing and not the other real well.
"I believe that O.G. is well-rounded. I think his game is well-rounded. He can shoot it. He can shoot the three. He can put it on the floor. He can get to the basket and finish at the rim. I also believe that he can go inside too and get points inside with his back to the basket as well.
"I think you're going to get the whole package with him. Obviously there's going to be a development process, some adjustment period. That game is a lot different than the high school level. The speed is much faster. The physicality is much more. That's something that every kid has to adjust to. I feel like he can do that.
"I think he understands that. As time goes on, like you mentioned with most high school kids, the potential is there. But I also think there's a solid fundamental base to work with.
"Like I said, maybe he wasn't on the radar as a top 100, but I think for him it was just a matter of getting him in front of the right people. I feel like he is worthy of being a top national recruit. I think people will be extremely excited when they finally see this kid play, if they haven't already."
On how O.G. and Juwan Morgan complement each other:
'I think both of them have got good size. They're obviously … they bring a little different styles to the table. Where Juwan is probably more physical, maybe a little stronger at this point and more suited for an inside type game, I feel O.G. complements him well with being able to go outside and have success a little bit more.
"But at the same time both of them are able to do a little bit of everything at this point. I would say Juwan's probably a little bit more polished around the basket whereas O.G. is probably a little bit stronger from the perimeter.
"But both of those kids have a ton of potential and they will continue to get better all the time. And I'm excited to see those two guys play together. It's a heckuva matchup. It was last year when we played against Juwan's team and we'll see them again this year. That's going to be a heckuva battle once again."
Photo credit: Newstribune.com
Filed to: O.G. Anunoby