Big Ten's top 25 players: 15-11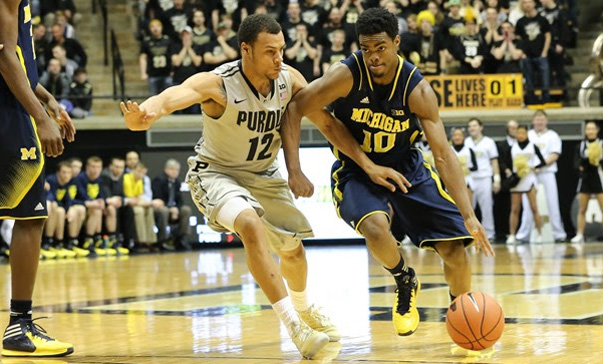 With the official start of practice less than four weeks away, UM Hoops and Inside the Hall have again partnered to bring you a preseason breakdown of the top 25 players in the Big Ten for the 2014-2015 season.
Our selection process involved much deliberation to arrive at a list we hope will provide plenty of reaction and debate. The series will be broken into five parts and our third installment of players 15-11 is available below: (Previously: 25-21, 20-16)
15. Rayvonte Rice, Illinois (6-foot-4, guard, senior)
32.7 mpg, 15.9 ppg 6.0 rpg, 1.5 apg, 1.7 spg, 48.0 eFG percentage
Rayvonte Rice hit the ground running at Illinois. He helped the Illini dominate their non-conference schedule and his scoring average sat at 19 points per game after piling up 29 points in a win over Indiana to open Big Ten play. Then came the rapid regression toward the mean as Rice only averaged 13.8 points per game with just a 42.9 effective field goal percentage in Illinois' final 21 games. He's still the No. 4 returning scorer in the conference, but if Illinois wants to play in the the NCAA tournament then Rice is going to have to make adjustments and find ways to be more efficient in Big Ten play during his second and final season in Champaign.
14. Nigel Hayes, Wisconsin (6-foot-8, forward, sophomore)
17.4 mpg, 7.7 ppg, 2.8 rpg, 0.9 apg, 0.8 spg, 51.0 eFG percentage
Wisconsin is a school where you have to wait your turn. Frank Kaminsky averaged fewer than 10 minutes per game for two years before exploding into an All-Big Ten First Team caliber player as a junior. Nigel Hayes is already ahead of the curve. He earned playing time as a true freshman and he made his presence felt, using 27 percent of available possessions when he was on the floor. Hayes was productive and versatile in the frontcourt, but he might have to wait one more season before his ultimate opportunity. He's still going to share frontcourt minutes with Kaminsky, a preseason All-American, and Sam Dekker, a projected first-round pick. There's only so much opportunity for Hayes, but he should make an impact. Hayes can score in the low post, he has a reputable mid-range jumpshot and he can dribble past larger defenders. Above all else, his ability to get to the free throw line – he drew 7.3 fouls per 40 minutes last season – is what separates him from the pack.
13. Derrick Walton, Michigan (6-foot, guard, sophomore)
26.7 mpg, 7.9 ppg, 3.0 rpg, 2.9 apg, 0.6 spg, 53.0 eFG percentage
Derrick Walton played a somewhat complementary role for the Wolverines last season, but he made critical winning plays in three Big Ten road games: at Ohio State, at Nebraska and at Michigan State. Michigan fans hope that Walton's knack for making big plays in hostile venues will manifest itself in a breakout sophomore season. Walton was the No. 4 option in the Wolverine offense last season, but with so many departures he should have every opportunity to make a sophomore leap. Walton is a great ball screen scorer and shot over 40 percent from 3-point range last season, but he needs to improve his assist and turnover numbers with a bigger role in John Beilein's offense.
12. DJ Newbill, Penn State (6-foot-4, guard, senior)
34.4 mpg, 17.8 ppg, 4.9 rpg, 1.7 apg, 0.8 spg, 59.1 eFG percentage
When DJ Newbill transferred to Penn State, he was supposed to be Tim Frazier's right-hand man. Frazier would run the point guard while Newbill was freed up to attack the basket from the off-guard position. Instead, Frazier injured his Achilles' in the fourth game of the 2012-2013 season and Newbill was forced into point guard duty. Newbill handled the task admirably, but he was always better suited to play off the ball. With Frazier back last season, Newbill was able to play his natural position and the results were what you would expect: Newbill's assist numbers were down, his scoring efficiency improved and his turnovers decreased. Now a senior, Newbill is probably going to be forced back to the point guard position after Frazier's graduation. Penn State's 2014-15 success might depend on how much he's learned at that spot since arriving at State College.
11. Shavon Shields, Nebraska (6-foot-7, forward, junior)
32.5 mpg, 12.8 ppg, 5.8 rpg, 1.6 apg, 0.9 spg, 47.2 eFG percentage
Shavon Shields was a trendy breakout candidate entering last season, but it took him quite a while to find his game. He was held to single digits in five of Nebraska's first seven Big Ten games before exploding in the second half of conference play. Shields had monster scoring performances in two of Nebraska's biggest wins of the season: 33 points against Illinois and 26 points against Wisconsin. He averaged 12.7 points and 5.9 rebounds per game in league play despite his slow start. Shields excels attacking the basket and getting to the free throw line, his 2014 free throw rate of 61 free throws per 100 field goal attempts is third best among returning conference players. The key to his development, like many combo forwards, will be improving his consistency with his jump shot. He shot just 32 percent on 3-pointers last season and only 19 percent of his field goal attempts were from long distance.
Filed to: 2014-2015 Big Ten preview