Juwan Morgan commitment could affect Shake Milton decision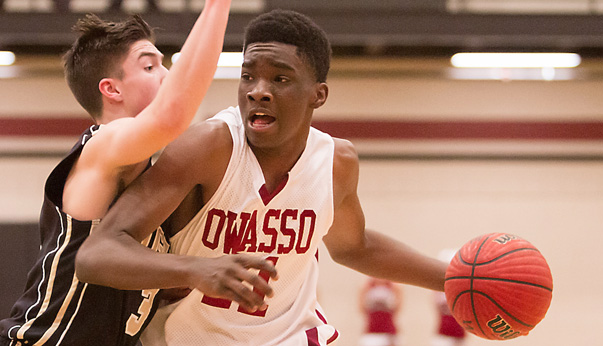 Throughout this past AAU season while playing for MoKan Elite, new Indiana commit Juwan Morgan forged a bond with teammate Shake Milton, both on and off the court.
Even though it was their first season playing together, Morgan noted, it felt like "we had 10 years of chemistry behind us."
"Just the way he's able to find and make passes that you wouldn't even believe," Morgan said. "Like coming off the screen and the ball is almost waiting for you when you turn around because he puts so much spin and everything on the ball. It's crazy."
Indiana also is heavily recruiting the 6-foot-4 guard Milton, rated the No. 80 prospect in the 2015 class, according to the 247Composite.
The Owasso, Oklahoma, native will take his last official visit to Indiana beginning Sept. 26. And on Wednesday night, Morgan said he is hopeful his AAU teammate will join him in college.
"I feel like there's a good chance that he could be coming," Morgan said. "But I'm not going to pressure him into going to Indiana. Yeah, it'd be great to have him there with me, but I'll respect where ever he goes."
Milton recently completed an official visit to SMU and also is considering Oklahoma, which is a two-hour drive from his home in the Tulsa suburbs. He recently cancelled a previously scheduled official visit to Illinois, which would have taken place after his official visit to Indiana.
This past June, Milton took his first unofficial visit to Indiana and has considered the Hoosiers one of his leaders ever since.
"I knew it was a basketball tradition (type of) town," he said at the time. "But when I got here on campus, I could actually see it in person. It was crazy. The facilities were really nice."
When it comes down to his eventual decision, even MoKan Elite coach Rodney Perry said having Morgan at Indiana could affect Milton's college choice.
But Perry said he won't let it be a driving factor in Milton's commitment.
"I'm quite sure now that Juwan is going to be one of Shake's biggest recruiters to try to get him," Perry said. "But the thing that I told Shake is you have to go to the school that's best for you. What you need to look at, rather than hey, I've got one of my teammates going there, because that's not always the best thing.
"It's just a matter of making sure it's a great fit for him. That IU visit will be his last visit, as well."
Filed to: Shake Milton