Juwan Morgan 'feels great' following commitment to Indiana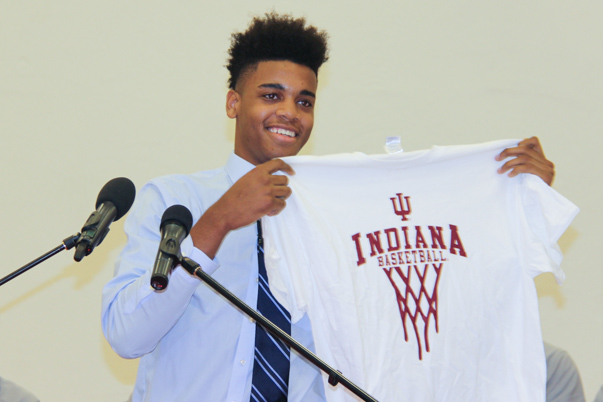 When class of 2015 forward Juwan Morgan chose to make his college announcement on air Wednesday night via a globally-broadcast YouTube stream, he chose not to advise the Indiana coaching staff of his decision beforehand.
So after he finished his announcement that he will be attending IU next fall, his next step was to get his phone and call Hoosiers coach Tom Crean to inform him of the good news. But when he went to make the call, he saw Crean had already sent a text message congratulating him. As had each member of the IU coaching staff.
"He just said he couldn't wait to get me on campus and everything," Morgan told Inside the Hall on Wednesday evening. "All the coaches texted me, actually.
"It feels great finally being committed and everything, especially to as great of a place as Indiana."
Morgan described Indiana as a "perfect fit" for him, something he knew instantly when he arrived in Bloomington for the first time for an unofficial visit in June. But the Hoosiers had just started recruiting him, and the 6-foot-9 forward admitted he "didn't think it was" possible he could end up at Indiana. He knew, though, after playing with the team during that visit that he could easily fit into the system.
And the Hoosiers continued to make him a priority on the recruiting trail. They offered him a scholarship. They invited him for an official visit, which Morgan took this past weekend.
On the court, Morgan's prowess grew. By the end of the summer, he was rated the No. 87 overall prospect in the 2015 class (according to the 247Sports Composite), and he had earned EYBL honors as its most improved player for his role on MoKan Elite.
Morgan also was highly recruited and scheduled official visits to Vanderbilt, Creighton, Stanford and Washington, eventually turning down offers from the likes of Harvard and Princeton, as well.
"He's only started to begin to scratch the surface of how good he could actually be," MoKan Elite coach Rodney Perry said. "One of the things is people don't realize how well he can shoot the basketball from the perimeter and from three. That's something he had to do on his team and he had to play a little bit out of position for us. He's a four-man that had to play some post for us, but he can really shoot it, he can handle it and he's a really good passer."
But when Morgan arrived in Bloomington last Thursday for his official visit, that first night he knew the decision had been made. He wanted to be a Hoosier.
"It kinda hit me the first day I was there, the first day I was on campus," Morgan said. "When I was with James (Blackmon Jr.) and Rob (Johnson) and just talking with them on that day, I just knew it was supposed to be."
Throughout the visit, Morgan said he felt at home. Just a day after returning to his home in Waynesville, Missouri, he announced he would make his decision on Wednesday night.
"Even just being there, I felt I was already a part of the team," Morgan said. "And I had that great feeling from the first time I was there."
And so it came with no hesitation when Morgan announced he would "further my education at Indiana University" on Wednesday night, choosing the Hoosiers over Vanderbilt.
"A steal," Perry said. "That's the first thing, they're getting a steal.
"He's 6-8, he's athletic, he's a competitor, he's a winner. And so I think you've got to love that factor there. He's athletic, blocks shots, runs the floor, catches lobs, can hit the three. He makes his teammates better. And even more than what they'll love about him is he's a great person and you'll never have to worry about him on the floor or off the floor."
Of course, Morgan said his ultimate goal is to get to the NBA. He said he has confidence in Crean and the Hoosiers staff in being able to get him there — "especially with Cody Zeller and Noah Vonleh being the same position" — but knows he has a long way to go. He said he has to get stronger, continue to work on his ball-handling and shot release, among other aspects of his game.
But even on the night of celebration after committing to Indiana, Morgan had to cut it short. He had work to attend to on Thursday.
"I've got to get to school for 5:30 a.m. workouts," he said.
Filed to: Juwan Morgan