Transcript: Juwan Morgan post-announcement presser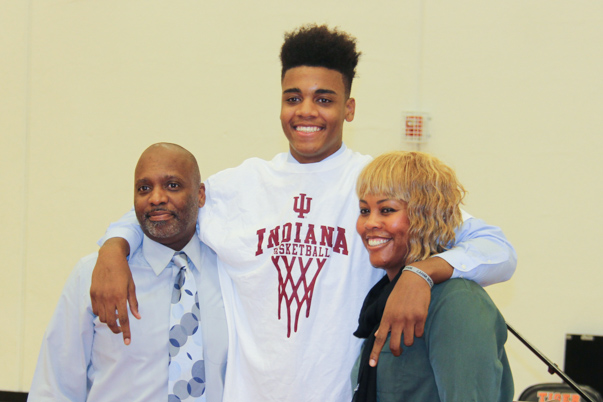 Class of 2015 Waynesville (Mo.) forward Juwan Morgan committed to Indiana on Wednesday night. Afterward, he addressed the assembled media at his high school.
Here's a full transcript of the press conference:
Q. Reiterate again some of the factors involved in your decision to select Indiana.
Juwan Morgan: Well first off, academics was always the first thing because I do want to get my degree, but also things such as player development, impact on the court as soon as I get there and kind of the family feeling about the team. Those were some big things for me in the decision.
Q. Talk about your visit to Indiana and how that swayed you to make your final selection.
JM: As soon as I stepped on the campus, I knew it was the place for me. Just being around the players and all of the coaches, it was like I was already a part of the team and that was just a great feeling.
Q. Has a weight been lifted off your shoulders now?
JM: Yeah, it's a huge weight, especially with everyone asking me where I'm going.
Q. How'd you keep it so tight lipped the past few days?
JM: Really I kind of just kept off to myself a little bit and the basketball team, that's all the people I was around the whole time.
Q. Juwan, can you kind of take us through the timeline of your final four, five, six choices and how you managed to narrow everything down?
JM: Well, I knew that I wanted to visit Indiana from the time they started recruiting me. And other schools like Washington and Creighton, I'd been talking to them and building a relationship with them for a year, almost two years. Vanderbilt and Stanford, those are two of the best academic schools and great at basketball as well that I had on my list so I wanted to get out to those places as well.
Q. You had a couple of other official visits planned as well, right?
JM: Correct.
Q. Why did you decide to cut the process after going to Indiana and make the decision now?
JM: I felt like it was only fair to those coaches because if I knew I wanted to go to Indiana, I didn't want to go and waste their time.
Q. Did the summer change the way coaches were talking to you?
JM: I felt like it was business as usual, but before coaches were kind of viewing me as a second or third choice if they didn't get their first guy. But after the summer, they realized the things that I could do because I had a bigger role on my AAU team and they started viewing me as a first option.
Q. Did you tell anybody before today who you were choosing?
JM: I told a few people. I told my Dad, I told my closest friends on the basketball team.
Q. What did it make you feel to see the turnout of people here today?
JM: It felt great. Sometimes, I don't even know who is watching, but someone can always be looking up to you and it's just a great feeling having that community behind you.
Q. Juwan, did you ever get tired of the recruiting process? Were you ever anxious for it to end?
JM: Coming toward the end of the AAU circuit, I started getting anxious when everyone was committing and I felt like I wanted to right then and there. But I knew to just wait it out a little bit and the right decision would come.
Q. You mentioned Missouri State by name (during the announcement) and Coach (Paul) Lusk. Talk about your relationship with them and was there ever a draw to stay close to home and play for them?
JM: At first there was. Coach Lusk, he was the very first coach to call me and the very first coach to come and see me. He's probably doubled every other coach in coming to see me and talk to me. I was able to build a great relationship [with him] and even the Missouri State players as well.
Q. Was there ever a "wow" moment for you in the recruiting process?
JM: Pretty much every time I was on the phone with the coaches it was kind of unreal.
Q. What do you have to do to be competitive at Indiana now?
JM: I feel like I have to go in with the same mindset that I have in high school and AAU and I just can't let anyone outwork me and I have to earn my spot and always put that work to keep that spot.
Q. What have you done to improve your game over the last 12 months?
JM: Playing up with MoKan really opened my eyes. There's tons of people better than me out there. I don't like people being better than me so that just made me put in work to get to that spot where they are and eventually pass them.
Q. What are you going to major in?
JM: Sports communication.
Q. Now that this is all over with, what's your next step?
JM: My next step is to go and win a state ring.
Filed to: Juwan Morgan